Welspun One Logistics Parks completes over 3 million 'Safe man-hours'
To commemorate this, WOLP organized a 'Safety Week Celebrations' for the workforce at their construction project sites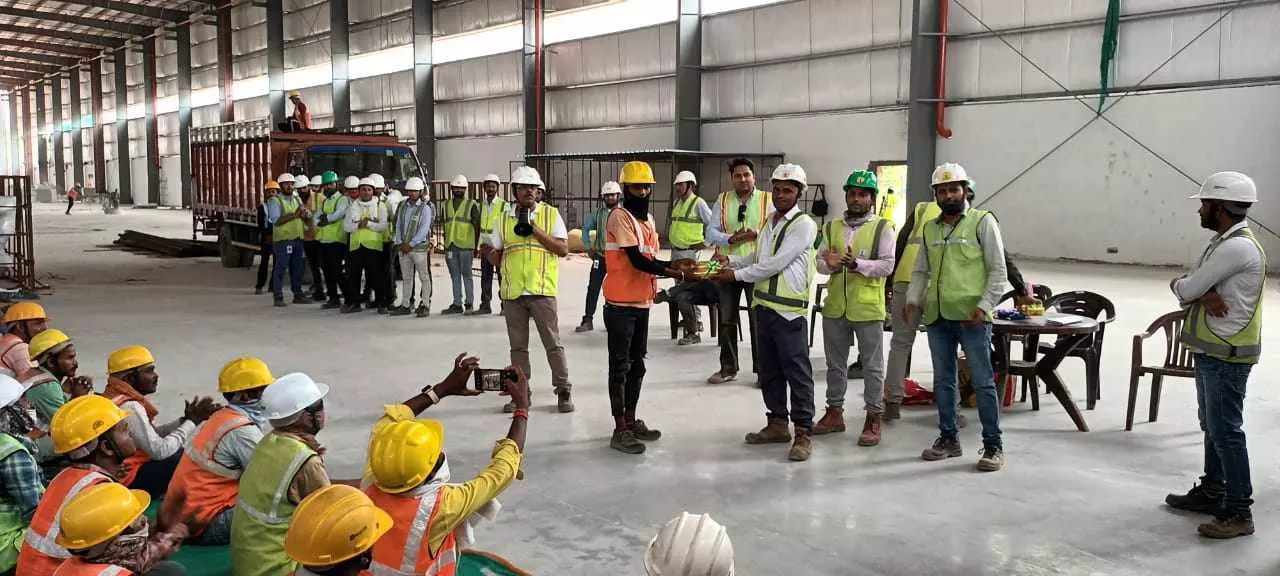 Welspun One Logistics Parks (WOLP) - an integrated fund, development, and asset management organization part of the Welspun Group - has achieved a milestone of completing over 3 million 'Safe man-hours' at its Bhiwandi, Farukhnagar, and Lucknow park locations collectively. To commemorate the achievement, WOLP organized a 'Safety Week Celebrations' for the workforce at their construction project sites.
Building a safety-first culture has been at the core of Welspun One, and has been achieved by implementing safe work systems and raising awareness through HSE (Health, Safety & Environment) education for its workforce across its sites. Furthermore, the WOLP parks are 100% compliant with stringent safety norms and follow a well-devised plan of action to implement safety control measures, helping them achieve 3M+ safe man-hours.
Some safety practices followed by them include - the adoption of slope-cutting method, provision of hard-railing on the edge of excavation pits, competent operators and fit-for-work earth moving equipment, availability of test equipment for underground services, and gas monitoring to issue permits for excavation and confined spaces respectively. Besides this, vertigo tests are conducted for those working at a height, while safety nets, lifelines, and safety harnesses are used for fall protection.
Further, periodic inspections of scaffolding platforms and lifting gears and appliances are also carried out. In addition to these, electrical work safety is ensured by using LOTO, and PAT tests for hand tools, and by using IP-rated external DBs. Similarly, pedestrian safety is ensured at sites by keeping designated walkways and flagmen at the crossing zones for segregating man and vehicular traffic.
WOLP's site teams put continuous efforts into designing and conducting training for their manpower including confined space works, steel bending, and cutting, safety harness and hand tools, manual and mechanical lifting, and much more.
The team also regularly conducts workshops, toolbox talks, and safety drills to implement safe work practices across all its construction sites. Furthermore, a nurse and ambulance are made available at each site alongside tie-ups with a nearby hospital.
Commenting on this milestone, Anshul Singhal, Managing Director, Welspun One Logistics Parks said, "Safety is a part of the culture and a core responsibility at WOLP. By thoroughly implementing systems that allow for a safe and healthy work environment, we have endeavored to make our project sites incident-free from a safety standpoint. We are immensely pleased to have completed 3M+ safe-man hours, which will further encourage us to rigidly stick to these safety norms and measures in our operations."
Welspun One Logistics Parks (WOLP) is an integrated fund, development, and asset management organization; designed to deliver large format, institutional, Grade-A logistics parks across India and is a part of the USD 2.7 billion global conglomerate 'Welspun Group'.