"We have experienced an input cost surge north of 30% in every category of expense"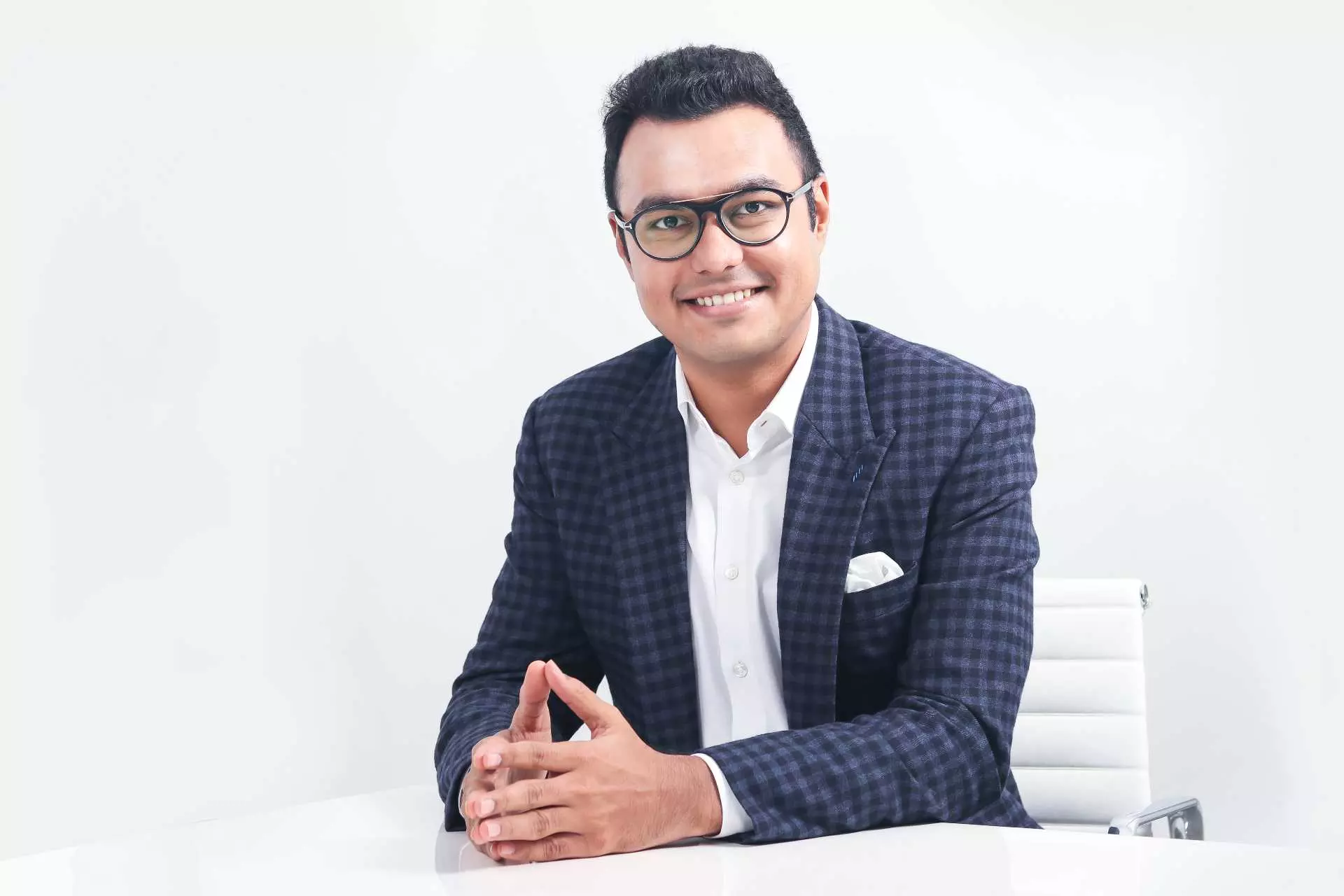 BVC is among India's largest secure logistics enterprises, providing logistics solutions for the diamond, gold, bullion, and jewellery value chains, working with over 30,000 businesses across the whole mine-to-market value chain. Bhavik Chinai, the Group CEO of BVC Logistics talks to ITLN about the metamorphosis of secure logistics post the pandemic, the emergence of newer verticals and technologies, and his ambitious plans for the 62-year-old legacy business
Could you share any growth figures post-pandemic and is business back to pre-pandemic levels? What is the size of the secure logistics market business in India?
The jewellery industry as a whole has experienced massive growth and has grown extremely well. The diamond industry has experienced the best year in its 40 or 50-year history. The nine months of 2020 which was FY 2021 barring the first three months were the best years in comparison to twelve months of any other year in the last 40 years, on the international and domestic sides. This year has been even better.
It's incredible how it unusually became the primary commodity that individuals spent on because they were locked out with no fashion goods and avenues to spend on services. For us at BVC, we have grown close to 50% pre-pandemic. As a whole, the market would have grown between 10% at the lower end of the spectrum to maybe 50% at some very efficiently run companies if we take the industry. In India, if one covers the high-value items, it would be roughly a ₹30 billion type of market. It's a niche at this point.
What would you attribute to this growth in the diamond and jewellery trade? What were some of the busiest trade lanes?
One of the primary drivers for the growth of diamonds was that a lot of governments gave a lot of stimulus packages. And because an individual is now at home and is not able to go out or spend on makeup and fashion and all the regular fast-moving items, diamonds and jewellery became a commodity that was purchased in very large volumes. And because India has a manufacturing leadership, we got an opportunity to supply that demand. As a provider of logistics, this led to a higher number of shipments and higher value of shipments for us.
On the international side, the trade lanes don't change the locations of the wholesalers and the location for the retailers broadly remains the same. Trade routes have expanded because now, new cities have retailers who are buying more organised jewellery but the supply points remain the same across the country. Tier 3 towns have been added when it comes to India.
What is the size and scale of your operations?
We do full stack operations, which are fully owned and operated networks and the infrastructure is slightly different. We don't operate with a franchisee network because of the nature of the cargo and because we have to operate with extremely high-security standards, which we continue to evolve. The infrastructure needed across the value chain, including the airport, aircraft, and airline, all of that is slightly unique, which makes this space very unique. We will currently be a little over 1,500 people. BVC currently operates in over 10,000 pin codes, in over 130 countries, and close to 30,000 businesses trust us in this entire value chain.
What would you say has changed fundamentally in the business of secure logistics because of the pandemic?
One has been the absolute order size itself. So initially, there used to be a large amount of discount and there was a preference given to larger orders by retailers, wholesalers, and manufacturers. Now it's become dramatically different, where it's completely based on the requirement and almost 'just in time' at the retailer side.
One other aspect which has evolved dramatically is the need for touch and feel has become much lower. This means that a lot of the B2B buying used to happen exclusively by visiting and going through the entire selection process, but now a lot of retailers have become comfortable buying over WhatsApp by just seeing images.
One other positive aspect of the industry post-pandemic and post hallmarking becoming mandatory is that there is more of an organised trade now. The jewellery trade in India was unfortunately not as organised as most other industries and a lot of retail cash purchase was not done officially. This has changed also thanks to many government initiatives over the last few years. Now there are high penalties for being unorganised and large incentives for being organised.
Do you use technology like automation, artificial intelligence (AI), machine learning (ML), or robotics to increase the visibility of your value chain?
We use a bunch of different tools, software, new developments around AI and ML, and so on, and we have implemented these more on the demand planning side. We apply some AI to gain intelligence for us to be able to establish which would be the correct operational capability required in our operations. Another area that we personally always look for is security technology, where we are currently working with different startups and mid-size companies to build innovative solutions together on the visual side or access side, the tracking side, and so on.
Has there been a change in the nature of the long-term contracts with your customers post the pandemic?
We do have very long-term contracts with most of our customers and spot relationships also do exist, but they would be a minority for this sector. The vast majority are long-term contracts that usually last a year and beyond. Under that, we work on building the supply chain together with our customers which is then customised for them and ensure that their customers get the best products whenever they want and at the lowest price.
Which are some of the e-commerce players that you work with in India and abroad?
We work with CaratLane, BlueStone, E-Johari jewellery, and with Amazon, and eBay on the international side. We work with over 100 e-commerce brands which consist of individual brands like Malabar Gold & Diamonds, Kalyan Jewellers, which have offline showrooms having their own e-commerce stores or could be online players like CaratLane or BlueStone or marketplaces, which is a third category where I mentioned Flipkart and Amazon and so on. We work with over 100 such brands and all sellers of Amazon, eBay, and their entire ecosystem on e-commerce or B2B is working with BVC.
I believe that newer verticals like destination weddings logistics or luxury logistics, exhibition logistics, and fine arts logistics are emerging areas in this sector. Could you tell me about these verticals and their growth at BVC?
The solution that we built for weddings is a consumer product. People generally don't want to carry real jewellery while attending weddings owing to customs etc. So we offer that solution to select clients, although our focus on this vertical has been low. Fine arts is a growing space within India and so we have, for example, become official partners in the recent India Art Fair, in a lot of global exhibitions, where we handle the entire logistics for many art galleries, whether it's to and fro an exhibition or within their showrooms.
We also have a lot of HNIs who do their own house movements or relocation and need to move their art, paintings, and sculptures including very heavy pieces. Many are things that are difficult to replace. So that's a very exciting space and growing space. We have thankfully made inroads into dozens, if not over 100, of customers in this space currently. So jewellery, diamonds, and bullion are three commodity categories that would operate as one vertical, and then you have fine art and luxury logistics.
What are some of the input costs that have increased post the pandemic, owing supply chain disruptions and economic and inflationary pressures?
We have experienced an input cost surge, north of 30% in every category of expense. This is true for a lot of businesses in our industry. So airline costs for us are one large expense, fuel, all of us know, is up by 40-50%, that also has been extremely expensive for us. Even things like packaging, where input costs for our packaging partners have increased dramatically, and those would get passed on to us. The cost of teams has risen across the board, so there has been a lot of input cost rise.
However we are in a space where we want to grow very aggressively, and passing on costs tends to affect the market share and sentiment. So passing on costs to the customer has not been significant. That's a decision that we have taken to retain market share and to make sure that we continue to serve as many customers as we can. So broadly, that's where we have experienced a hit for ourselves.
Can you outline your expansion plans for the company?
We are currently deepening our focus in India, as India with close to 300,000 jewellers and a $100 billion market, continues to be a large and deep market for us. We wish to move from the current 30,000 customers that we have to 100,000 over the next few years. We aim to add dozens of offices in the next couple of quarters. We wish to expand in each vertical and be able to move $100 billion worth of goods each year from the current $30 or $40 billion and grow that significantly.
Are you looking at drones as a solution for delivery?
Drones are a beautiful solution for some types of shipments and we are looking at the application of drones again this year. We have done some pilot tests a few years back in 2018-19, but could not gain enough confidence back in the technology.
We have bought a bunch of consumer drones and are engaging with a few select companies to go build something which will be a slightly different drone with a different carrying capacity. Right now we're at the stage of modifying drone hardware to be able to work for us, and then we are testing this on some use cases. It doesn't apply to all products but to a few. We are in talks and are figuring out how we can build a solution with the last mile on drones or the mid-mile in India.
What timeframes are you looking to achieve with drones as a solution for delivery?
We prioritise speed over cost. One of the products where this could work is a same-day product, where it takes a minimum of 150 minutes in the jewellery, diamonds segment. Drones could help cut the transit time from roughly two and a half hours or 150 minutes to15 minutes with direct point-to-point delivery. There are also other products for which the time is not very relevant and in those cases, there would be other parameters that we would test with a drone.