SaaS start up FreightFox wins ULIP LogiXtics Hackathon
The runner-up teams were SuperProcure (TruckHall Pvt. Ltd.) and Happymonk Al Labs Pvt. Ltd respectively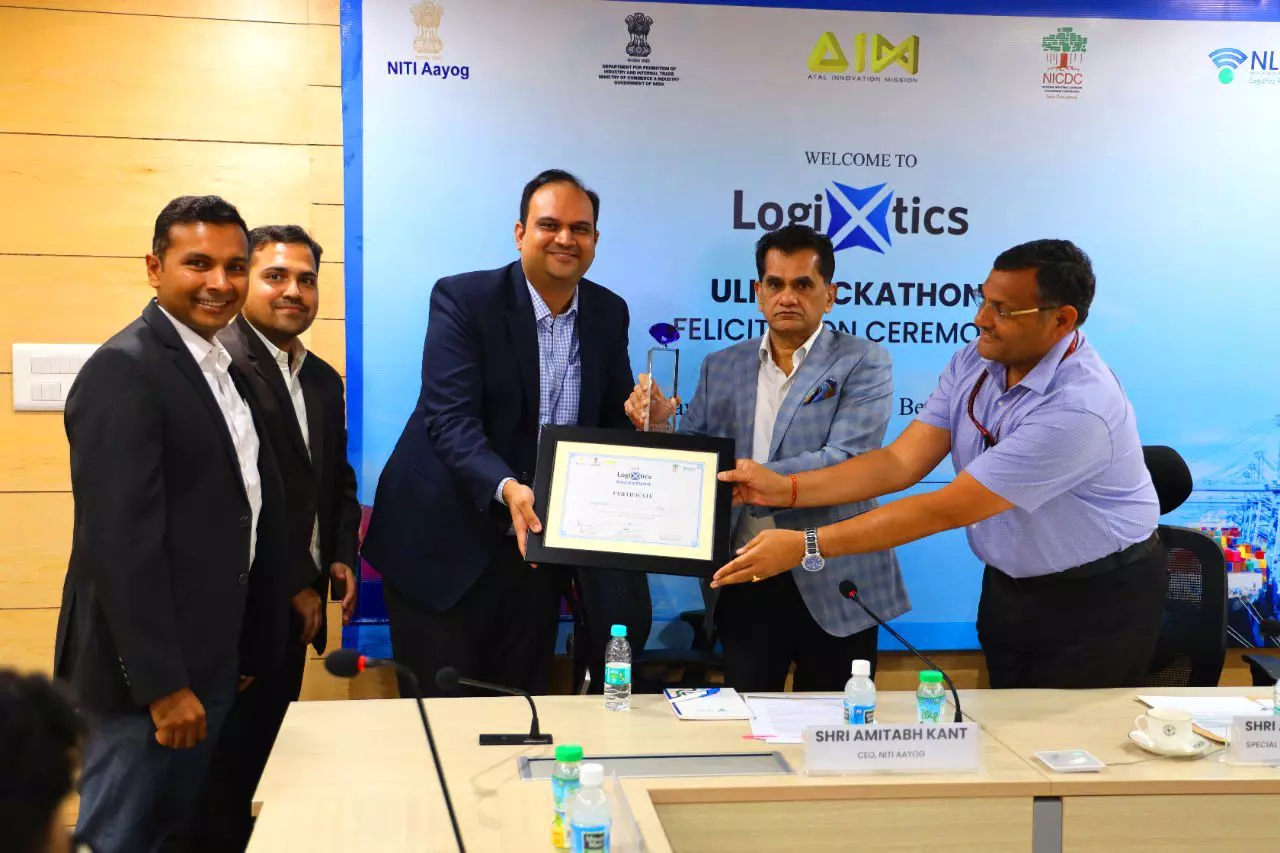 The first edition of the ULIP LogiXtics Hackathon has recently concluded with the NLDS (NICDC Logistics Data Services) announcing the results earlier this week. The first place was secured by FreightFox (NimbleLogik Pvt. Ltd), while the first and second runner-ups were SuperProcure (TruckHall Pvt. Ltd.) and Happymonk Al Labs Pvt. Ltd respectively. FreightFox is a Pune-based technology start-up in the Indian B2B Logistics space that is looking to change the future of freight in India by leveraging tech and data to deliver new and exciting possibilities.
The Hackathon which was a flagship initiative, allowed participants can get to showcase their strategic, coding, and domain skills on a national-level platform to solve the existing logistics industry issues by ideating innovative ideas, developing solution/product by leveraging the logistics-related data available with various government systems and contributing to India's Ease of Doing Business and Logistics Performance Index (LPI). NITI Ayog, the Atal Innovation Mission, National Industrial Corridor Development Corporation Limited, the NLDS which is the NICDC Logistics Data Services are some of the stakeholders who had jointly flagged off the event last December.
Overall 543 entries were received out of which 154 were shortlisted for ideation. Of this number, 34 participants moved from the ideation stage to the prototype stage. Out of this, 22 prototypes were developed and 3 best cases were felicitated earlier this week by CEO of NITI Aayog, Amitabh Kant, and Special Secretary, Logistics, Department for Promotion of Industry and Internal Trade & CEO and MD, NICDC, Amrit Lal Meena.
Speaking to ITLN post the win, Nitish Rai, CEO of FreightFox, a SaaS company said, "We knew three core problems which were as a manufacturer or an MSME player do I have visibility of freight cost movements, do I have the visibility of tracking supply and demand, as a country we believe that we have a responsibility of reducing the scope 3 carbon emissions from the transportation. We took these three challenges and actually presented our ideas and used use the Vaahan data, the Fast Track data, and Sarathi data and use all these data sets from these ministries to create the solution."
Rai added, "We created a robust Minimum Viable Product MVP using geospatial analytics, advanced data, and machine learning to basically deliver the answer to these three questions. So today using the data we demonstrated to NITI Aayog CEO Amitabh Kant and other dignitaries, how we can estimate the national-level freight index and showcase the freight rates going up or down and trends therein. We could also show the corridor densities which means the mobility index that is ongoing on a national highway and the utilization because of the speeds captured there. We also demonstrated which are the pockets in the country where we are using older vehicles, using BS-II, BS-III vehicles which are polluting the areas more in the context of trucking/transportation. We demonstrated these use cases live on the platform. We are a SaaS company that has a full-blown platform for enterprise freight procurement management and intelligence and we hosted this MVP on the platform and showcased the capability and what can be done with it and emerged as final winners in this event."
A special address was made on the occasion by the Chief Executive Officer NITI Aayog, Amitabh Kant, at the ULIP LogiXtics Hackathon felicitation ceremony regarding ULIP Hackathon to encourage private and government sectors participation.
ULIP has been conceptualized as a single-window integrated platform to enable the exchange of information on a real-time basis, enhance efficiency, bring transparency, leverage technology, and thus reduce the logistics cost in India. 27 systems of 06 different ministries covering over 1531 fields integrated by developing 96 APIs.