PLUSS launches two new temp-controlled pharma packaging solutions
Celsure® XL Pallet Shipper and Celsure® VIP multi-use Parcel Shipper are designed to guarantee temperature integrity across geographies and seasons.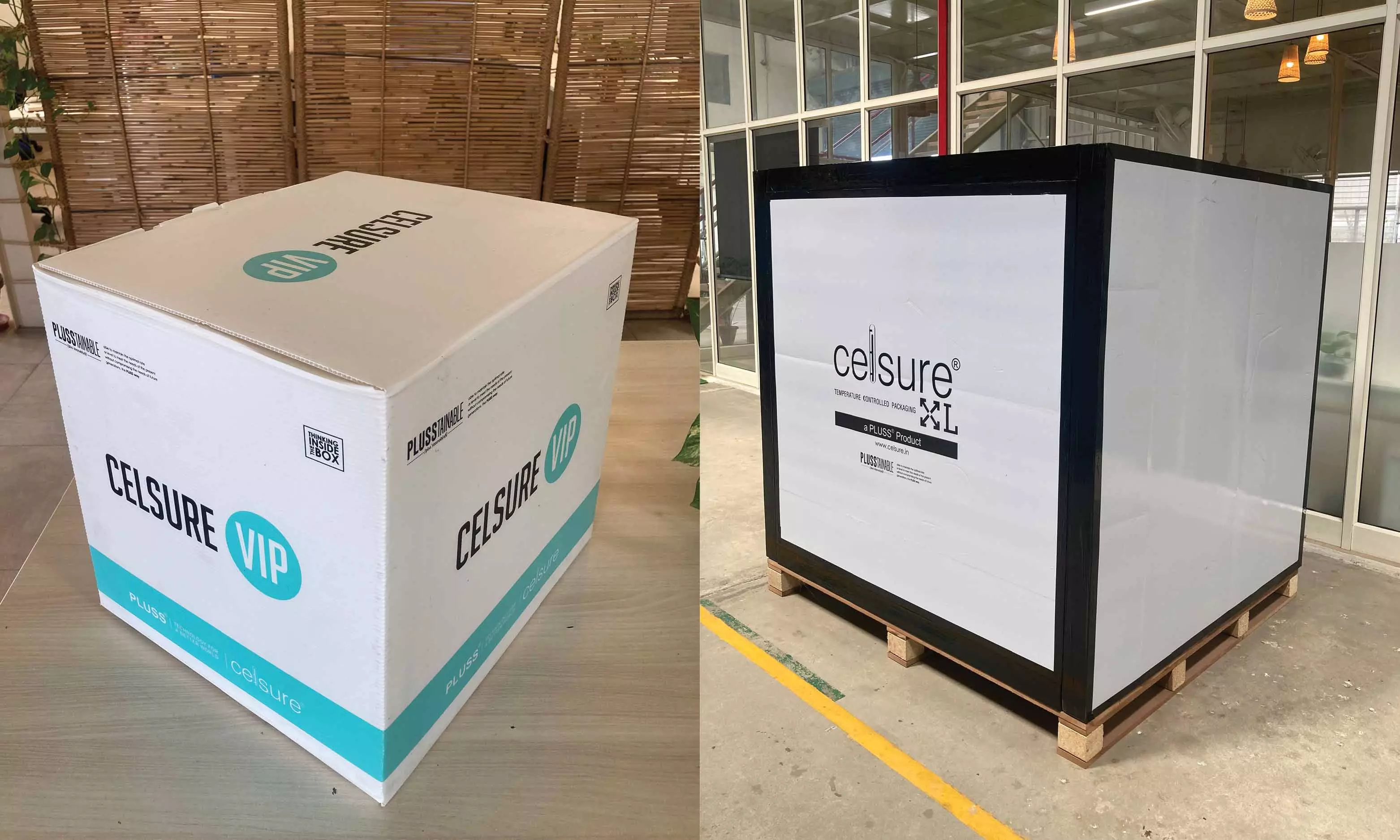 The phase-change material (PCM) technology company Pluss Advanced Technologies (PLUSS), has announced the launch of two new temperature-controlled packaging solutions for the pharmaceutical industry: Celsure® XL Pallet Shipper series and Celsure® VIP Multi-Use Parcel Shipper series.

The pharmaceutical industry in India has long struggled with the availability of premium quality passive shippers that can ensure consistent temperature control. Commonly used gel pack-based shippers, expose pharma products to a high risk of temperature deviation, compromising efficacy. Imported boxes and containers that are leased work out to be extremely expensive with their own logistical complexities.
"Manufactured in India, Celsure® XL and Celsure® VIP offer a superior alternative to conventional gel pack solutions and expensive leased containers. Using our patented PCM technology we are able to ensure the safe and efficient transportation of temperature-sensitive pharmaceuticals in a sustainable manner. These solutions further strengthen India's standing as a pharmacy of the world by increasing the supply chain reliability and ultimately delivering quality medicines to patients worldwide," said Samit Jain, MD, PLUSS.
Celsure® XL Pallet Shippers

Reliability: Celsure® XL's phase change material-based design ensures precise temperature control and a unique hibernating feature. This feature prevents thermal energy loss or gain when stored at the target temperature, providing extra hours of temperature stability for long-haul multi-modal shipments facing logistical delays at transit points.
Convenience: Designed for seamless door-to-door bulk cargo delivery, Celsure® XL offers a much higher degree of control to the supply chain managers for superior planning over the leased options which often have availability challenges.
Cost-Efficiency: Celsure® XL enables companies to optimize their logistics budgets by up to 20% without compromising on quality or relying on expensive leasing containers.
Celsure® VIP Multi-Use Parcel Shippers
Payload to Size: Celsure® VIP adopts cutting-edge vacuum insulation technology along with Phase Change Materials (PCM) that ensures a very high payload to volumetric size advantage resulting in smaller size and lower freight costs.
Reusability: Celsure® VIP is designed with materials of high strength and stability to last a life up to several years.
Sustainability: By leveraging the reusability of Celsure® VIP, companies can significantly reduce packaging waste, minimize costs, and contribute to a greener future. The overall small packaging size also ensures a lesser carbon footprint during transportation.