Pharma business grew in India by 21% in 2022 vs 2021: IAG Cargo survey
IAG Cargo recently conducted a global survey of freight forwarders and logistics industry professionals to learn about their perspectives on the sector's future.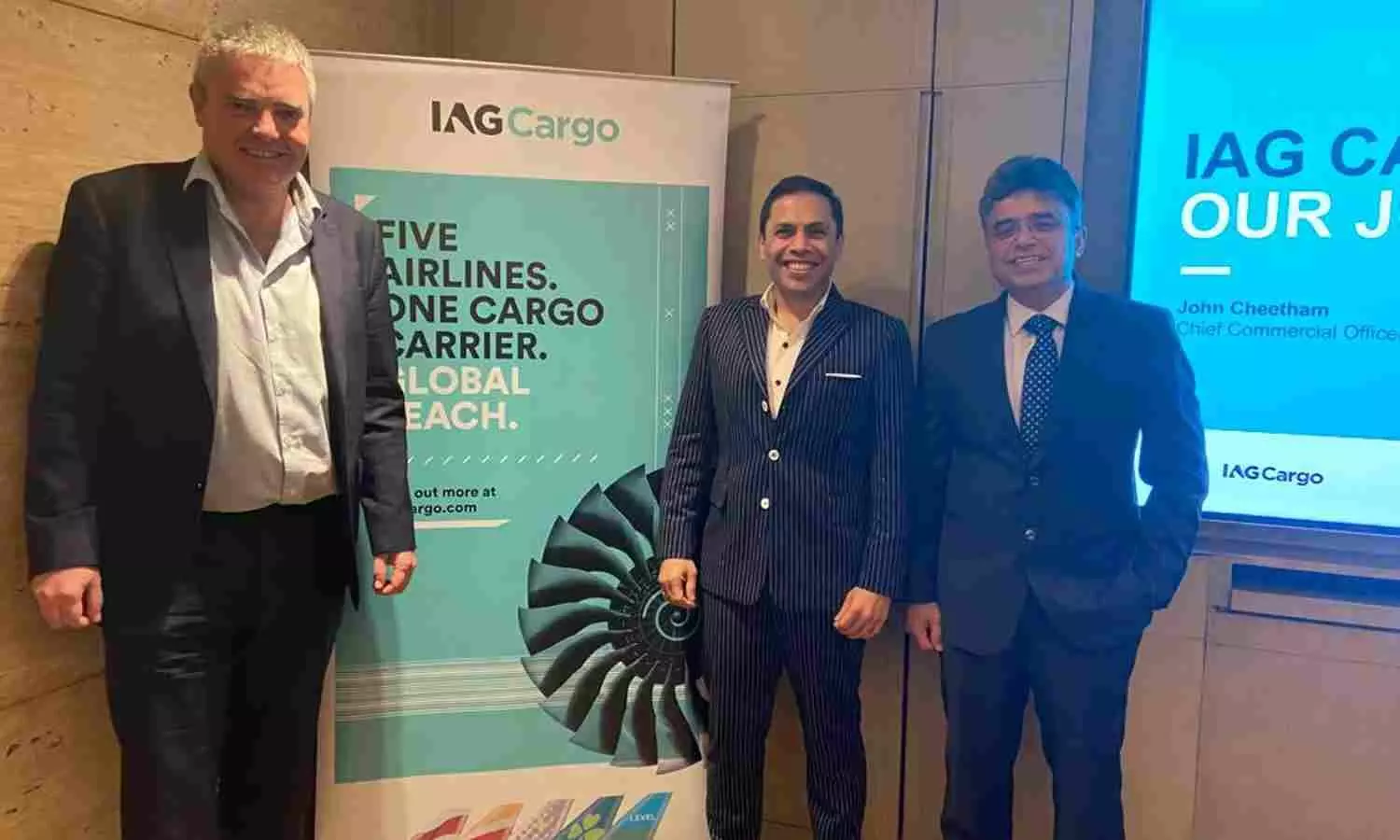 IAG Cargo, the cargo division of International Airlines Group (IAG) hosted a roundtable at the JW Marriott Hotel in New Delhi to discuss key air cargo trends, business updates, and survey findings. Speakers included John Cheetham, Chief Commercial Officer at IAG Cargo, Yashpal Sharma, President of Air Cargo Forum India (ACFI) & Managing Director at Skyways Group, along with Pratul Shekhar, Senior Director Airfreight at DSV.
IAG Cargo recently conducted a global survey of freight forwarders and logistics industry professionals to learn about their perspectives on the sector's future. This served as a debate point, emphasising developments in digitalisation and sustainability. According to the findings, the Indian market has significantly embraced online booking for air cargo, with 76% of respondents reporting it as their preferred booking method, compared to only 46% internationally. In contrast, the worldwide market (53%), continues to rely on email as their major channel for booking freight.
Sustainability appears to be more important to Indian freight forwarders and logistics experts than to their worldwide counterparts. 78% of those polled in India indicated their company has a sustainability plan (the worldwide response was 67%), and 68% said sustainability was "very essential," compared to 38% of the global population. The panellists discussed how sustainability influences their business decisions and how the sector is advancing toward SAF goals.
The number one concern of those surveyed was talent attraction and retention. This was particularly pronounced with respondents in India with 46% naming it as their number one business challenge.
"Pharmaceuticals were mentioned in one of the survey responses. Over half of our clients in India expect this product to expand, and IAG cargo's product is clearly growing dramatically compared to last year. When it comes to pharmaceutical production, India is an incredible powerhouse. When you think about 2021, you might think of vaccinations and temperature-controlled COVID-related medications, but that's only a small percentage of what we're pushing as pharmaceuticals. According to figures, 21% of the pharma business grew from January to August 2021, compared to the same period in 2020," said John Cheetham, Chief Commercial Officer at IAG Cargo.
Yashpal Sharma, President of the ACFI and Managing Director of Skyways Group, spoke about ACFI's 2030 - 2031 goal as the only organisation with representation from all stakeholders on its governing board.
ACFI hosted an event in February of this year in the presence of Civil Aviation Minister Jyotiraditya M. Scindia, where they discussed the current landscape of the Indian Airscape ecosystem, which includes domestic, all exports, and imports, and ACFI decided that we want to take you to 10 million tonnes over the next eight years.
Sharma said, "It is challenging, but we believe it fits well with the greater goal of the Indian government to increase industrialisation in the country. The kind of investments that are going via various states and, through the centre, where many foreign investments have poured in. Subsidies are being implemented to improve the nation's investment capacity, and we've already witnessed tremendous investment growth and new goods flooding in over the last few years.
The outcomes of the remarkable global survey on cargo trends conducted by IAG Cargo prior to the roundtable are really interesting. The findings indicate how people are supporting increased automation and digitization worldwide. It is heartening to see that Indian representatives actively participated in the survey and mentioned about the high benchmarks of digital automation being achieved, along with future expectations set in enterprises. Additionally, the need to attract the right talent and retain them has also taken prominence for enterprises, globally.
It is our responsibility to come forward and help build greener and more sustainable means of operations as well as transactions. Coupled with digitization, innovation and the need to move away from legacy systems, each one of us can contribute to reducing the carbon footprints in our own way, for the air cargo industry".
Pratul Shekhar, Senior Director Airfreight at DSV commented on the market prediction. "The market is predicted to grow at a rate of 3 to 4%. From an Indian standpoint, there is a strong push toward manufacturing; nevertheless, at the world level, we are witnessing the possibility of a recession. However, from an Indian viewpoint, we believe that export demand would stay stable or increase by three to four %. Airfreight rates have fallen in the previous three to four months and are expected to return to pre-pandemic levels in the next six to seven months.
With so many flights and increased capacity, the costs and worldwide demand are likely to fall, which should help shippers and consignees add at the board level. On the import side, we are witnessing something different due to issues in Europe, labour costs, although India is talking about export prices decreasing, we're seeing that import costs may rise owing to all of the capacity reductions due to the winter schedule."
IAG Cargo also announced that its winter 2022 schedule is offering more weekly services in India than pre-pandemic, with 112 weekly flights servicing 5 Indian airports. IAG Cargo will also restart its London and Maldives services from October 14, 2022.