Maersk global first: Women to manage Dadri warehouse
84-women team to control operations at the 100,000 sq.ft. new warehouse.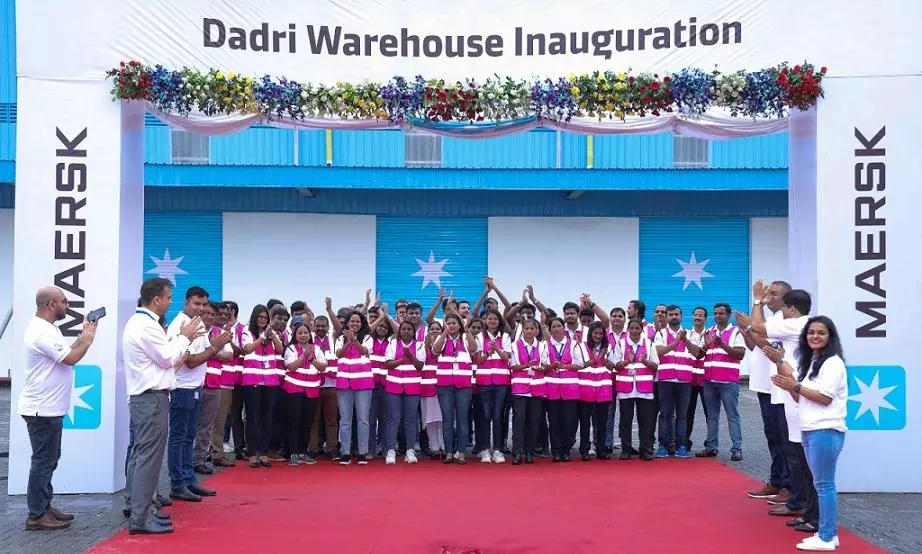 In a global first, Danish carrier Maersk has hired 84 women to exclusively manage the newly opened warehouse at Dadri, Uttar Pradesh.
The 100,000 sq. ft. Dadri warehouse, located within the Inland Container Depot (ICD), offers customers bonded warehousing solutions. "Being at the confluence of Western and Eastern DFC, having a rail head connection, proximity to eight national highways, and Jewar Airport coming up within 60 km range, this warehouse has all the prime attributes that will add value to customers' supply chains," says an official release.
While the depot has a bigger staff who also contribute a bit to the work of the warehouse for admin and related work, the warehouse will be exclusively managed by the women.
Soren Skou, CEO, Maersk, Executive Vice President Navneet Kapoor, Richard Morgan, Managing Director, Maersk West & Central Asia and Vikash Agarwal, Managing Director, Maersk South Asia, inaugurated two new facilities from New Delhi.
"Logistics is moving up the strategic agenda of organisations," says Skou. "Our conversations with customers are turning into holistic, partnership-based discussions through which they seek resilient solutions to their supply chains that are insulated from unforeseen disruptions. An important element of end-to-end logistics is warehousing & distribution. Expanding the warehousing footprint is fundamental to our strategic growth, especially in an important market such as India and helps us offer our customers truly integrated logistics solutions."

The 420,000 sq. ft. Farrukhnagar warehouse is a brand new, state-of-the-art warehouse connected to the busy manufacturing hub of North India.
"With close proximity to the Western Direct Freight Corridor (DFC), Farrukhnagar warehouse will be a key facility for retail, FMCG and large e-commerce customers," the release added.
Morgan says, "Today, we have inaugurated our sixth and seventh warehousing facility in India this year. Our ambition to support our customers with truly integrated logistics solutions is taking the right shape. Our customers have already utilised around 75% of the capacity of our existing warehouses, showing their faith and trust in our solutions. This also encourages us to keep investing in our warehousing expansion in India."
The total warehousing footprint offered by Maersk to its customers in India now stands at around 3.3 million sq. ft. from over 20 warehouses, the release added.
Earlier this month, Maersk completed the acquisition of LF Logistics, a Hong Kong-based contract logistics company with premium capabilities within omni channel fulfilment services, e-commerce, and inland transport in the Asia-Pacific region. LF Logistics has seven warehouses in India, which have been added to Maersk's network, the release added.