India's last-mile growth spurt to scale new heights
A May 2021 study by the market research firm, Redseer, found that the overall road logistics constitutes ~8% of India's GDP, with expectations high for markets touching $ 6 billion in profits by 2024. This month's cover story helps you navigate the twists and turns of the Indian last-mile delivery ecosystem.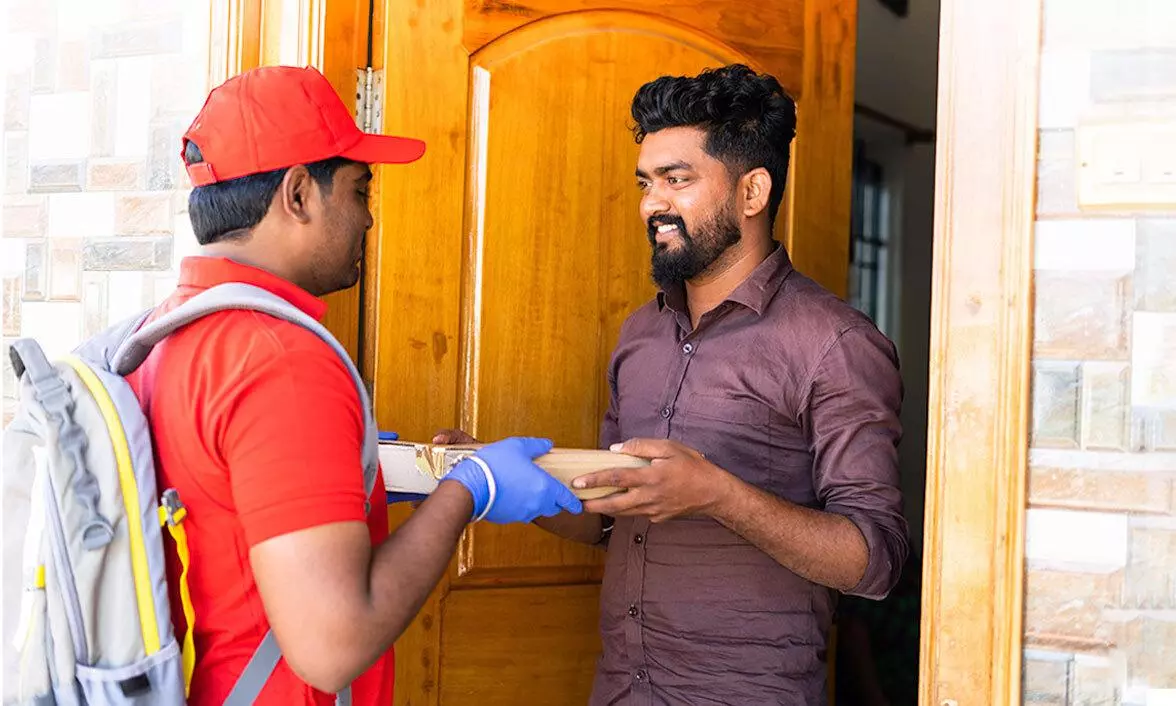 "India's Last Mile Is Expected to Become A $6Bn Profitable Market By 2024"

This oracular title of a Redseer newsletter dated May 2021, carried research on India's last mile and how it was poised to experience a boom in business.

"Road logistics is a market size of $240 billion with 75% share of the overall market size. It is divided between intracity and intercity logistics…. Intracity logistics, which includes the last-mile delivery, is the movement of goods within 200km (one side), with a round trip of fewer than 24 hours and a load <5T. It currently represents ~18% of the overall logistics. In the intra-city segment, the market is dominated by players like Porter, LetsTransport, Blowhorn and Lynk." the Redseer report said.

Shedding light on the key drivers, the report stated, "India's last-mile delivery consists of FMCG, e-commerce, retail and other categories. Of these, FMCG constitutes the highest, followed by e-commerce. In the e-commerce sector, logistics is divided between captive and third-party logistics (3PL). The overall e-commerce shipments have grown from 817 million shipments in 2018 to 1,364 million shipments last year, and is expected to grow over 5,000 million by 2025."
However, here's a piece of data that got us at ITLN wondering about the future of India's last mile. "India's last-mile delivery market is moving in a similar direction to markets like China and USA, where the penetration has reached more than 10%. Following this growth trajectory, India is set to touch a market size of $6-7 billion by 2024."
If you thought the Redseer report was something, wait until you read what the India Brand Equity Foundation (IBEF) has to say. The Ministry of Commerce and Industry set up IBEF with an aim to "promote and create international awareness of the Made in India label in markets overseas and to facilitate dissemination of knowledge of Indian products and services."

According to IBEF's predictions, "India's social commerce has the potential to expand to $16–20 billion in FY25, growing at a CAGR of 55-60%. India's e-commerce market is expected to reach $111 billion by 2024 and $200 billion by 2026."

As Indian e-commerce scales the metaphorical beanstalk, we decided to reach out to some experts about the industry's growth figures. Read on to take a look at what we found.

The Last-Mile Growth Spurt

We reached out to Nimbus Post's founder Yash Jain to weigh in on the issue. Here's what Jain had to say, "I'm pretty aligned towards the fact that the last-mile market in India is growing very aggressively."
Jain broke down the different factors propelling this growth, "One of the foremost factors is that of penetration – both for e-commerce as well as customers. Initially, the way the market in Indian e-commerce was shaping was like there were several big marketplaces like Snapdeal, Flipkart and others that established a major market share. However, now you get a lot of D2C brands who also command a major market share."

In this way, Jain says the Indian e-commerce space has switched tracks from a "vertical or horizontal marketplace to smaller D2C."

Another factor he points towards is the high internet penetration. "Internet connectivity has witnessed robust growth. "This is the reason why there's growth even in tier 2 and tier 3 cities. There's a huge volume of e-commerce demand, which has now come up. Initially, this was solely restricted to metro cities initially, but now it has witnessed fierce growth."

Sanket Sheth, Founder and Managing Director of Elixia Tech Solutions – a firm that provides comprehensive software solutions for transportation, logistics and supply chain management across industries – feels that smartphones have changed the shopping preferences of an average consumer. "The market for last-mile delivery services has grown as a result of an increase in online orders brought on by changing living standards and smartphone usage. The main driver of the market's expansion is the rise in the use of e-commerce platforms to make purchases of goods and services."

However, it was during Covid-19 that exposed the real promise of this sector.

The Pandemic's Ripple Effect

It's a known fact that the pandemic revealed the last mile's true potential as the real backbone of a thriving e-commerce landscape. A United Nations Conference on Trade and Development (UNCTAD) study – Covid 19 and e-commerce: impact on businesses and policy responses – compiled in the midst of the pandemic from March to July 2020, studied how e-commerce businesses responded.
The study found that third-party online marketplaces have performed better than e-commerce companies. "In a nutshell, wholly-digital business models have been more resilient to the current crisis. In terms of sales trends, e-commerce companies have predominantly seen declines, while nearly 60 percent of third-party marketplaces have seen increases….Close to 60 percent of the third-party marketplaces experienced a rise in the number of buyers."

According to Nilesh Ghule, the co-founder and CEO of TruckBhejo, the pandemic caused the supply chain to evolve as per the demand, pushing the infrastructure to evolve as well. "There was a shift in demand, and consumer behaviours changed completely. So more people started ordering products from their homes, and that's how the overall demand increased, which enabled us to actually start working on supporting infrastructure at a rapid pace."

He added that the pandemic also caused a spread in demand as the online demographic shifted from tier-1 to tier-2 and tier-3 cities. "The pandemic led to a shift in the consumer base. Customers from particular demographics changed as people that came to tier-1 or metro cities from their hometowns for work or business purposes went back home during the lockdowns. When they got an opportunity to work from home, people actually returned to their tier-2 or tier-3 cities. That's where the demand started coming in from, for last-mile deliveries because consumer behaviour cannot change; even the geographies change. So that's how we have started seeing more demand coming in from tier-2 and tier-3 cities," Ghule said.

Arshdeep Singh Mundi, director with Jujhar Constructions and Travels Private Limited said because of the pandemic, the e-commerce industry has undergone notable growth in the last two years. "With businesses from all sectors expanding their online presence, it is becoming a crucial part of the retail ecosystem. The pandemic undoubtedly encouraged people to pursue e-commerce, but within two years, it has already ingrained itself in daily life."

He added that businesses from a wide range of industries at this point realised the value and growth potential of the e-commerce sector. "In this case, the pandemic has heightened the propensity for more social media use and increased e-commerce platform purchases. Consumption habits have changed as a result of the necessity to acquire necessary commodities."

Mundi said e-payments were a big factor that injected this growth. However, he said COD is still a preferred option in many regions. "Additionally, despite the increasing growth of e-payments, cash on delivery is still widely used. While the epidemic has given certain digitally driven business models an opportunity, the commercial outlook for a sizable part of e-commerce firms appears to be grim. The pandemic has increased already existing e-commerce ecosystem barriers, which countries must remove in order to benefit from e-commerce growth by strengthening their e-trade penetration. Additionally, numerous actions were undertaken by the public and private sectors to lessen the virus' effects. Increased public-private cooperation was sparked by the Covid-19 problem."

However, the pandemic also exposed many flaws in the last mile. Sheth from Elixia Tech Solutions feels an effective barometer for determining the state of an economy is logistics. "During the two pandemic-ridden years, logistics' crucial role—and its weaknesses—were on show, notably when it sprung into action to deliver various FMCG and pharma (oxygen cylinders, vaccinations, medical aids). The rate of healing was not obvious even before the second wave of the illness started in the spring of 2021."

So following up on this thought, let's turn to the flip side of what is likely to impede this growth.

Last-leg Logjams

According to Sheth, the pandemic exposed India's "subpar logistics", which is yet to recover from the pandemic's blow. "The main leak reducing the competitiveness of our sectors has been India's subpar logistics. India's logistics industry is expected to increase at a compound annual growth rate of more than 10%, from $200 billion in early 2020 to at least $320 billion in 2025, according to a 2019 prediction from the McKinsey Global Institute. Although the picture is constantly evolving, there are things that we already know and things that we know we don't know. The known unknowns, such as the pace of the recovery, will become less opaque over time."
Kishan Aswath, the co-Founder of Mojro, a logistics optimisation software firm, said that uniform delivery was the need of the hour, adding that the segment will face hurdles at various levels in its growth trajectory. "According to industry experts, last-mile delivery contributes a sizable 30% cost of shipments in the e-commerce business. However, as we all know that India is a diverse country; hence, providing uniform delivery across different geographical areas can be challenging. Here are a few roadblocks that are faced by many industry players," Aswath said.

Listing out these hurdles, the Mojro co-founder said the problem was threefold. "One of the first reasons is delayed or failed delivery that increases unit level costs owing to fuel price escalation, making last-mile delivery unviable. Because of a lack of expert resources, companies fail to deliver the product on time. Mostly the order gets delayed due to the traffic condition and inadequate transport infrastructure. Furthermore, incomplete addresses lead to coordination with customers to resolve the inaccuracies with the addresses, causing delayed deliveries and a bad customer experience. Therefore, due to a lack of resources, orders might be delayed. Whereas in other scenarios, it is delayed due to a lack of technology and a seamless supply chain process. Poor first attempt delivery rates, causing delivery re-attempts and therefore increased costs."

The second problem involved a nearly non-existent on-ground visibility "From the first hurdle, we can diagnose the second, i.e. the lack of on-ground visibility and struggle to manage large orders. Due to the lack of tools for continuous and real-time visibility to understand the operations."

According to him, the third challenge was managing large orders, coupled with the ancillary manpower. "Manual planning is time-consuming, inefficient, and error-prone. This is primarily caused by the lack of supply infrastructure availability which includes vehicles and the drivers needed to run this."

Ghule agreed that maintaining an equilibrium between demand and supply was always a challenging aspect of the last mile with the problem exaggerated by a dearth of resources, infrastructure and manpower. "With the pandemic, the demand has split in from various locations. However, the challenge is whether we have built our network in a scalable manner and sustainable manner to fulfil that demand."

Jain from Nimbuspost cited manpower crunch as the last-mile space's biggest problem. "Manpower crunch challenges continue even though there are a lot of hyperlocal players which are in existence now. So for example, there are instant delivery players and hyperlocal players, and hyperlocal players pay more to their delivery partners, as compared to what is called standard courier partners. There's a big conflict in the industry right now that's been happening for delivery boys because hyperlocal partners are paying more, and it's less of a work burden."

Jain said the issue had sprung up because it was radius sensitive. "With delivery partners, there's more of a burden."

About a plausible solution to the issue, Jain said, "There needs to be more enablement from agencies or government initiatives or certain things in place, which brings talent to the right place and fit the right people at the right place."

Future Forecast

So now that we know what challenges may thwart growth, let's time travel and take a glimpse of how the future of the last mile may shape up and add to its growth. Most of our experts agreed on how tech interventions and solutions, including automation and data collaboration models, would pave the way in future.
According to Mundi, the importance of last-mile delivery in the supply chain increased dramatically with the development of technology in the retail sector. "Operations for the last-mile delivery have also been significantly impacted by changing market dynamics and consumer behaviour. As a result of the intense competition among businesses, the quality of delivery has equalled that of the items themselves. The convenience of having anything delivered right to one's door has significantly changed consumer behaviour. They no longer want to wait weeks for an online buy to arrive and demand constant updates on the status of their orders."

Ghule explained that the resource crunch led to companies relying on growing in-house supply chains. "Companies who had built their own supply chain networks were able to manage the pandemic better, rather than companies who are completely dependent on the market resources. So I feel there's a hurdle in how we can actually scale and make our supply chain networks sustainable, which everybody has to look at."

Because of this, Ghule also felt that designing customer experience (CX) was another issue. "The second biggest hurdle is consumer experience. Because companies are mostly providing a similar kind of experience to customers in metro cities and those in tier-2."

Ghule felt CX had to be flexed and adapted to consumers as per their geography and demographic. "If companies provide similar experiences to consumers in tier-2 and tier-3 cities, there are multiple factors that need to be considered. For instance, even a factor like manpower resources needs to be adapted as they need to be able to manage online payments. Therefore, customer experience is vital for supply chains to be more inclusive and evolve as per industry trends."

Touching upon automation in the last mile, Mundi said, "A last-mile delivery solution automates the laborious and repetitive activities involved in the delivery process, saving your company a significant amount of time, resources, and money. Waybills, handwritten receipts, and notes without barcodes are examples of manual tracking methods that take time and increase the risk of human error. We do see some level of automation on these, but we will get to see how automation evolves on different fronts like – Automatic Purchasing, standardisation, transparency, data insights, real-time inventory management, vendor performance monitoring, cost awareness, improving returns management, just-in-time (JIT) as well as streamlining accounting."

For Sheth from Elixia Tech Solutions, the thriving gig economy looked likely to change the future of e-commerce. "Along with cutting delivery costs and overcoming last-mile logistics challenges, common trends impacting the future of last-mile delivery include the gig economy, smart technology for tracking the location of packages, and delivery via drones and robots."

Shedding light on how the gig economy and tech solutions would impact the last mile, Sheth elucidated, "Many companies within the gig economy such as Uber, Lyft, Airbnb, and TaskRabbit have revolutionised the future of last-mile delivery, as there are many more couriers today than ever before. It is likely that the gig economy is coming to change things up for delivery companies across the globe. Shipping companies and retailers are more likely to hire such contractors for the last step of parcel delivery."

Touching on drone delivery, Sheth said, "Lastly, robotic delivery and drone delivery are going to revolutionise the entire shipping process. The price of labour for last-mile delivery is approximately 60 percent of the entire cost. By implementing robotic and drone delivery, companies will become more cost-effective. Having more automatic processes will keep their workers safer. For example, Amazon has invested in Aurora, the self-driving car business. Same-day delivery is impacting the e-commerce market. So, it is likely that outsourcing will become another trend for last-mile delivery."

Following up on CX, Jain from Nimbuspost explained how most e-commerce firms tried to provide an Amazon-like experience to their customers. "The future of last-mile delivery in India is moving towards decentralised inventory. It could either be an individual brand or some brands working collaboratively. Giant marketplaces like Amazon and Flipkart have bought inventory closer to the customer. So now, you could say distributed inventory or distributed last mile is the future for every start-up. "