Indian logistics lauds union budget for focusing on infra, EoDB, MSME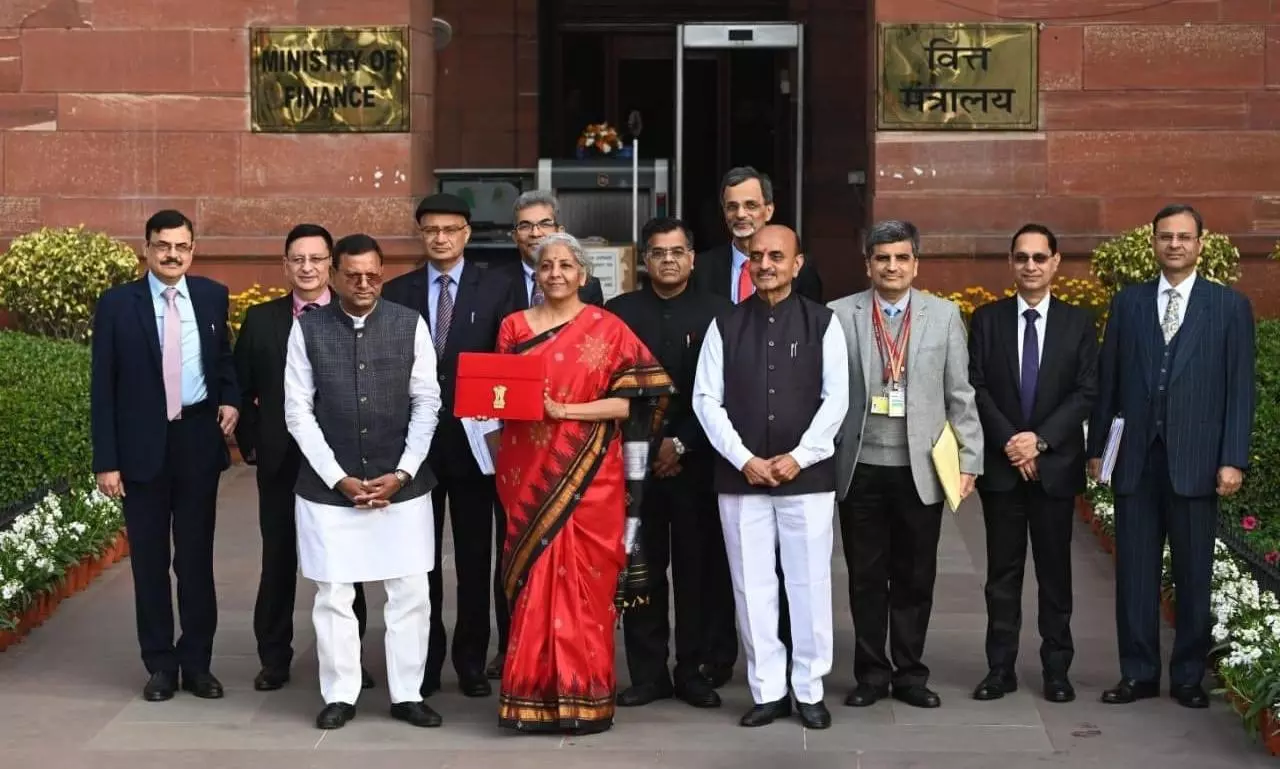 The logistics industry leaders of India lauded the Union Budget 2023-24 for focusing on the infrastructure development of the country by increasing the capital investment outlay & identifying new transport projects, ease of doing business measures by reducing compliances & decriminalising legal provisions and revamping credit guarantee scheme for MSMEs.

Union Minister for Finance & Corporate Affairs Nirmala Sitharaman presented the budget in Parliament on February 1, 2023, and informed that 100 critical transport infrastructure projects, for last and first-mile connectivity for ports, coal, steel, fertilizer, and food grains sectors have been identified.
"Along with the steep investment increment in digitization and automation to develop smart warehousing, the new projects will strengthen the much-needed multimodal connectivity," says, Vineet Agarwal, MD at Transport Corporation of India.
"We are extremely elated at the announcement of these provisions," says Zaiba Sarang, co-founder, iThink Logistics. "They will help solve the current connectivity issues facing the industry while building a more sustainable future for logistics."
"Transport infra projects will have a positive impact on the nation's last and first-mile connectivity," says Rampraveen Swaminathan, CEO, Mahindra Logistics. "The announcement of setting up Urban Investment development fund (UIDF) for Tier 2 and Tier 3 cities will provide a much-needed boost for smoother and faster logistics transportation and will further ensure greater connectivity in tier-2 and tier-3 cities," he added.
"The newly announced projects will help the country to ensure energy and food security, says Nikhil Agarwal, president- CJ Darcl Logistics. "These are critical for India as it targets to become the third largest economy in the world in the next 6-8 years."
The finance minister also noted that the new 100 projects will be taken up on priority with an investment of ₹75,000 crore, including ₹15,000 crore from private sources.
"This is an opportunity for Indian enterprises to participate in India's growth story," said, Nitin O Mahipal. CEO & MD of Mega Pack and Carry, while talking about the government's plan to raise₹15,000 crore out of the total amount from the private sector.
"Development of private participation will also be crucial in implementing the projects," said, Rizwan Soomar, CEO & MD - India Subcontinent & Sub Saharan Africa, DP World. "We are confident that the budget will attract private investment for capital expenditure, which will spur economic growth and position India as one of the fastest growing nations in the world."
The budget also announced fifty additional airports, heliports, water aerodromes and advanced landing grounds will be revived for improving regional air connectivity.
"This will establish comprehensive air connectivity. This will also enhance the fiscal output while lowering the logistical costs and timeframes," said, Nisschal Jaain, co-founder and CEO, Shypmax.
"The push is commendable and will strengthen the sector, and are in alignment with the goals of the National Logistics Policy (NLP)," opines, Swarup Bose, founder & CEO of Celcius Logistics.
"The infra projects are all massive steps in enabling the logistics sector, says, Varun Gada, director, LP Logiscience - A Liladhar Pasoo Company. "For players like us, who are looking at growth into tier 3 and 4 regions, this infrastructure push will be instrumental in creating cost-effective supply chains as well as drive overall market growth."
"Improvement through the revival of airports, helipads, water aero drones, and advanced landing grounds will support quick and efficient logistics, opines, Gayomard Driver, group chief financial officer and board member, Jeena & Company. "It could also simplify and improve regional air connectivity, further increasing the growth across the logistics sector."
Infrastructure and investment was one of the seven priorities listed by the budget and the capital investment outlay increased steeply for the third year in a row by 33 percent to ₹10 lakh crore, which would be 3.3 percent of GDP.
Dr A Sakthivel, president, Federation of Indian Export Organisations (FIEO) said "These initiatives will have a spin-off effect on the economy and employment."
"The drive to invest in and expand infrastructure is also intended to have a multiplier impact on job creation, resulting in increased employment potential and business opportunities in India's supply chain and logistics industries," says, Lalit Das, founder 3SC Solutions.
Md Imthiaz, CEO & co-founder, Raaho appreciates the government's efforts to simplify taxes, reduce compliance and create the Infrastructure Finance Secretariat.
"These measures will encourage private investment in important areas like railways and roads, and have a positive impact on the economy and job creation," he said.
While we acknowledge the budget's efforts, he would have liked to see more support for truck drivers, including social security and skills training.
"We also hope to see more specifics on how the National Logistics Policy will be implemented," he added.
Finance Minister also announced a capital outlay of ₹2.40 lakh crore for the Railways, which is about 9 times the outlay made in 2013- 14.
Yogesh Dhingra, founder, MD & CEO of Smartr Logistics pointed out that the provision for the railways is the highest it has ever been. "Rail, being one of the most efficient modes of transportation, will help in cost reduction as well as reducing greenhouse emissions by decreasing reliance on the road and air connectivity only," he added.
"The record outlay for the Indian Railways will provide the necessary impetus to programmes like the Dedicated Freight Corridor project that are critical to bringing the cost of freight movement down," reminded DP World's Soomar.
This expenditure is the highest ever, and the remaining works of WDFC will be completed in fiscal 2024. It will boost the movement of goods from roads to railways," says, Prem Kishan Gupta, chairman & managing director, Gateway Distriparks.
"I believe that with a capital outlay of 2.40 Lakh crore for the Railway, there will be a dynamic change in strengthening the infrastructure of the entire railway system," said, Vivek Lohia, managing director at Jupiter Wagons Group.
For enhancing the ease of doing business, the budget has reduced 39,000+ compliances and decriminalised 3,400+ legal provisions.
Anil G Verma, Executive Director and CEO, Godrej & Boyce calls it a "balanced and inclusive budget." "Together with the initiatives to reduce the compliance burden and de-criminalise several regulatory provisions, it will improve the ease of doing business in India and attract fresh investments," he said.
"We welcome the provisions for ease of doing business which will help lay the foundation for big private investments in infrastructure development," said, Rajiv Agarwal, operating partner (infrastructure), Essar and managing director, Essar Ports.
Finance Minister announced the revamped credit guarantee scheme for MSMEs, proposed in the previous budget, will take effect from April 1, 2023, through the infusion of ₹9000 crore in the corpus.
According to Amit Maheshwari, founder, and MD of Softlink Global, the budget holds great promise for the logistics industry. "The logistics sector is largely driven by MSMEs and the government's announcements on less stringent contract execution and credit guarantee schemes for MSMEs will help businesses affected by the pandemic," he said.
"The budget focused on the support for agriculture and farmer empowerment by setting up of food co-operatives and decentralised storage facilities," said, Celcius Logistics' Bose. "These are all vital factors that will go a long way in enabling smoother food supply chains that can benefit farmers and drive effective food distribution," he said.
"The revamped credit guarantee scheme will help strengthen the start-up and MSME sector, enabling them to gain access to additional collateral-free credit," he added.
"Rationalization of custom duties on specific products, extending credit access to the MSME sector as well as easing of SEZ regulations will also help Indian products become price competitive globally," said, DP World's Soomar.
Shypmax's Jaain agrees that the reduction in basic customs duty for goods from 21 to 13 percent will bolster foreign trade while creating global acceptance for Indian brands.
"However," he said, "The industry was expecting an increase in the de minimis for all e-commerce imports as India looks to become a global marketplace, it needs to also give credence to the world that India is creating a level playing field for its exporters as well as global retailers into India. Furthermore, this will also channel the growth of Indian MSMEs by increasing their global leverage while curbing increased tariffs on Indian products. Also, increasing the bracket of 3 years of tax-free profits from seven to 10 years would prove instrumental in encouraging start-ups," he said.