Importance of building a robust business continuity plan
What are the complexities of distribution and logistics for specialty chemicals in India? How does Merck Life Science set highest standards of quality, safety and security?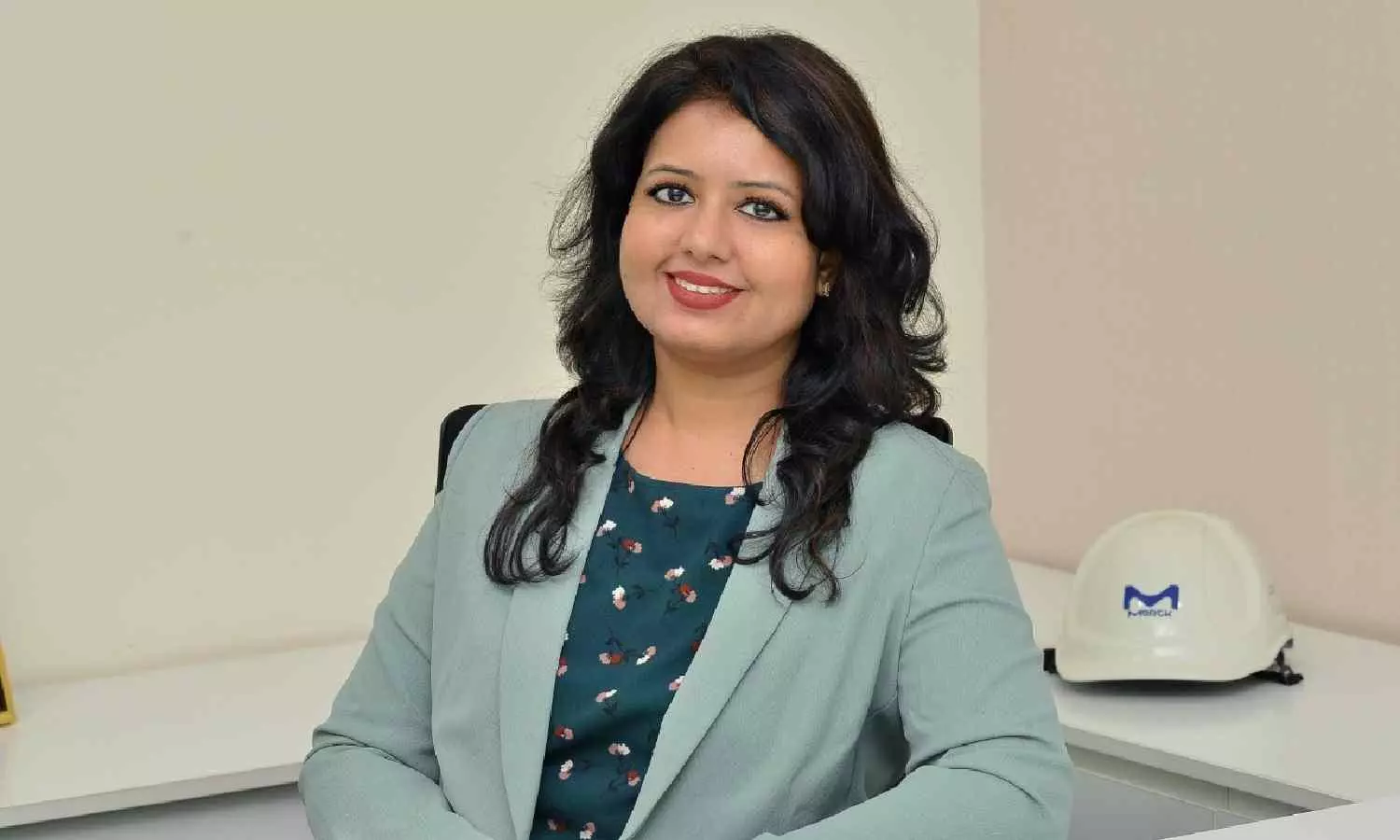 Rashmi Iyer has been with Merck, a global science and technology company with a 350-year-old rich history, for more than seven years. Iyer is the Head of Distribution at Merck Life Science with a responsibility for operations at Mumbai Central warehouse, regional 3PLs and domestic transportation. After a recent visit to Merck India's Patalganga facility and quality control lab, situated in Navi Mumbai, Maharashtra, Reji John speaks to Iyer and understands the complexities of distribution and logistics of specialty chemicals in India and how she leads a team that is trained to ensure highest standards of quality, safety and security in distribution on par with international standards. Edited excerpts:
How do you build an agile and resilient supply chain for specialty chemical products at a time when disruptions of various types and magnitude are far too frequent? Is that possible at all?
Today the business landscape is changing at a very fast pace. Growing and sustaining a business has become exceedingly challenging, especially due to the changing needs of the customer and increasing competition. I would say this is the age of the customer wherein customer experience can actually make or break your business. Hence, it's imperative that supply chain be agile and resilient. This becomes even more important in an organisation such as ours, which is dynamic, innovative and growing fast.
If you look at our network, our distribution consists of the state-of-the-art warehouses and third party service providers across India. These warehouses and distribution centers are 100% compliant in terms of safety, quality and regulations. They are future-ready to handle any customer demand for the next 10 years. A key aspect that contributes to having a very agile and resilient supply chain is to have a robust business continuity plan (BCP) in place. BCP is the ability of an organization to continue to perform the critical business functions, even in the case of disruptions such as the Covid pandemic. Business continuity management is a strategy that an organization needs to have, in terms of having their infrastructure, procedures and standards in place and how well their personnel are prepared. From my personal experience, the criticality of having a BCP in place, to some extent, helped us greatly during the pandemic. I am immensely proud to say that throughout the pandemic, there was not a single day our distribution center was kept closed. We had zero blackout and we continued our commitment to our organization to our customers and to the society at large.
How does the real-time exchange of business information between supply chain managers and manufacturers enable an end-to-end product orchestration? How does this happen in Merck to ensure that factories have almost perfect visibility to the demand and supply chain managers perfect the art of mapping the demand?
End to end visibility is of prime importance, especially because this provides real time data exchange and holistic understanding among partners across supply chain. So at Merck, we have SAP as our ERP system, which is very vital in a real time data exchange within supply chain right from planning to procurement to manufacturing, to warehousing and then logistics up to the customer. We have more than 200,000 SKUs (stock keeping units) servicing 3000 plus customers across India. Once a customer places an order on our customer relations management (CRM) tool, it is then approved by the sales team. From the CRM there is a data exchange into SAP so that the order once approved flows into our SAP system. Then the product is defined as an MTO (made to order) or as an MTS (made to stock).
Order for MTO products are not frequent, therefore, the material is procured only when customers place the order. MTS products are very fast moving and we have the material in stock. So whenever the order comes in, we have the material in stock and there is a quick data exchange and the material moves out to the customer. Now for the MTO products, there is a requirement generated in SAP again. If it's a local product it is generated to a locally manufactured warehouse but if it is an imported product, which let us say comes in from Germany, France or Japan, then the requirement is generated to the imported vendor. It comes from the manufacturing side or the import vendor to the warehouse and from warehouse to the final customer.
"A key aspect that contributes to having a very agile and resilient supply chain is to have a robust business continuity plan (BCP) in place. BCP is the ability of an organization to continue to perform the critical business functions, even in the case of disruptions such as the Covid pandemic."
How do digital transformation tools enabled by big data and artificial intelligence help logistics and distribution managers to predict the demand curve and match supply and demand?
We have started a warehouse automation project from August this year. We have had many manual interventions when we receive material into our warehouse. With the introduction of hand-held smart scanners we are getting rid of most of the manual processes. So now when material comes in the handheld device will scan the label and indicate exactly the storage location and bin number in the high racking system. Similarly when the order is received a similar process is followed ensuring efficiency and operational excellence. There is another tool we are already working on for the last mile delivery to the customer. In the past when material was dispatched we used to consistently get calls from customers. So we introduced what we call a PACE tool, which tracks orders real time and send notification to customers. This is very similar to what happens when you place orders on online retail channels. So once your material is packed and it's invoiced, there is an automated mailer which goes to our customers with all relevant information. And such regular automated updates are sent to the customer till the time of the final delivery. This has actually brought down the amount communication that we used to have with our customers.
Tell us about the technology platform at Merck that allows seamless exchange of information between your stakeholders to ensure a supply chain that allows for full visibility but at the same time have robust firewalls to protect data and allows for sharing the data only for those it is intended for in the value chain?
SAP is the ERP system that we use across the world. However, there are various technical versions of SAP we use in different regions. We do not allow data to flow to departments for which it's not intended and we do it by giving the rights for that department. For example, distribution, the team that works in distribution has restricted access. They cannot enter into transactions that are handled by manufacturing. And this comes under a concept of segregation of duties or SoD. We have regular audits both internally and externally to check SoDs and resolve any conflicts. For example, a person in manufacturing cannot have access to procuring raw material and packing materials, because then there will be a conflict in that person's rights and duties. His role is only to manufacture — how much has to be procured in what quantity and in what batches. So this is how we have a sort of a restricted access and limited flow of information among various functions. And these are fully automated processes.
What are some of the most important boxes that you will have to check before appointing your 3PL partners?
We have 3PL partners for both warehousing and transportation. On the warehousing side we work with four regional 3PLs across India as our operations are divided into four regions with headquarters in Ahmedabad, Kolkata, Haryana and Hyderabad. So whenever we start the process of appointing a 3PL partner, we loop in procurement department because it plays a very critical role. The procurement team goes to the market and gets data that they feel are apt for our business. The first process is to float an RFI or request for information. In an RFI we ask for a lot of information that include information about safety and quality capabilities as we deal with almost 80% hazardous products in our inventory and more than 50% temperature controlled products.
Hence it's very important to understand the background on how well they handle these products. If they already have such capabilities and have such clients then they will have a priority for us. Financial background is checked by the procurement team for the last eight years. Skilled manpower is a priority as they will be handling chemicals. Technology is important. What is their experience in handling ERP systems and knowledge of automation? Once we gather these information we then shortlist and provide a rating. And the top ones are identified and an RFQ or request for quotation is floated. Then commercials are discussed and agreement is finalised. For transportation, we work with more than 20 transporters across India. What we look at is almost similar. Additionally, we also look whether they are working on some sustainability initiatives like electric vehicles, CRM systems and visibility tools to track and trace.
How do you set and implement a Merck-standard of distribution in a market that is largely known to cut corners and very price sensitive?
Merck is known for its brand image as a leader in science and technology business since its inception, 350 years back globally and now 55 years in India. I do agree that the market in India is very price sensitive. However, the fact is also that we offer very high quality products and solutions for research as well as manufacturing of drugs. And I guess one of our USPs is our packaging, which is very safe to carry chemicals. In fact, a year back some of our products also have holograms to support anti-counterfeiting. So, all of these aspects help customers to have more confidence in us and purchase from us even if the price is a little bit on the higher side.
"One aspect that helps us in this is operational excellence, which was implemented here over the few years. And the first ideology that operational excellence follows is leadership involvement. So leaders have to ensure that our presence is felt in different programmes."
What is your biggest challenge in ensuring the above happens any time and every time?
Our biggest challenge in distribution comes from the type of products that we handle. More than 80% of our products are hazardous ranging from class three which are flammable liquids; class four, which are flammable solids; class five, which are organic peroxides and oxidizers: class six, which are toxic products; and class eight which are highly corrosive material. Throughout the distribution channel, there is always a human handling right from storage to transportation; you cannot automate the whole thing. And that's where the challenge comes. We have to ensure that our people are well trained in safety. So, human behavior and supervision control is something that has to be continuously monitored. Now, this is within our storage in the in the warehouse. So there can be a good amount of control. But ownership also lies on Merck when the material is in transit from our warehouse to our customers. So handling the transport business becomes even more critical.
There are certain products which have to follow the compatibility. So, a class three cannot be stored with a class four product, because in the event of some leakage, it can actually lead to fire or explosion. So giving that sort of training to the transport laborers and handling the third party logistics providers is one challenge that we are working on continuously. The other challenge is availability of service providers who can handle these types of products. So when you approach 10 transporters to carry your products, eight out of 10 back out because they know the hazardous nature of our goods. So you're left with only two. Then you train them so well to ensure that they stick with you.
You are in the business of manufacturing and distributing specialty chemicals. Some of them are classified under different types of DGR. How do you ensure that there are no gaps for any error while they are out on the road for distribution?
I am a dangerous goods certified expert by International Air Transport Association (IATA). And it is a mandate that all the documents about DG goods that leave the warehouse have to be signed by me before dispatch. There are many ways we do to maintain safety levels – training, education and awareness. So we have this material compatibility chart, which clearly indicates by visual aid what products can and cannot be stored next to the other. We have a vehicle loading checklist. And this vehicle loading checklist has all the parameters mentioned in it about load security and how to stack products inside. We ensure whether the stacking has been correctly done or material compatibility been fully followed. There is a responsible floor supervisor who signs off on every vehicle inspection checklist and a picture of the truck is taken before dispatch. So this also gives them a fear that there is evidence of every truck that has been moved out, so it is important to do the job correctly. Besides training there are regular audits conducted at transport hubs. Because when you move material from a warehouse to say a customer in Delhi, it doesn't go directly. It could be a part load. So, there is a possibility that this material will be kept in their hub. So inspection and training are important. These are complemented by awareness campaigns and programmes involving all service providers, besides reward and recognition initiatives.
Sustainability, reuse, recycle and netZero are critical topics in the production and distribution of any product. Give us a few specific examples of how Merck in India ensures that these are made an integral part of its business operations.
Merck is the producer of hazardous waste due to its manufacturing, handling, storage and transportation, hence, it has the responsibility for its waste until it is finally recycled or destroyed. Any product that is no longer in use becomes a chemical waste. Waste removal is highly regulated by law. So, there can be a risk of non-compliance if you do not follow the rules of waste management. And these risks also have some significant financial and legal consequences as well. So, Keeping all this in mind, we structured a waste management strategy. The primary objective of this strategy was to identify the area where waste is generated, and then plan avenues for avoiding or reducing the waste generation in the end to end supply chain. So, we started off by organizing a waste management workshop, wherein we involve all stakeholders and we have a fortnightly connect with all of them.
We identified what is expired and nearly expiring. What is the customer-returned material, which is no longer billable? Instead of sending them for disposal can we do some re-dressing? Or is there some re-distillation that can be done? Can we liquidate it to customer at a discounted rate? Can you retest it and extend the expiry date? So we work on these aspects and make chemical waste saleable. These are little steps we carried out in the last one year. And because of all these collaborative efforts, we were able to liquidate 50 tonnes of the material, which would have otherwise just gone as a waste. We were also awarded for this initiative.
As a leader, how do you ensure that the above topics are important values for individuals and for the society and instill them in the minds of your team that works with you even as you constantly imbibe those values in your daily life?
Walk the talk and lead from the front. That's what I strongly believe. People are the most important asset in any organization. And I believe if you want to imbibe and sustain focus on safety, quality and sustainability, it needs to come from top to bottom to each individual in the team. One aspect that helps us in this is operational excellence, which was implemented here over the few years. And the first ideology that operational excellence follows is leadership involvement. So leaders have to ensure that our presence is felt in different programmes.
Secondly, we also encourage our employees to participate in operational excellence activities such as kaizen, which is continuous improvement. We encourage employees to come up with any small improvement that they feel can bring about a change in the warehouse, it may not necessarily be something which contributes to a huge cost saving. And also what happens is when they become accountable, they take more ownership, and because of which we try to imbibe a high impact culture. It's a people strategy that is cascaded from a global team to down the line. And there are various aspects of high impact culture, like raise the bar, act as an owner, be curious and innovate boldly. And we asked people to set examples through these aspects. Reward and recognition is something that I strongly focus on. People need to be recognized, not only monetarily, but also through appreciation in forums.