Humanitarian aid flows to Turkiye/Syria
India has sent 6 planes with personnel, essentials, medical equipment: EAM S Jaishankar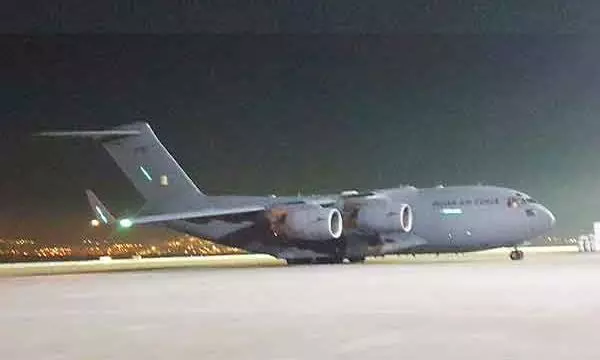 The sixth plane from India carrying rescue personnel, essentials and medical equipment for earthquake relief efforts has reached Turkiye, External Affairs Minister S Jaishankar tweeted today.
"The sixth flight carries more rescue teams, dog squads and essential medicines for the quake-hit country," Jaishankar tweeteed.
Jaishankar had earlier mentioned: "This field hospital in Hatay, Türkiye will treat those affected by the earthquake. Our team of medical & critical care specialists and equipment are preparing to treat emergencies."
Turhan Ozen, Chief Cargo Officer, Turkish Airlines, mentioned in his LinkedIn post: "Apart from our operation centre Istanbul airport, our flights from Sabiha Gökçen, Esenboğa and Adnan Menderes airports continue..."
Lufthansa Cargo is planning the first relief flight with a B777 freighter on Friday to help relief operations in Turkiye. "Today everybody helped to organise and collect the donations for the Lufthansa Cargo flight."

Airlink has helped get 54 humanitarian responders from eight different NGOs in the air and on the ground to provide help regarding:
*search and rescue
*medical assistance
*needs assessments
*WASH; and
*fuel shortages
Air Charter Service says: "There is currently good aircraft availability to get cargo to the region. From U.S.A we have a reasonable number of B747, B777, and B767 aircraft that can all get into larger airports such as Istanbul (IST), Istanbul Sabiha Gokcen International Airport (SAW) and Adana Şakirpaşa Airport (ADA). From Europe we have similar large aircraft available with the addition of smaller B757, B737, and AN12. From the Middle East, we have the addition of the Ilyushin 76 aircraft which can land and be offloaded independently if necessary."
Amazon's first truckload of donated heaters, food, medicine, and equipment left its fulfillment centre in Istanbul for the impacted Hatay province.
"We created a way for customers to support by activating a donations page on our Türkiye store. Customers donated 5,000+ items in the first three hours after the page went live. We're working on rolling this out to customers in Europe and the U.S. later this week. As of Tuesday morning, our leaders confirmed that all of our nearly 2,000 employees in Türkiye were safe and accounted for."

Flexport has committed an initial $250,000 from the Flexport.org fund to ship aid with nonprofit and humanitarian partners as they respond to this emergency.

Turkiye earthquake
Southern Turkey was wrecked by a 7.7 magnitude earthquake on February 6, 2023 at 4:17am, which has caused major devastation across the region and north-west Syria. At least 78 aftershocks have been reported followed by a second earthquake of 7.5 magnitude at 13.24 pm. It is estimated that the combined number of deaths has risen to 12,000 people with more than 21,000 injured.
Turkiye needs more help
The International Federation of Red Cross and Red Crescent Societies (IFRC) is launching emergency Appeals for CHF 200 million ($218 million) to respond to the earthquakes in Turkey and Syria.
"The Turkish Red Crescent and Syrian Arab Red Crescent have immediately mobilised to support communities affected: needs are growing minute by minute. Rescue teams have been reaching hardest-hit areas where survivors remain trapped under rubble," says an update from Humanitarian Logistics Association
The International Rescue Committee (IRC) has launched an integrated response to affected populations across both Turkiye and Syria including provision of immediate cash, basic items such as blankets and towels, and hygiene supplies like soap, toothbrushes and feminine products.
IRC President & CEO David Milliband says: "Those affected in both Syria and Türkiye need our help now more than ever. The immediate priority must be search and rescue capacity to save lives and the provision of essential goods and medical attention to support those who have survived."
The United Nations World Food Programme (WFP) had reached nearly 64,000 people in urgent need of food assistance, providing ready-to-eat food rations, family food packages and hot meals as of Wednesday February 8, 2023.
"The food being distributed requires no cooking and provides immediate relief for families whose precarious position is made worse by freezing temperatures.
"In southeast Türkiye – the area closest to the quakes' epicentre – WFP is coordinating with authorities to provide family food packages to people in temporary camps. The camps already house around 44,000 Syrians under temporary protection and now include newly displaced Turkish nationals. WFP is delivering family food packages to 17,000 affected people in camps in the southeast."
Ocean update
"As the Port of Iskenderun remains closed until further notice, our teams have been hard at work creating contingency plans for affected customers with cargo bound for the Port – hoping to minimise the impact of the circumstances on your supply chain," Maersk says in its update.
"We will unfortunately not be able to deliver cargo currently on the water bound for the Port of Iskenderun. We will instead be holding containers in nearby ports and hubs for three weeks from today (Wednesday 8 February) at no extra cost while we plan next steps and final deliveries. Alternatively, we can deliver cargo to any Turkish port within operational feasibility and capacity constraints. This will be a free Change of Destination (COD) arrangement including re-stowage, operational and admin fees."
MSC adds in its update: "Due to current conditions, calls at Iskenderun are being omitted until operations resume. For cargo already loaded and sailing towards Iskenderun, MSC will divert shipments to Tekirdag. The same will apply for all bookings meant for Iskenderun unless customers instruct us differently.
"All booking cancellations, amendments and changes of destination, as well as demurrage at destination will be free of charge for Iskenderun bookings throughout the month of February.
"It is undetermined when operations at the port of Iskenderun will restart, but we will do our best to minimise the impact on our customers and their supply chains."
Ocean Network Express (ONE), in its update, says: "We regret to advise that the terminal infrastructure in Iskenderun has been severely damaged, and all port operations suspended. Subsequently, with immediate effect all services from/to Iskenderun are suspended until further notice.
"Terminal operations at Mersin resumed on February 7, 2023, and continue without any reported issues. The terminal is expecting to face yard congestion in the coming days due to local infrastructure damages delaying container pickups and are working with local authorities to find a temporary solution.."