How technology is solving last-mile challenges
Delivery speed, demanding customers and multiple stakeholders make last-mile deliveries a technological feat waiting to be executed….AI, ML, route optimisation and everything in between comes into play here…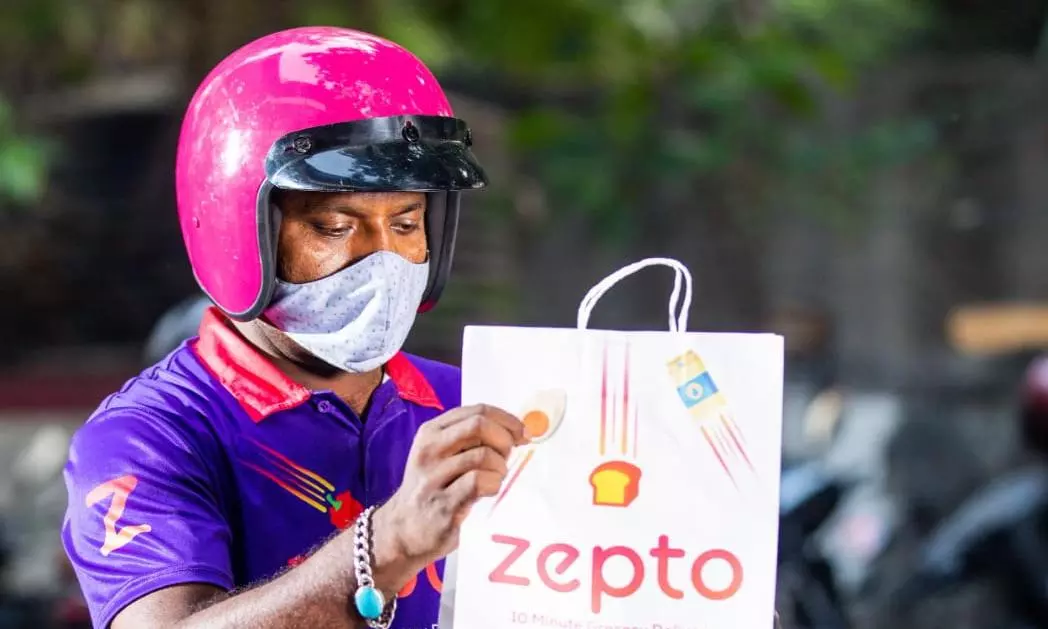 Same day delivery, 60 minute delivery, 10 minute delivery - the speed at which e-commerce has metamorphosed to ensure customers are happy and satisfied has left the supply chain gasping for solutions..and the saving silver lining has been technology.
With the Covid pandemic-induced frantic buying and digital payments zooming off, companies had no choice but to adopt the latest technologies - to deliver, forecast and ensure availability of products and services.
And that's why tech adoption of last-mile delivery gains prominence. Last mile delivery is the final leg of the logistics process when products are transported from a distribution or fulfilment centre to the final customer. It is also the stage that impacts customer satisfaction and plays the most critical role in creating the brand.
Grocery was one of the largest retail categories in India but offered limited options for home deliveries, according to Kaivalya Vohra, CTO, Zepto. "Legacy online platforms used to take six to seven days to deliver an order, and local vendors lacked the resources to meet high demands. We set out to solve that very problem by offering consumers the choice of having their groceries delivered right when they need it.
"Technology has certainly played an instrumental role in our journey. Our best-in-class tech stack helps drive efficiency in operations, ultimately making 10-minute deliveries possible. From the initial stages of developing the app, implementing geo-fencing, and establishing backend support technology to our current focus on fine-tuning the customer journey within the app, our primary goal has always been to enhance the customer experience. Our technological solutions have allowed us to more accurately predict estimated arrival times, optimise route navigation for our delivery personnel and packers, stabilise the supply chain and fulfilment at central hubs, monitor real-time trends and forecast demand, improve inventory management and reduce waste. This has resulted in an overall enhancement of turnaround times across all aspects of our operations. We are building one of the best supply chain product stacks in the country today, and we are investing heavily in customer-facing products as well. Technical excellence is deeply ingrained in our organisational culture."
Like many logistics providers, iThink Logistics faces the challenges of last-mile delivery in a diverse and complex market like India, says Zaiba Sarang, Co-Founder, iThink Logistics. "The challenges include:
*Diverse topography and infrastructure: Delivering in urban areas as against rural regions can be significantly different. The difference between these environments can be quite substantial due to factors such as road conditions, accessibility, and population density. In addition, the unstructured address system in India adds another layer of complexity, requiring innovative solutions to ensure accurate and efficient deliveries across both urban and rural landscapes.
* Cash-on-delivery (COD) preference: A significant portion of Indian consumers prefers to pay by cash upon delivery, which brings additional logistical and safety challenges.
* Return and exchange management: Handling returns efficiently is crucial for customer satisfaction and operational efficiency.
"iThink has been able to work out solutions that include:
*Collaboration with India Post: To overcome the delivery issues in rural areas, iThink Logistics has strategically partnered with India Post. By synergising the extensive reach and experience of India Post with the cutting-edge technology and swift services offered by iThink Logistics, the intricacies of logistics operations are poised to be streamlined.
*Connect+: In order to mitigate fraudulent activities associated with COD and return to origin (RTO) cases, we have introduced Connect+. This innovative order confirmation tool orchestrates a series of automated messages to end customers, facilitating order verification, address confirmation and the seamless conversion of COD orders to prepaid transactions.
*NDR: Efficiently managing returns is vital for ensuring customer satisfaction and optimising operational processes. To achieve this, we've introduced the non-delivery report (NDR), a patented six-step solution. Through the implementation of NDR, we maximise the delivery of parcels in the first attempt itself, thereby minimising the occurrence of returns and elevating the overall shipping experience to a more satisfactory level."
The last mile delivery market in India has been significantly fuelled by the quick development of e-commerce, food delivery and online retail, says V Rajesh Gowrinath, Senior Vice President, Sales, Gati. "At Gati, the last-mile journey is meticulously orchestrated with our unwavering commitment to growth through automation and technology. We have an integrated command centre and control tower that is now being enabled with active or real-time AI as a next step post the implementation of medium and short-term analytics engines. We can consolidate data from a variety of external sources and use the same to re-plan and execute in real-time.
"Gati has an in-house robust software Gati Enterprise Management System (GEMS), which has had a transformational impact on express logistics operations. GEMS aims to provide unparalleled operational efficiency, collecting data for cost optimisation, ease of operations and commercial efficiency."
There are multiple critical last-mile delivery challenges that modern technology addresses, says Soham Chokshi, CEO and Co-Founder, Shipsy. "Inefficient route planning, growing last-mile delivery costs, inability to deliver on-time, repeat delivery attempts, inefficient resource utilisation, absence of real-time tracking, manual order allocation processes and more.
"Here's a case study on how Shipsy's last-mile delivery solution helped one of the world's most loved pizza delivery chains drastically improve logistics operations. Some of the key challenges our customer was facing included:
*Time-consuming order allocation leading to delayed deliveries
*Lack of live order tracking for end consumers
*Manual order allocation to riders consuming significant bandwidth of operations
*Incorrect delivery attempts
*Inefficient management of full-time and ad-hoc drivers; and
*Absence of real-time visibility of delivery operations for delivery managers
"The customer needed an intelligent solution that could be easily integrated into their current systems and ensure rapid flexibility and scalability during peak business hours. Shipsy's Smart Logistics Management Platform offered a holistic solution to the customer that addressed all their needs. Below are some of the important components of the platform:
Dispatch screen: Based on allocation rules, Shipsy auto assigns orders and helps kitchen/store staff to monitor incoming orders.
Driver slot management: Store managers can add roster and post requirements for freelance drivers to opt-in during peak hours.
Dynamic enroute order clubbing: Considering constraints like radius, delivery location, maximum orders that can be assigned etc., the system automatically clubs multiple orders.
Real-time order tracking for end customers: Shipsy facilitates live customer tracking with animations, and via simulations, it compensates for internet/GPS gaps during the delivery.
Dedicated driver app: The application ensures that a task is only assigned to drivers if their body temperature falls between the permissible limits.
Online payment integration: Customers can change payment mode from cash to online. The driver displays a QR code that the customer can scan and pay online.
Centralised dashboard: A centralised dashboard helps aggregate all analytics related to riders, orders and their SLAs. Reports can be easily downloaded, too.
Incentive disbursal through gamification: This links incentive programmes with real-time performance scores, in-app leaderboards, delivery feedback and other driver details.
"Shipsy's solution empowered store managers to take orders in less than five steps. The solution also ensured cluster-based multiple order management and aggregating analytics for operational efficiency. Here's a quick look into the key benefits.
>90 percent of deliveries marked in real-time
>24 percent increase in on-time delivery
>45 percent decrease in order allocation time
>Online payment integration for COD orders on the rider app
>23 percent reduction in average distance travelled by bikers
>77 percent reduction in the number of steps involved in the delivery process
>Centralised dashboard for performance monitoring and SLA management
"Now, let's talk a bit about logistics service providers (LSPs). First, let's understand the core components of last-mile costs for LSPs. Last-mile costs can be primarily categorised into two components. Fuel, a variable cost accounting for 15 percent of the total last-mile costs, and fixed costs, which include vehicle and workforce expenses that make up 75 percent. Route optimisation usually helps save fuel costs while a major chunk of fixed costs, related to workforce and vehicle remains unaddressed. We have made remarkable progress in helping logistics service providers tap into the 75 percent cost savings opportunity. Shipsy's Territory and Workforce Optimisation Solution is empowering a global logistics service provider to reduce last-mile costs by 28 percent. The territory optimisation engine leverages demand patterns to generate the optimal mix of fixed and freelance drivers. This significantly reduces manpower planning costs. It also accurately and intelligently redraws existing delivery territories to increase the total daily shipment deliveries in a city. The solution also empowers businesses to easily adapt to seasonal and volatile parcel volumes without compromising service quality."
Insights from the Locus last-mile maturity assessment revealed that 74 percent of Indian businesses struggle with last-mile logistics, according to Nishith Rastogi, Founder and CEO, Locus. "If we zoom out a bit, the story is more or less similar across many regions. For the Indian market, leveraging technology has been crucial for last-mile logistics, especially given our rapidly expanding market and persistent infrastructural challenges. The last mile is also one of the most expensive legs of fulfillment, accounting for half of all shipping costs. Steep consumer expectations around fulfillment also play a key factor. Through the strategic adoption of technology, we've successfully digitised last-mile processes, simplified change management, and unearthed latent inefficiencies.
"Take the example of one of our customers, India's leading electronic appliance retailer that has a nationwide network of warehouses for fulfilling deliveries to customers' doorsteps. Lack of on-ground visibility across its vast distribution network, manual route planning, high driver churn rate, inaccurate geocoding and traffic conditions, and suboptimal fleet utilisation were some of the challenges to providing memorable consumer fulfillment experiences. However, with our comprehensive set of last-mile solutions, we were able to resolve these challenges with the end-to-end digitalisation of their operations. There has been an 89 percent improvement in vehicle utilisation, an ability to provide three-hour express fulfillment and complete visibility of daily dispatches."
Tech solutions, cost/time reductions
ETA is one of the most critical levers to our brand promise and customer experience, says Vohra of Zepto. "We have seen higher retention among customers who receive their delivery within 10 mins versus the ones who receive it across other time brackets going over 10 mins. Hence, it is critical for us to ensure the highest levels of accuracy. We have designed delivery communication in a way where we don't just communicate estimated delivery times on our homepage and order tracking page but also use that as an opportunity to share aspects around rider safety.
"As a policy, our riders are only shown the navigation routes and not the promised delivery time thereby ensuring that they focus on reaching safely and are under no pressure to deliver under a given timeline. Our average delivery time remains under 10 mins.
"With the evolution of our analytics model combined with the data science model evolution, we have started optimising every leg of our ETA and errors on a real-time basis, using specific properties of our order, leveraging parameters like rider and packer stress in addition to taking into account multimodal delivery option (bike, EVs, cycle etc). These innovations have enabled us to make our ETA more trustworthy."
Our market-leading dispatch management platform has significantly enhanced cost efficiencies for its customers, adds Rastogi of Locus. "To put things in perspective, to date, we have executed over 850 million deliveries across 30+ countries, saving over 57 million miles in transit. This optimisation has in turn translated into substantial financial savings for our customers to the tune of $275 million in transit costs. I'd also like to highlight that these cost savings are not at the expense of service reliability and customer experience. Locus has consistently maintained a 99.5 percent SLA adherence ratio, ensuring that each delivery is more efficient than the last, delivering unparalleled customer delight."
The challenges we've identified lie in the high costs and inefficiencies of non-optimised processes, resulting in elevated expenses, says Sarang of iThink. "To address this, we've harnessed our deep expertise in logistics alongside AI to unlock value throughout the shipping value chain. We have identified a significant issue affecting our COD customers with a 15 percent lack of intent in their orders. This has been leading to higher return rates and increased costs for both forward and reverse logistics. As a strategic solution, we have developed an innovative automated active order confirmation tool. This tool provides real-time order data and confirmation, effectively slashing the surplus logistical costs by 80 percent.
"Recent statistics have highlighted a concerning trend: 84 percent of shoppers express reluctance to make repeat purchases following a disappointing delivery experience. To proactively address this challenge, we have introduced a streamlined system for automatic shipment creation. Customers can now directly upload their shipment details from the storefront, eliminating the need for them to wait an entire day for order processing.
"It's evident that sub-par shipping methods not only lead to lost sales but also hinder revenue growth due to delays. Recognising the urgency of this matter, we have taken steps to optimise our shipping processes. One pivotal aspect we've identified is the impact of selecting the wrong logistics partner, which can result in failure rates surging by 30-50 percent. To counteract this, we have introduced logistics partner recommendations. This cutting-edge feature is powered by an AI-driven engine, enabling us to suggest the most suitable logistics partners for each order. The results have been remarkable: a 23 percent reduction in costs, savings of 1-2 days in transit time, and an impressive 10-12 percent boost in gross merchandise value (GMV).
Shipsy's intelligent and automated order allocation engine and real-time visibility capabilities play a critical role in drastically reducing last-mile delivery costs, adds Chokshi. "What it does is figure out the most cost-efficient way to execute a delivery by staying within the bounds of a duration promised to a customer. We have helped a leading omnichannel healthcare provider to optimise last-mile delivery costs by 41 percent.
"We are empowering businesses to improve first attempt deliveries (FADs) by:
*Ensuring end customers' preparedness to receive orders via accurate ETA, live delivery updates, easily accommodating exceptions or customer requests like "leave the parcel with neighbour," and proactively sharing the exact time slot when a delivery will be attempted.
*Ensuring addresses are pre-verified and fuzzy addresses are converted into accurate latitude-longitude-based locations.
*Allocating orders to riders in a manner such that she/he get incrementally familiar with a locale; and
*Allowing riders and customers to chat, arresting suspicious delivery attempts and verifying delivery attempts directly with end customers."
Using AI to optimise last-mile delivery
iThink's dashboard is equipped with features designed to assist sellers in reaching their end customers more efficiently by monitoring carrier performance, shipment ageing, zone-wise turnaround time (TAT) performance and NDR.
*Total carrier performance: This feature provides sellers with insights into the performance of various carriers. It presents data on the number of shipments each carrier has handled along with the delivery success and RTOfigures. This comprehensive overview empowers sellers to make well-informed decisions when selecting a carrier, enabling them to choose the one with a track record that minimises the likelihood of RTO occurrences.
*Shipment ageing: This feature facilitates in-depth analysis for sellers by utilising information regarding shipment pickups. It offers insights into the typical time frames each carrier takes to collect shipments, enabling sellers to make informed decisions based on carrier pickup efficiency.
*Zone-wise TAT performance: This feature empowers sellers with a specific and insightful view. On any given date, this feature provides the percentage of shipments that were successfully delivered within the stipulated TAT for a particular zone. This data-driven tool equips sellers with a comprehensive understanding of delivery performance, helping them gauge efficiency within specific zones.
*NDR: This feature addresses the myriad of reasons behind unsuccessful deliveries including incomplete addresses, unprepared COD amounts, customer unavailability or being outside the delivery area. Our patented six-step NDR process delivers the right information to the right individuals at the right time, effectively mitigating these issues. This empowers sellers with transparent information for informed action, offers carriers real-time updates through APIs, and provides buyers with a seamless means of communication."
There are many ways in which Shipsy's technology is transforming last-mile delivery operations, says Chokshi. "One of the most vital changes we drive is making supply chain operations autonomous and proactive. Using AI, ML, and real-time and historical data analytics, Shipsy's solutions ensure intelligent automation of critical processes like route planning and optimisation, order allocation, multi-carrier selection, driver payout operations and customer communications.
"For instance, our last-mile solution automatically decides which logistics provider to partner with based on business objectives. These objectives can range from cheapest deliveries, fastest delivery, best on-time delivery percentage, serviceability expertise in specific regions or pin codes, best customer ratings and more. Shipsy's platform offers real-time tracking and visibility of shipments during the crucial last-mile phase. This level of transparency allows shippers and logistics companies to monitor the exact location and status of deliveries, reducing uncertainty and improving customer communication.
"Our AI co-pilot, Logistics Intelligent Assistant (LIA) leverages predictive and prescriptive intelligence to empower businesses to build proactive logistics strategies. Traditional or reactive ways of managing logistics incidents take days to identify operational issues. Delays in notifying the right stakeholder further prolong decision-making processes. All these ultimately impact customer experience and significantly increase the chances of SLA breaches. LIA proactively and continuously analyses logistics KPIs. It notifies the right stakeholder in real time in case of any anomalies or if any operational thresholds are about to be breached to prevent failures. Businesses can set their own thresholds and time limits to ensure that the incidents or issues raised by LIA are highly accurate and tailored to their unique business requirements.
"Address inaccuracy is a challenge in this part of the world. Shipsy's address intelligence capabilities help validate addresses against millions of verified addresses across the globe and get accurate recommendations for invalid addresses. It auto-corrects pin code/area codes based on geospatial data and postal codes and gets the nearest serviceable pin/area code in case of non-serviceable areas.
"Our route optimisation technology is pivotal in making logistics sustainable by reducing overall miles travelled and ensuring that whatever miles are being travelled is greener. All these capabilities are helping logistics stakeholders across the globe to drastically reduce costs, ensure on-time deliveries, make last-mile operations customer-centric, reduce carbon emissions and boost logistics resiliency. "
Locus provides route optimisation as part of dispatch planning wherein the software using AI, ML and other advanced algorithms considers over 180 real-world constraints such as traffic jams and route restriction based on time in certain areas to plan for the most efficient route. "When it comes to live tracking and resource utilisation, those aspects are covered as a part of our delivery orchestration module, which can be delivered either through our Transporter Management solution or Shipflex and Track and Trace module," says Rastogi.
Sustainability in last-mile deliveries
Sustainability in operations is of paramount importance for iThink Logistics, says Sarang. "At our core, we feel a deep sense of responsibility to pave the way for sustainable and ethically responsible logistical practices. The very launch of our "GoGreen" initiative during last year's Diwali stands a testament to this commitment. Through activities like gifting plants to our customers, which not only raise awareness about carbon footprints but also tangibly aid in reducing atmospheric carbon dioxide, we are proactively taking steps towards environmental betterment. Beyond external initiatives, our commitment to sustainability is reflected in our internal operations as well. Employee engagement activities like the public transportation day not only foster a culture of environmental consciousness but also encourage practical steps to reduce individual carbon footprints. Our endeavour to build a carbon-neutral checkout page for e-commerce sellers exemplifies our continuous efforts to integrate sustainability into everyday business operations. For us at iThink Logistics, sustainability isn't just a buzzword..it's an integral part of our mission to make the world a greener place for future generations."
Gati's parent company Allcargo Group has embarked on a transformative environment, social and governance (ESG) journey, demonstrating its commitment to environmental, social, and governance responsibilities, adds Gowrinath. "Allcargo Group has an ambitious goal of becoming carbon neutral by 2040 along with other ESG goals. Allcargo's strategic actions exemplify a steadfast commitment to a sustainable and responsible future. At Gati, for the ESG plans, we aim to convert the entire pickup and delivery fleet of more than 2,500 vehicles into alternative fuel vehicles by 2025. We have already developed environment-friendly state-of-the-art warehousing facilities at Delhi, Mumbai and Nagpur and will build more such warehouses across the country."
Chokshi of Shipsy adds: "Making logistics sustainable for our customers is critical for us. Dynamic delivery landscape, consumer demands, economic benefits, brand conscience and regulations are the five primary drivers of logistics sustainability. There is one north star for ensuring sustainable logistics operations — the distance travelled per package. Therefore, we are helping businesses across the globe to focus on reducing the distance travelled and making the miles travelled greener. We have already helped eliminate one billion+ miles and saved 750 KT of carbon emissions."
Research points out that last-mile logistics accounts for up to 50 percent of the total delivery carbon emissions, says Rastogi of Locus. "Consumers are now turning to brands that are leveraging greener practices. Locus helps enterprises realise the value that logistics optimisation brings to them through our market-leading dispatch management platform processes that offer smart network planning, improved visibility into operations and optimum fleet capacity utilisation. All in all, to date, our platform has helped enterprises offset 10 million kilograms in CO2 emissions."
Since our model is based on shorter distance, we're able to optimise on eco-friendly vehicles for delivery such as e-bikes and bicycles, adds Vohra of Zepto. "Through our back-end tech, we're able to allocate deliveries for these options based on distance. This has also, over time, helped us grow our EV and bicycle penetration. Furthermore, our data-led demand prediction ensures strategic supply chain management when it comes to daily and weekly fulfilment across our motherhubs and dark stores, thereby reducing carbon footprint and minimising wastage."