GreenLine deploys LNG trucks at UltraTech Cement's Pune bulk terminal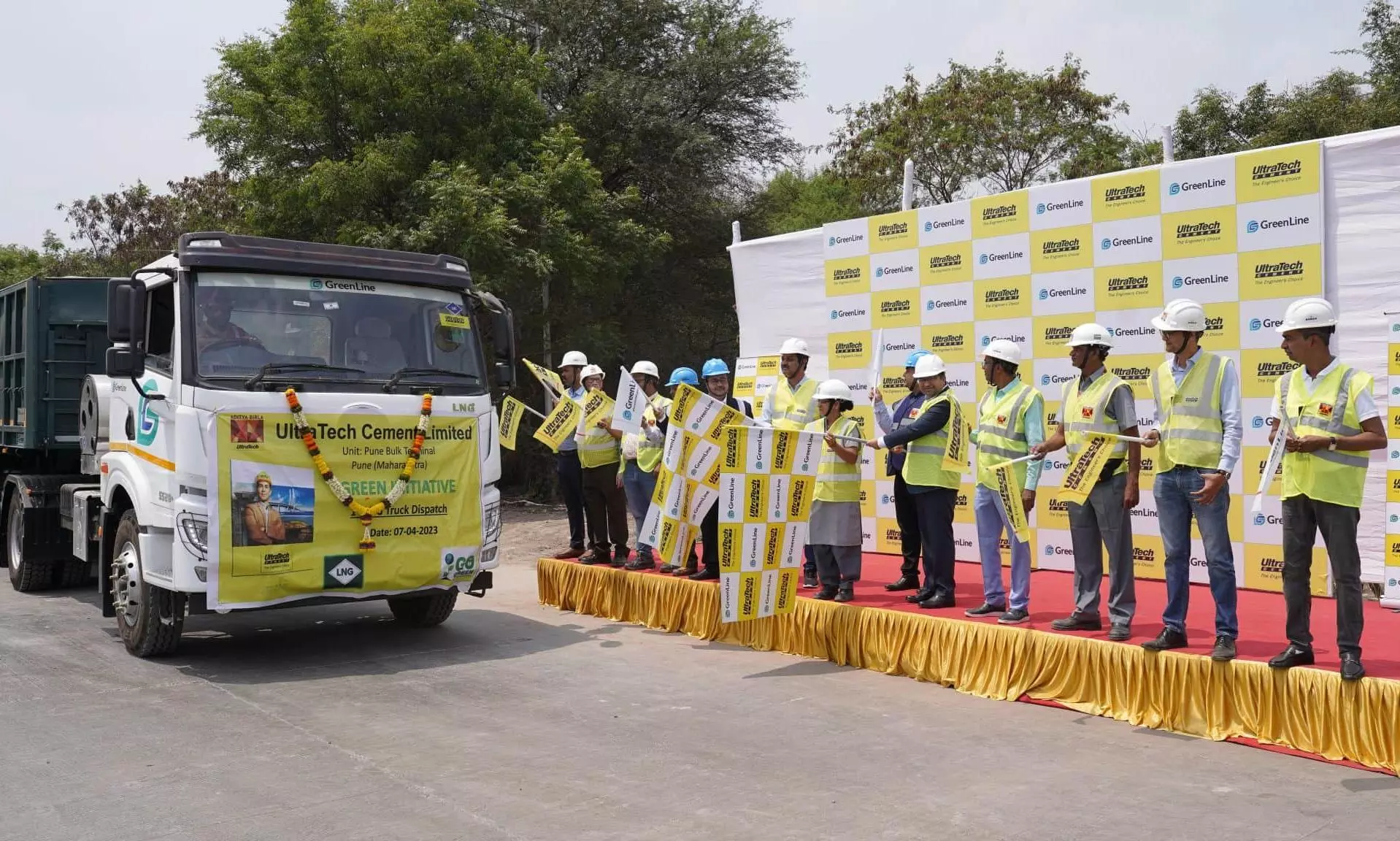 The LNG-fueled heavy trucking logistics company GreenLine (Green Planet Logistics) has announced the deployment of its LNG-powered trucks at UltraTech Cement's bulk terminal located in Pune, Maharashtra.

"UltraTech is making strides in its commitment to sustainability and decarbonization of its operations with this second deployment of GreenLine's LNG-powered fleet of trucks, after the first deployment at its Awarpur Cement Works near Nagpur. The use of LNG trucks is a significant step towards achieving the company's sustainability targets. This development underscores UltraTech's commitment to scaling up its LNG fleet at its plants across the country in the coming months," reads the release.
Tanmay Pradhan, AVP Logistics, UltraTech Cement said, "At UltraTech, we are dedicated to creating a sustainable future, and we are fully committed to collaborating with our partners and stakeholders to achieve our goal of a cleaner environment. Our association with GreenLine is a step forward on our ongoing efforts to decrease emissions, enhance energy efficiency, and promote sustainability."
GreenLine's LNG-powered trucks reduce CO2 emissions by 28 percent, translating to emission reduction of ~24 tonnes CO2 per truck per annum, compared to conventional diesel trucks. In addition, these LNG trucks significantly reduce other dangerous emissions - SOx emissions by upto 100 percent, NOx emissions by upto 59 percent and Particulate Matter by upto 91 percent.
Anand Mimani, CEO, GreenLine, said, "We are proud to again be the chosen green mobility partner for UltraTech Cement in their endeavor to reduce carbon emissions from their heavy trucking. Reducing toxic, polluting emissions from road logistics is crucial for businesses, and GreenLine is actively supporting corporations in this endeavor through our fleet of LNG-powered heavy-duty trucks."
GreenLine is on a green mobility mission and is paving the way for widespread adoption of LNG fueled long haul trucks by showcasing its immense advantages for corporates. GreenLine has collaborated with multiple organisations to create India's first & only integrated green logistics ecosystem to make LNG trucking a reality in India.
The trucks were flagged off by Tanmay Pradhan, AVP Logistics, UltraTech Cement, Nisha Jain, Plant Head, UltraTech Pune Bulk Terminal, along with Anand Mimani, CEO, GreenLine, and other officials.