CMA CGM Q1 revenue drops 30%
Net profit plunges 72% to $2bn on slow demand; first quarter expected to be best quarter of the year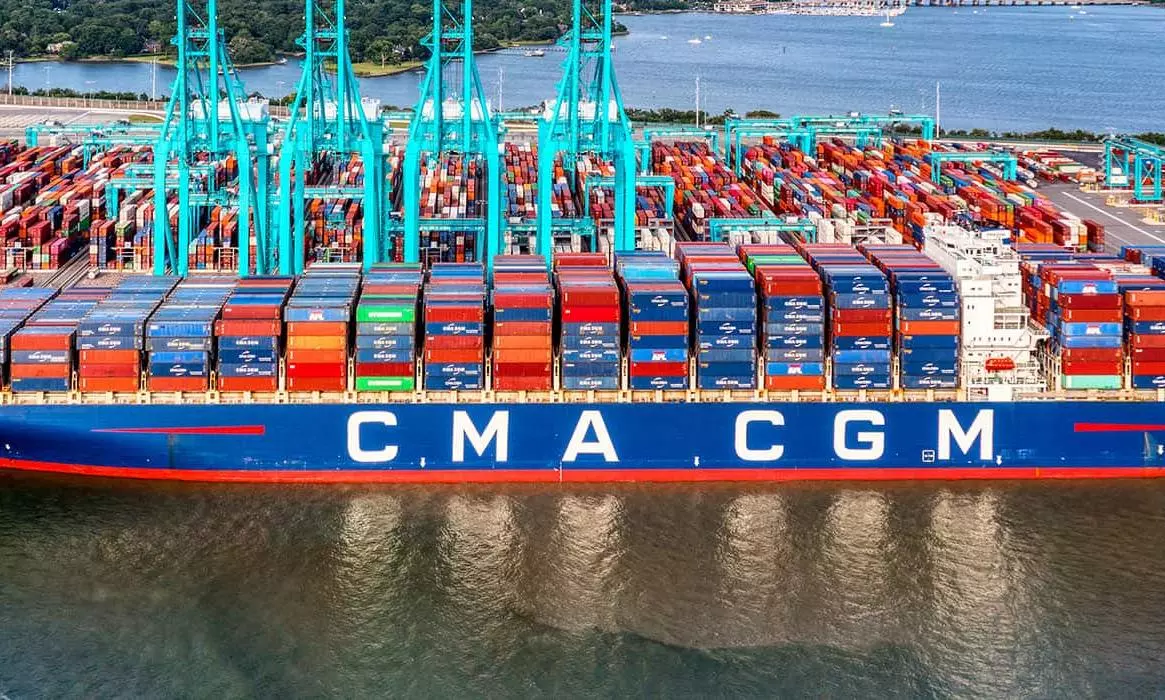 CMA CGM reported a 30 percent decline in revenue at $12.7 billion for the first quarter ended March 31, 2023 compared to $18.2 billion in Q12022 as freight demand continued to be slow "spurring a rapid normalisation of spot freight rates."
While EBITDA dropped 61 percent to $3.4 billion, net income plunged 72 percent to $2 billion, says an official release.
Logistics, shipping revenues diverge
Logistics revenue increased 14 percent to $3.9 billion and EBITDA was up 37 percent at $343 million.
"This growth in activity reflects the inclusion of the acquisitions of Ingram CLS, Gefco and Colis Privé in the scope of consolidation as from the second-quarter of 2022 while the sea and air freight activities were simultaneously returning to normal in line with market dynamics. The various acquisitions have strengthened CMA CGM's offering of end-to-end supply chain services for its customers.
"In the first-quarter of 2023, the CMA CGM Group also signed an agreement with La Poste group to establish a closer business relationship capitalising on their respective expertise in parcel delivery, transportation and storage."
Shipping revenue dropped 40 percent to $8.9 billion and EBITDA dropped 64 percent to $3 billion. Volume carried declined five percent to five million TEUs due to various factors:
"*household consumption of goods in Europe and North America has fallen sharply amid i) price inflation and ii) a rebound in consumer spending on services, especially tourism, leisure, etc.
*inventory adjustments in these regions continued, weighing on imports, especially from Asia, particularly in the retail and lifestyle sectors; and
*the relatively brisk activity in regions such as Latin America and Africa, together with eased congestion, were insufficient to offset the decline on the main East-West routes."
Average revenue per TEU declined 37 percent to $1,766, the release added.
"After two exceptional years, our industry has entered a phase of normalisation due to the slowdown in global growth, inflation and a destocking phenomenon that is continuing in many parts of the world," says Rodolphe Saadé, Chairman and Chief Executive Officer, CMA CGM Group. "Despite this deteriorated context, our first-quarter results are extremely solid. They are the fruit of our investments - more than $30 billion committed over the past two years - which enable us to constantly broaden and strengthen our range of transport and logistics solutions for our customers."
Outlook
Second-half 2022 trends continued to prevail in 2023 with deteriorated conditions in the transport and logistics industry, the release said.
"Macroeconomic forecasts for 2023 anticipate moderate global GDP growth over the year in light of inflationary pressure which is dragging down consumer spending in OECD countries. However, this may stabilise later in the year. Nevertheless, new capacity delivered over the coming quarters is expected to continue weighing on freight rates in container shipping.
"In this environment, the first quarter is expected to be the best quarter of the year as the Group's financial results continue to return to normal. The Group is confident in its ability to weather the cycle thanks to its combined transport and logistics strategy and its financial strength.
"The Group will also continue to integrate its recent acquisitions while keeping operating costs under control."