CMA CGM 2022 revenue up 33% at $74.5bn
Group EBITDA increased 44% to $33.3bn, Group share of net income was $24.9bn for 2022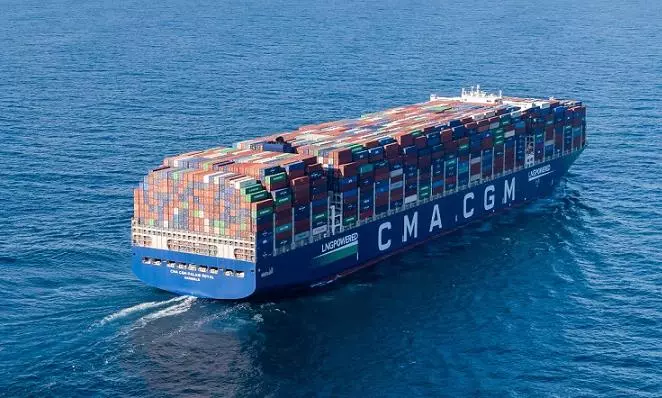 CMA CGM Group reported a 33 percent increase in 2022 revenue at $74.5 billion on more than doubling of revenue from other activities (including CMA CGM Air Cargo, terminals and other group investments) and 30 percent increase in shipping revenue.
Topline from other activities increased to $1.8 billion, EBITDA nearly tripled to $447 million while EBITDA margin was up 7.4 percentage points at 24.8 percent.
Group EBITDA increased 44 percent to $33.3 billion, "representing an EBITDA margin of 44.7 percent or 3.4 points higher than the year before," says an official release. Net income, Group share amounted to $24.9 billion for 2022.
"The Group continued to strengthen its balance sheet, with net debt holding steady at $7.7 billion as of December 31, 2022. In addition, the Group has $11.6 billion in short-term financial assets."
2022 review
"Our Group achieved exceptional, historic results in 2022 that have enabled us to invest significantly in operations across our business, step up our energy transition and share the created value with our employees," says Rodolphe Saadé, Chairman and Chief Executive Officer, CMA CGM Group. "As trade returns to normal and freight rates decline, our strategy and recent investments will prove all the more relevant and allow us to look forward to 2023 with confidence.
"Leveraging our financial strength and entrepreneurial spirit, we will continue to develop our operations in transport and logistics to meet the needs of our customers, who expect a group like ours to deliver the best service at the lowest possible cost, with the smallest environmental footprint."
The Group has reinvested almost 90 percent of its 2022 net profits in its industrial assets and capabilities while strengthening its balance sheet and enhancing financial flexibility, the release added.
Shipping - an exceptional year
Revenue from shipping activities increased 30 percent YoY to $58.9 billion on marginal decline (1.3 percent) in volume carried at 21.74 million TEUs.
EBITDA increased 43 percent to $31.6 billion, and EBITDA margin was up five percentage points to 53.7 percent, lifted by $2,771, in average, revenue per TEU during 2022, the release added.
"For the maritime shipping industry, 2022 was a year of contrasting halves. Behind the relative stability in full year volumes transported by the Group (down 1.3% YoY) lay major disparities between the first and second halves, as well as among the main shipping routes.

"In the first half, while demand for consumer goods remained strong, shipping capacity was constrained by port congestion and other disruptions impacting local supply chains around the world. The second half saw a demand shock accentuated in the fourth quarter by a wave of inventory destocking in the U.S. and the impact of persistent inflation on consumer spending. In addition, the situation was exacerbated by the energy crisis in Europe. As a result, volumes transported by the Group on East-West routes declined by 7.2 percent in the fourth quarter while the North-South routes proved more resilient thanks in particular to the sustained growth of certain emerging economies.
"Lastly, intra-regional volumes suffered both from the Russian-Ukrainian conflict (with the termination of Russian services) and from the lack of capacity in Asia early in the year. The decline in demand spurred a quicker return to normal spot freight rates in the final quarter."
Logistics: Expanding CEVA's horizons
Revenue from the logistics business rose by 47.6 percent to $16.1 billion supported by robust expansion in the freight management business, particularly in the first half, as well as by recent acquisitions. EBITDA increased 39 percent to $1.2 billion, EBITDA margin declined marginally to 7.6 percent.
Following the acquisition of CEVA Logistics in 2019, CMA CGM accelerated its transformation in 2022 with the completion of three strategic acquisitions:
*Ingram Micro's Commerce & Lifecycle Services business, which provides end-to-end e-commerce logistics solutions including warehousing, inventory management, shipping and returns. The acquired assets represent annual revenue of an estimated $1.8 billion in 2021 and 11,500 employees in 59 warehouses around the world with a strong presence in the United States and Europe.
*Colis Privé, a specialist in home delivery and parcel pick-up in France, Belgium and Luxembourg; and
*GEFCO, a European leader in automotive logistics, with a focus on finished vehicles as well as other contract logistics and ground transport services.
Terminal investments
The CMA CGM Group owns equity stakes in more than 56 port terminals and projects around the world, the release said. "The Group now owns 100 percent of Fenix Marine Services (FMS) terminal in the Long Beach/Los Angeles port area, the US's leading West Coast import gateway, and has started its 10-year operation to manage, operate and maintain the Beirut container terminal. It has been awarded the concession for the Nhava Sheva terminal in India with its partner JM Baxi.
"Late in the year, CMA CGM announced the acquisition of two strategic terminals at the Port of New York, GCT Bayonne and GCT New York, which have a combined capacity of two million TEUs per year with potential for further expansion up to almost double the current capacity."
Sustained expansion at CMA CGM Air Cargo
In line with its commitment to making CMA CGM Air Cargo a French air freight carrier with a fleet of 12 aircraft by 2026, the Group obtained its Air Operator Certificate (AOC) from the French Civil Aviation Authority (DGAC) on June 1, 2022, the release said.
"Following the delivery of two Boeing 777Fs, CMA CGM Air Cargo began operating in early June from its new base at Paris Charles de Gaulle airport. Regular service is now offered from Paris-CDG to Hong Kong, Chicago, Miami and Shanghai. To drive quicker growth in the business, a long-term strategic air freight partnership was signed with Air France-KLM.
"The exclusive commercial partnership, which would start operations in April, will enable the parties to jointly market their air cargo networks, full-freighter capacity and dedicated services to build an increasingly competitive array of solutions, thanks to the expertise and global footprint of Air France-KLM and CMA CGM."
As part of the agreement, the Group acquired a 9 percent stake in Air France-KLM, becoming its largest private shareholder, and Rodolphe Saadébecame a member of the Air France-KLM board of directors.
2023 outlook & plans
The second half 2022 trends remained at play in 2023 "as market conditions in the transport and logistics industry continue to deteriorate. The balance between supply and demand is expected to remain challenging as capacity is expected to increase – in both maritime shipping (easing of port congestion, delivery of new vessels) and air freight (return of passenger belly capacity). At the same time, demand prospects seem uncertain (dealer inventory destocking in the U.S., consumer purchasing power under pressure).
"Nevertheless, certain macroeconomic signals are stabilising. In the U.S., consumer spending and the labour market remain resilient despite the very aggressive tightening pursued by the Federal Reserve in recent months. In the European Union, recession has been avoided for the moment. Some emerging markets in Latin America and Southeast Asia remain strong.
"The Group is closely monitoring the evolutions in the economic and geopolitical situation despite limited visibility over the rest of the year, and remains confident in its ability to weather the cycle, thanks to the diversification of its businesses and its financial strength."
In 2023, the Group plans to pursue expansion into transport using roll-on/roll-off (ro-ro) ships and expand its offering in finished vehicle logistics by capitalising on the expertise of Gefco, now a part of CEVA. "As part of this commitment, the Group has formed a new department dedicated to specialty maritime shipping that will include vehicle transport on car carriers."
The other proposals include
*La Méridionale, a maritime shipping company operating ro-ro cargo and passenger ships (Ro-Pax), which is currently being acquired by CMA CGM (subject to the approval by regulatory authorities).
*Investment in Brittany Ferries in which CMA CGM invested €25 million in 2021 to support its
recovery; and
*Future capacity of Neoline, the first wind-powered ro-ro vessel, which the Group is helping to finance.