CJ Darcl Logistics signs deal with Tata Motors
Agreement to help CJ Darcl procure trucks over five years and improve vehicle management system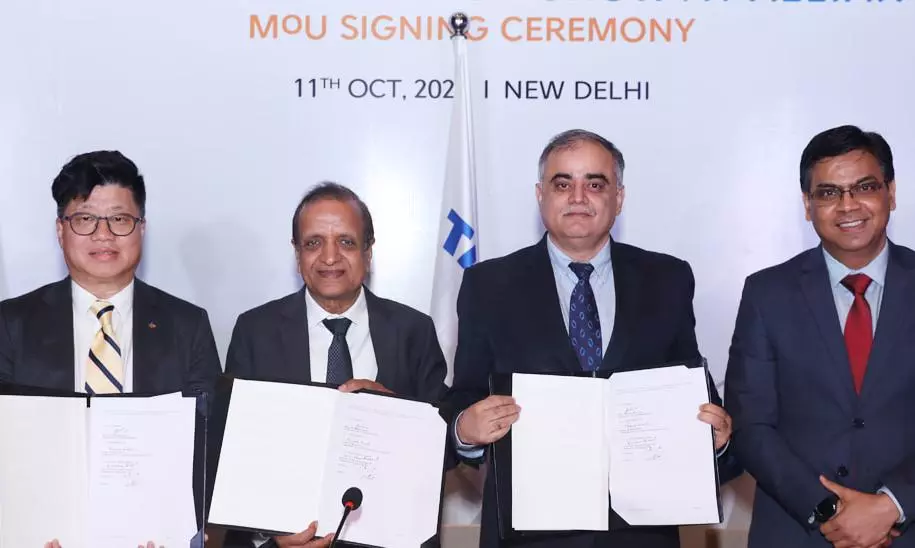 CJ Darcl Logistics, a diversified logistics company, and Tata Motors signed a memorandum of understanding (MoU) to strengthen CJ Darcl's fleet of vehicles and explore options of logistics services.
The MoU was signed in the presence of Krishan Kumar Agarwal, Managing Director, CJ Darcl Logistics, Kang Sin Ho, CEO, CJ Logistics, Girish Wagh, Executive Director, Tata Motors and Rajesh Kaul, Vice President & Business Head – Trucks, Tata Motors, says a release from CJ Darcl.
The companies would deliberate on possibilities to enhance CJ Darcl's fleet and make their operations greener, the release adde. "The engagement also intends to make CJ Darcl's operations more efficient with comprehensive annual maintenance contracts, dedicated service team and streamlined after-sales processes. With Tata Motors' advanced trucks and expertise in fleet management through value-additions, telematics systems and service network, CJ Darcl aims to set new benchmarks in the Indian logistics industry."
Kang Sin Ho says: "India has been a dynamic market for logistics and is anticipated to remain a growth outperformer. According to Crisil MI&A, India's GDP is expected to grow at an average of 6.1 percent between fiscal 2025 and 2027, compared with 3.1 percent globally as estimated by the International Monetary Fund. In this direction, the Indian government introduced the Gati Shakti Scheme, National Logistics Policy, Bharatmala Pariyojana and Sagarmala, which became the key enablers of logistics in India. To bolster our efforts to provide logistics solutions, we have collaborated with Tata Motors This is aimed at bringing operational efficiency to the forefront. The engagement will focus on evaluating cost-effective vehicle deployment to strengthen CJ Darcl's fleet, whilst providing on-ground support."
Agarwal adds: "We are delighted to announce the strategic alliance between CJ Darcl Logistics and Tata Motors. This will help the company in procurement of trucks in the next five years and improve the vehicle management system, subsequently paving a way for use of alternative fuel vehicles."
Kaul says: "At Tata Motors, we aim to create and deliver value keeping in mind the evolving needs of our customers. This MoU is a cornerstone in our commitment to revolutionise the transportation industry. Tata Motors' trucks are engineered with a focus to offer the low total cost of ownership with efficient powertrains and are equipped with state-of-the-art features like an advanced telematics system – Fleet Edge - and come with value additions that ensure highest uptime for higher profitability to our customers. With CJ Darcl, we are poised to redefine the landscape of transportation, fostering innovation and efficiency."