CEVA sends F1 cargo by rail for 1st time in Scuderia Ferrari's history
Rail being used between Montreal, Austin, Las Vegas F1 Grand Prix races; emission reductions of 90% compared to air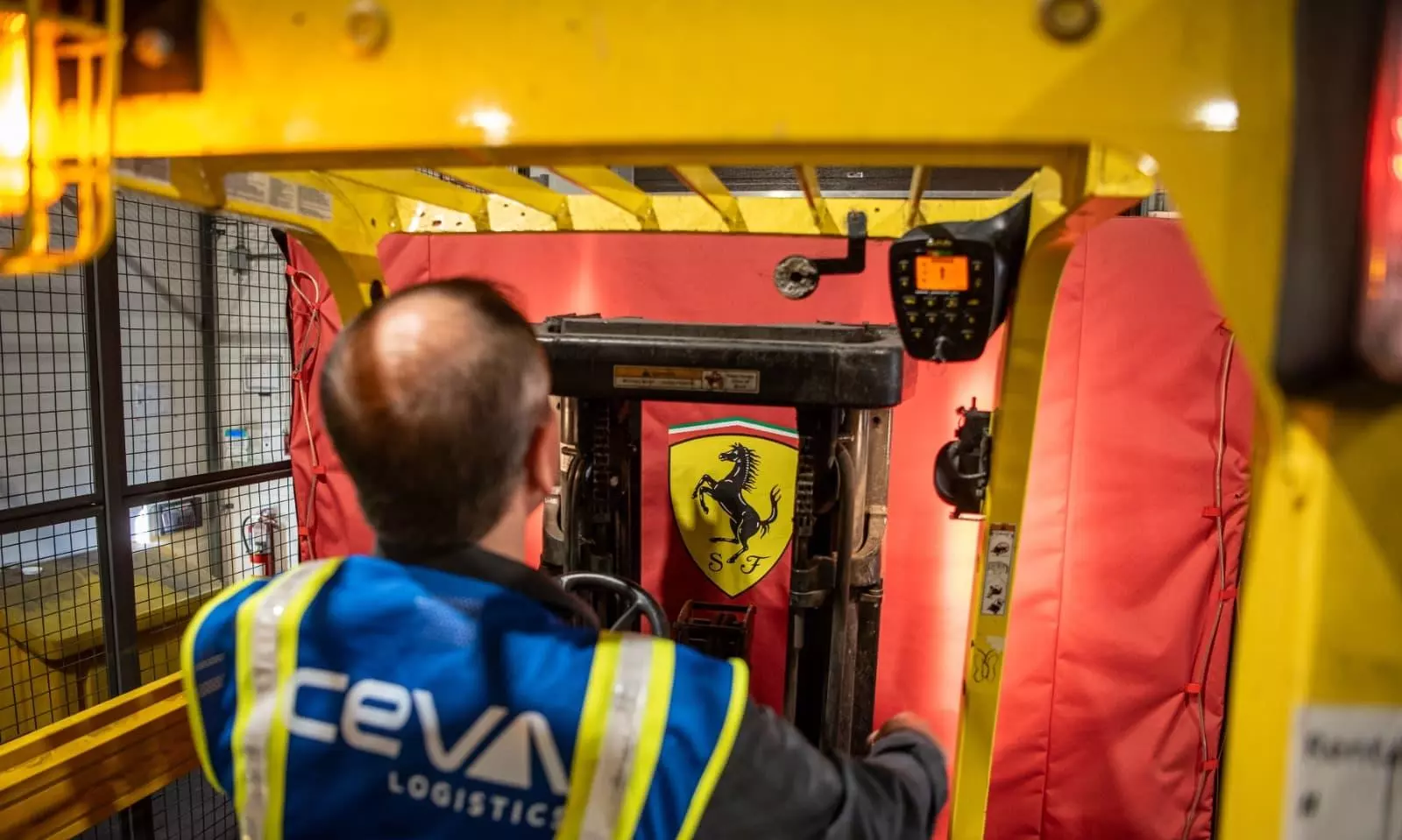 CEVA Logistics recently engineered an innovative rail transport solution in North America for Scuderia Ferrari's F1 racing team.
"In a world first for Formula 1, Ferrari equipment is travelling by rail between three of the North American F1 grand prix races in an effort by the two companies to reduce carbon emissions," says a release from CEVA.
"CEVA has been transforming the Scuderia Ferrari logistics programme since the beginning of their partnership in 2022. The flow of the six separate 45-tonne equipment kits that traverse the globe has transitioned away from air freight to a primary combination of ocean and road freight as CEVA ensures the equipment reaches each of the 23 Grand Prix racing venues on time."
For the 2023 season, CEVA proposed a new solution — to transport the equipment kit by train in North America to reduce the transport's carbon emissions. "Packed in six 53-foot (16-metre) containers, the race equipment travelled approximately 2,000 miles from Montreal, Canada, to Austin, Texas, and will travel another nearly 2,000 miles from Austin to Las Vegas, Nevada."
The solution incorporating rail segments between the three F1 races reduced carbon emissions by 90 percent compared to the equivalent journey by air and 32 percent versus an all-road, trucking solution, the release added.
CEVA expects the various F1 equipment kits to travel more than 130,000 miles in 2023. "Choosing more sustainable transport options means CEVA is supporting Ferrari's emission reduction efforts and promoting more sustainable business practices. As part of the CMA CGM Group, CEVA is committed to reaching net zero by 2050. Ferrari aims to reach carbon neutrality by 2030."

Mathieu Friedberg, CEO, CEVA Logistics says: "The partnership with Scuderia Ferrari underlines the trust that major brands place in us to provide leading solutions, and this trial demonstrates how sustainability improvements in logistics can significantly reduce carbon emissions for Formula 1 and beyond.
"We're committed to engineering the best logistics solutions for Ferrari, and that includes finding better ways to transport their equipment and reduce the environmental impact. This initiative is in line with our long-term vision and demonstrates our commitment to working closely with our customers on more sustainable and efficient transport solutions."
Frédéric Vasseur, Team Principal & General Manager, Scuderia Ferrari adds: "Slashing CO2 emissions in the logistical chain of motorsport, and beyond, presents many challenges. This pilot project with CEVA Logistics is very interesting in terms of transport decarbonisation but we're not stopping here: we'll continue to research new sustainable solutions. To achieve climate targets, constant dialogue with partners and experimentation are more important than ever."