Cargo in Cabin success story of Air India Express
How did a small Indian airline faced with the uncertainties of the pandemic revive itself from the slump and in the process end up aiding farmers, one of the most vulnerable communities through the pandemic in an amazing tale of resilience and revival? ITLN reports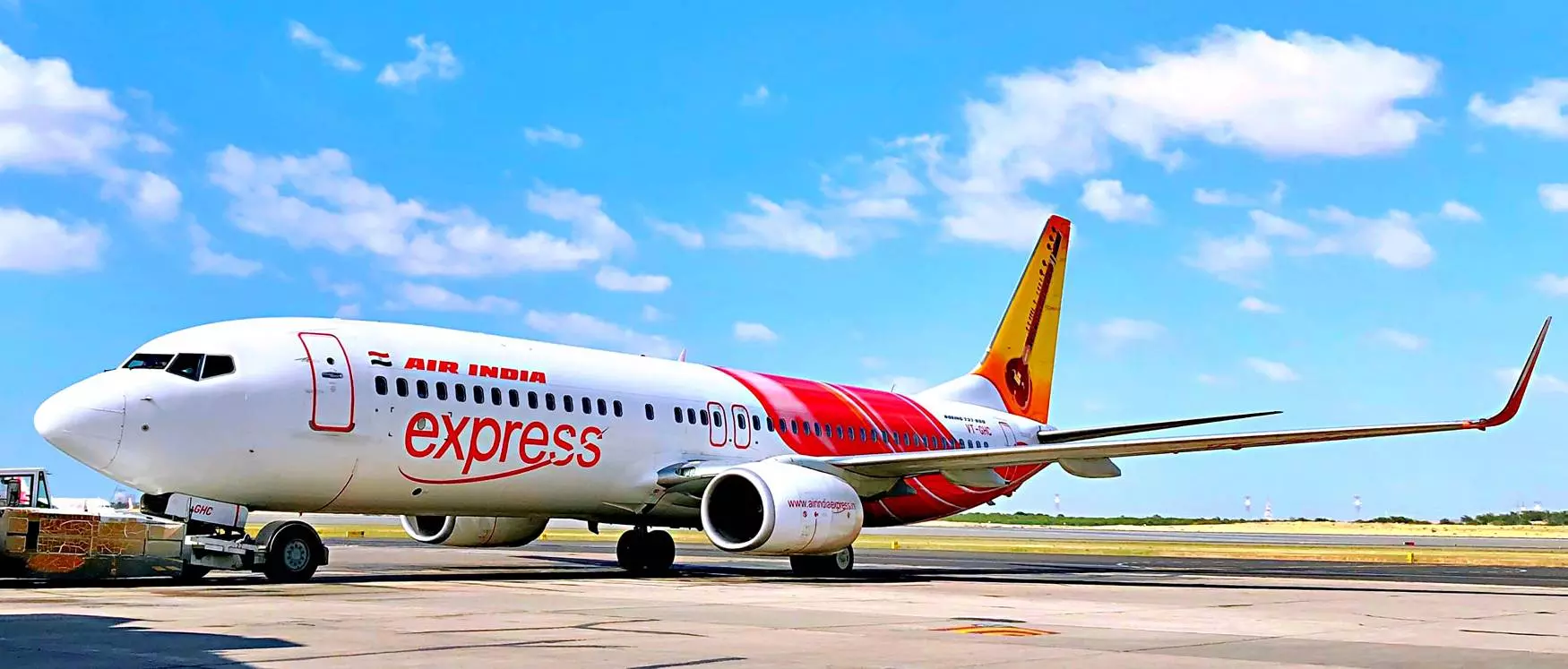 Before the pandemic, cargo had simply been a by-product for many airlines! However, this airline scripted a turnaround tale in its cargo fortunes by carrying only cargo even as its operations were hit by the Covid pandemic back in March 2020. Riding on the back of delivering perishables from tier 2 and 3 Indian cities to the world, this Cochin headquartered low cost- airline Air India Express became one of the early innovators to switch to cargo-in-cabin services back in 2020.
Incidentally, the biggest beneficiary of this innovation especially when the pandemic hit was India's farmers and food producers community who were staring at either letting their produce rot away or selling them locally for throwaway prices.
The Air India Express Limited is a wholly-owned subsidiary of the Indian flag carrier Air India, which has subsequently been bought by Tata Sons recently. It operates 649 flights per week to 33 destinations including the Middle East and Southeast Asia and has a fleet of 24 Boeing 737-800s.
WHY DON'T WE SHIP CARGO?
"All our planes were stuck, borders were closed and we were just in the dark and didn't know what to do. Like every airline, we had to keep our planes serviced and running as you can't just keep them parked. They have to be fueled so that the engines are run on a daily basis, the aircraft is in ship shape, which is an expenditure. We also had to fly planes to keep slots alive in the important airports with ghost flights. This was when we thought, ``Why don't we ship cargo?" avers an Air India Express spokesperson in a conversation with the Indian Transport and Logistics News (ITLN).
Another innovation that Air India Express greenlit was launching P2C (Passenger to Cargo) flights that cater to the directional cargo demand while optimizing operations. For doing this, the airline obtained all the necessary regulatory approvals from DGCA and introduced a cargo-in-cabin service to fly India's Krishi exports to UAE, Maldives, and SouthEast Asia in 2020 and 2021.
"Most of our fleet was the Boeing 737-800 aircraft, which has a belly cargo-carrying capacity of 7 tonnes, out of which 6.5 tonnes can be used volumetrically. Flying a plane with just 6.5 tonnes is not worth it, so then we thought if we could carry cargo in the aircraft passenger seats and the hat-racks where you keep your bags. So we retained the seats as we didn't know when the situation would clear and travel restrictions would cease. The entire Boeing 737-800 aircraft has a payload of 19 tonnes including the areas for passengers and for baggage. It is in those places where we were planning to carry cargo," the airline's spokesperson said.
He added that the approvals entailed amending operating SOPs, which involved close co-operation and involvement between the airline's Engineering, Operations, Cargo, Airport Services, and Flight Safety Departments, as well as liaising with the aircraft manufacturer Boeing. "We submitted the document to the DGCA entailing how we will safely fly these aeroplanes. In it, we had come up with points as to how cargo will be well latched, so that it does not come to the aisle during bad weather conditions and so that there is enough space for the crew to walk the aisle, to inspect the exit rows and if there is a fire then what protocol is to be followed; all these things were well written and documented," the spokesperson said.
With DGCA's nod, the airline then roped in shippers and agents to apprise them of the opportunity, and with the due approvals in place, it operated the first such cargo-in-cabin flight on 17th April 2020.
Thus, P2C flights ferried cargo (in the aircraft belly holds as well as in the cabin) in outbound flights and carried passengers in inbound flights. A typical flight thus carried a full capacity payload of cargo in the outbound direction, eg, Cochin – Kuwait; the aircraft was offloaded, cleaned, and sanitized at the foreign destination within 2 hours, while the crew stayed onboard (as most countries were restricted for arrivals and crew hotel layover was not permitted). The inbound flight carried a full load of passengers once air bubble arrangements by various governments around the world ensured passengers could travel again.
For this operation, the airline initiated and worked closely with airport operators in ensuring adequate infrastructure support was available for cargo uplift. In particular, it worked closely with airports that did not have a cargo customs clearance facility to put these in place.
"As a result of our efforts, as well as support from the government and local authorities, cargo customs facilities were established at Kannur and Varanasi airports, leading to start of perishable cargo export from these points; at Trichy airport, plant quarantine facilities were added and customs clearance was made available 24X7 basis, which greatly boosted the airline's own efforts," the spokesperson added.
BIG WIN FOR INDIA's KRISHI CARGO
The airline mostly carried perishable goods, especially farm produce. Besides reducing supply chain disruptions, this initiative helped local farmers to export their produce on time.
"The first thing we saw was that agricultural produce, perishables coming from these regions especially Tamil Nadu, Kerala, Karnataka where they are produced were stuck. The mood was grim as nothing was working, vehicles were not moving. So we began shipping out vegetables, dairy and marine produce from Kerala and Tamil Nadu to the Middle East and Southeast Asia. While our strength was in the south, we also flew perishables from Mumbai and Delhi. Once passengers began flying again, we began taking only belly cargo from Jaipur, Amritsar, Lucknow, Varanasi, etc."
Air India Express operated more than 300 P2C flights with an average of 15 tonnes per flight to various Gulf countries, Southeast Asia, and Maldives uplifting a total of 13,332 tonnes of cargo during FY 2020-21 and 22,009 tons of cargo during FY 2021-22 (April to December). This included the operation carried 9733 dedicated cargo services, and over 320 P2C services.
"We carried agri produce from Tier 2 cities such as Trichy, Mangalore, Madurai, Cochin, Kannur, Calicut, Trivandrum, Chennai to the Middle East and to Singapore. We shipped plantains and pineapples from Kerala and vegetable produce from the southern states. In April, the mango season had just started in the northern part of India, so we had a lot of flights going, which were carrying only 17-18 tonnes of mangoes. That is when the Ministry of Civil Aviation also came up with the Krishi Udan scheme in a bid to boost cargo in the absence of passenger traffic. It became a kind of an India story. In fact, we also explored a new trade lane of delivering perishables to the Maldives, and on our return flights we brought in marine products to Trichy, etc. In the last fiscal 2021-2022, we did almost one to two P2C flights per day," the airline spokesperson shared with ITLN.
In the subsequent months, the Indian air cargo revival story saw many takers as several Indian carriers followed suit as did carriers like Emirates, Flydubai, Air Arabia.
As passenger operations slowly revived initially with the Vande Bharat flights and then domestically, the airline would gradually reduce the number of P2Cs. The mandate was that it could fly cargo only if there were nil passengers. The P2Cs resumed again during the second lockdown in 2021 until passenger activity resumed again by September 2021.
"So earlier, we plied cargo either ways, now we took in cargo into the Gulf, or Kuala Lumpur or Singapore and brought back passengers. This went on till about September of 2021 post when we began having passengers either way," the airline spokesperson said.
SOCIAL IMPACT OF THE ENDEAVOUR
Interestingly, the airline was able to serve a number of objectives through this initiative: it could not only cover up partly for lost revenue streams but also serve a social cause, by helping local farmers send their produce to markets in the Gulf/Middle East and Southeast Asia. This way the airline could achieve effective utilization of the manpower and its aircraft fleet even during the darkest days of the pandemic.
"The success of the cargo-in-cabin initiative can be attributed to the concerted efforts of our operations, commercial, engineering, the cargo handling departments, and airport services along with the support of regulatory authorities, cargo handling agencies and all other stakeholders including the government agency APEDA (Agricultural and Processed Food Products Export). If you look at the social impact, this kind of agri and marine produce would have been just lying down there and these wouldn't have gotten exported. I recall many of the pineapple growers in Kerala would bring the fruits in vehicles, park, and try to sell them at junctions at throwaway prices. But once the exports started, there was super demand, especially from the Gulf. We shipped regularly for UAE-based Lulu Group and we played to their schedules," the spokesperson said.
In many ways, the experiment also paved the way and cast a foreshadowing of the flagship Krishi Udan 2.0 scheme that was flagged by the Ministry of Civil Aviation last October under the aegis of the AICCLAS (AAI Cargo Logistics and Allied Services Company Limited) and other ministries.
As a result of these dedicated efforts, Air India Express dramatically increased its cargo business, from under 2% of its top line to over 6% of topline, a three-fold increase, during FY 2020- 21, and April to December period of FY 2021-22, purely from cargo.
When the pandemic began and the country went into a complete lockdown, Air India Express helped Indian farmers find international markets for their produce and helped to export over 35000 tons of produce worth more than Rs1000 crores through this endeavor.
"While the endeavor naturally helped the airlines, it also ended up helping our agricultural ecosystem and our food growers. Cargo business was in the spotlight at that point in time and it was a fallback option. If the passengers don't fly, the cargo does. Air India Express earned trust among the shippers and agents community and today our belly cargo is going full. Due to these innovations that we successfully executed during the pandemic, we now get priority in airports we operate from because we were there when our operations were most required. In fact, today we are shipping around 85 tonnes per day as belly cargo volumes from India," said the spokesperson.
(This article was originally published in Indian Transport & Logistics News' March - April 2022 issue.)