FROM MAGAZINE: Logistics sector on the path to transformation in 2019
India's logistics sector is going through a never seen transformation supported by regulatory reforms and structural changes. Anshuman Magazine writes on tailwinds that is accelerating the pace of growth for India's logistics industry.
India's logistics sector is going through a never seen transformation supported by regulatory reforms and structural changes. Anshuman Magazine writes on tailwinds that is accelerating the pace of growth for India's logistics industry.
We have seen technological, demographic and economic changes before, however, the logistics sector has never experienced such structural shifts vis-a-vis e-commerce and automation, leading to a blurring of lines with the retail sector, a transformation in supply chains as well as rising investment.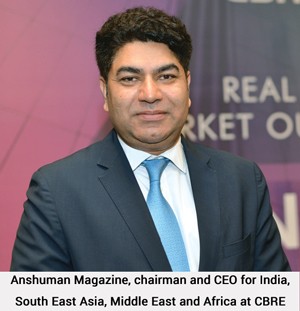 In addition to the cyclical drivers that have shaped the current logistics landscape, there have been structural drivers at play, such as changing consumer demands, the evolution of retail, the growing influence of urban areas and global investment in logistics real estate. The introduction of GST in late 2017 and the granting of %u2018infrastructure status' created a conducive business environment for the sector. In the past few years, the government has emphasized on infrastructure development, with several investment and policy proposals for the transport and logistics sector. The government has invested heavily to connect and integrate the country with a complete network of roads, railways, airports, ports and inland waterways. Such policy reforms and infrastructure development, alongside the creation of a favourable business environment, has provided substantial results.
Supply-demand dynamics, rental movement, demand drivers
The year 2018 was remarkable for the logistics market in the country. The overall absorption during the year touched close to 24 million sq. ft., which was a growth of about 44 percent compared to the prevailing year. Nearly every city in India witnessed growth in space take-up on an annual basis.
Following the expected trend, 3PL, e-commerce and engineering & manufacturing drove demand during the year contributing about 35 percent, 23 percent and 15 percent to overall take-up respectively. On the rental front, several micro-markets observed appreciation owing to increased demand coupled with limited investment-grade supply.
We've been witnessing the impact of e-commerce on retail and logistics for some time now, however, it's still quite relevant and will be for some time. The ongoing trend of omnichannel retailing and supply chain development will ensure continued, strong demand for modern industrial and logistics facilities in 2019. E-commerce is a key demand accelerator as the handling of a product ordered online requires up to three times more space than a conventional sale; even as brick and mortar retailers also grow their industrial and logistics space needs.
In the past four years, e-commerce has been a major contributor to overall demand in the sector, by leasing about 10 million sq. ft. of space across various cities. Also, the growing focus on expansion into the tier II and tier III cities by e-commerce players are likely to give a further push to this demand.
Demand to remain upbeat in 2019
Logistics demand in the past three years has increased at a rapid pace as the government also took some effective steps to nurture the sector. Post the implementation of GST, the demand for warehousing facilities has witnessed a significant surge. The growth in leasing activity in 2018 versus 2017 was observed to be close to 44 percent, the annual absorption in 2017 was approximately 17 million sq. ft.; while 2018 recorded absorption of close to 24 million sq. ft. As technology permeates the sector, demand for quality space is increasing and corporates across segments are opting for large, modern warehouses. Advances in technology, particularly automation will enhance the specifications and operations of logistics assets, thereby pushing older, inferior grade properties down the demand pyramid. Also, we expect that the trend for e-commerce platforms to own and operate their own facilities will result in more built-to-suit facilities, thereby taking off some "pure" leasing from the market. In the longer-term, the gradual normalisation of e-commerce growth and pressure on the profit margin of 3PL players for faster and cheaper delivery will result in the stabilisation of demand. Hence, in a bid to cut costs and enhance efficiencies, we may see the interest of e-commerce players/retailers to share fulfilment centres. This may encourage the growth of small-scale warehouses, especially in close proximity to highly-populated residential catchments.
A key demand theme for the coming year will be the focus on fresh produce/groceries delivery. As the segment witnesses increased traction, we expect players to display interest in cold chain facilities and temperature-controlled warehouses.
Supply following demand
As demand has remained robust, supply needs to keep up the pace to accommodate the significant increase in space take-up over the past couple of years. Since the majority of the demand is from players seeking quality, technology compliant spaces, hence large-scale developments in the logistics sector have started to spring up across the country. While the majority of the sector is unorganised, however, the entry of international players has resulted in the emergence of quality assets. Also, the demand for such global standard facilities has opened up avenues for players to seize the opportunity and invest in the various private equity firms and foreign various private equity firms and foreign development of such assets.
While the overall supply (grade A and inferior grade) for the sector is expected to be around 60 million sq. ft. till 2020, at least 22 million sq. ft. of this supply is estimated to be in the grade A category, with supply infusion by leading players. Cities such as NCR, Mumbai, Bangalore are expected to dominate the supply pipeline, with the average size of warehouses in NCR and Mumbai to be more than 1 million sq. ft. Other cities such as Chennai, Hyderabad and Pune are also expected to witness supply addition, however, the average size of developments here are expected to be in the 0.3-0.5 million sq. ft. category. In order to satiate the demand for quality spaces, domestic companies are partnering (JV, merger, etc.) with foreign players to seize the growth opportunity that the sector is offering.
While substantial new supply is expected to enter the country, at the same time, market players will strengthen their focus on in-city logistics solutions, which will increasingly cater for food and grocery deliveries and therefore need to include temperature-controlled facilities.
Continued impetus on the manufacturing sector to drive demand
The government's ambitious Make in India initiative is expected to act as a catalyst for growth in the logistics sector. Currently, the manufacturing sector contributes about 19 percent of the GDP as per Q2 2018-19 (2011-12 prices) estimates. To further increase this contribution to 25 percent by 2025, the government is working on a new industrial policy with a focus on three pillars - competitiveness, sustainability and inclusion. The policy proposes establishing an overarching body with representation by the Centre and the states - similar to the GST Council - to enable swift decisions on key changes such as the revamping of labour laws, taxation provisions and land leasing. With the focus being on manufacturing, developers need to ensure that they are not only prepared for higher demand from the manufacturing sector, but also for a probable shift in the type of manufacturing i.e. high-value manufacturing.
Anshuman Magazine is the chairman and CEO for India, South East Asia, Middle East and Africa at CBRE, one of world's largest commercial real estate services and investment firm, with 2018 revenues of $21.3 billion.