Logistics policy has included most suggestions from industry: special secretary
December 9, 2019: During the recently concluded 12th edition of Logistics Colloquium organised by Confederation of Indian Industry (CII) in Kolkata, N. Sivasailam IAS, special secretary (Logistics), Ministry of Commerce and Industry said the logistics policy that has gone to the approval of cabinet has included most of the suggestions from industry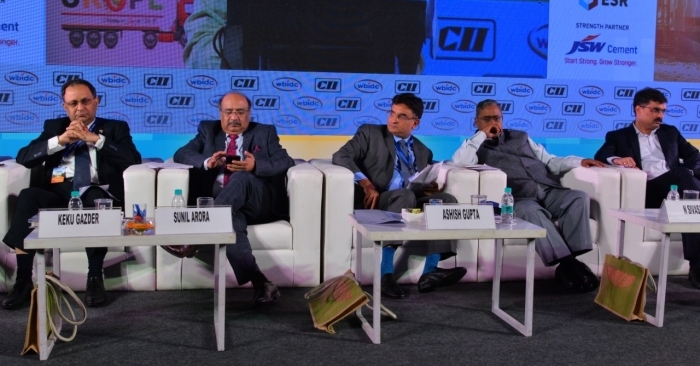 December 9, 2019: During the recently concluded 12th edition of Logistics Colloquium organised by Confederation of Indian Industry (CII) in Kolkata, N. Sivasailam IAS, special secretary (Logistics), Ministry of Commerce and Industry said the logistics policy that has gone to the approval of cabinet has included most of the suggestions from industry.
"We have incorporated most of the comments and suggestions made by the stakeholders. We are hopeful that the final policy will deliver the industry's needs," he said.
Held in association with West Bengal Industrial Development Corporation (WBIDC), Logistics Colloquium is a forum for logistics players, policymakers, industry stakeholders, freight operators, and supply chain professionals from Eastern India. The theme for this year was "Connectivity for Tomorrow: Multi-Modal with better Supply Chain Network"
He also voiced his opinion emphasizing more concentration on Infrastructural development and putting up an Indian Maritime Commission. He also raised the matter of competitiveness in the Logistics operation across the country which highlights the fact of cohesiveness between Rail, Port, roadways and inland waterways.
Dr Amit Mitra, minister in-charge, departments of Finance & Excise, IT & Electronics, Industry, Commerce & Enterprises, MSME and Textiles, West Bengal said "The Government of West Bengal has increased the infrastructure spend in the state by almost five times with an Rs1758 crores expenditure in 2011 going up to Rs9553 crores in 2019. There has been a 191% surge in warehousing in the state. The Inland Water Transport World Bank project, the Roll on Roll off (RORO) project, the Amritsar Kolkata Industrial Corridor, the Asian Highway Project and the Kaladan Multimodal Project have put West Bengal and Kolkata on the logistical map."
Dr Mitra spoke elaborately about the Flipkart project that is operational in Bengal generating employment of around 6000 persons and the Amazon's 6.2 lakhs square feet fulfilment centres.
Ashish Gupta, chairman, CII Logistics & SCM Task Force & managing director, TM International Logistics Limited (TMILL) said, The need of the hour is to formulate an integrated logistics policy. Today the stakeholders have to deal with multiple government agencies at the union, state and local levels, which result into avoidable delays.
Vineet Kumar, chairman, Kolkata Port Trust said "In the last 2-3 years, the Kolkata Port is growing at a high rate and the Haldia port too has seen an 18% growth in 2017-18. KoPT is stepping up efforts to make the passage of cargo to Nepal more smoothly, more transparently and more competitively. KoPT's special focus comes after Vishakhapatnam port started drawing ships with cargo for Nepal, though that port is nearly 1500 km from Birgunj, the entry point to Nepal. Kolkata-Birgunj is 750-odd km."
Mike Formoso, managing director, PSA India stated that since their first investment in Tuticorin in 1998, PSA India is now well placed in key consumption and cargo production centres across the country – Navi Mumbai in the West, Tuticorin in the South, Chennai in the East and Kolkata in the Northeast. In 2017, PSA handled about 14 per cent of India's total container port volume. "Our consolidated capacity in India will reach approximately 8.0 million twenty-foot equivalent units (TEUs) when our Bharat Mumbai Container Terminals (BMCT) Phase 2 is completed in 2022, making it India's largest container terminal with an annual capacity of 4.8 million TEUs.