Let's discuss, debate tomorrow at Global Auto SCM Virtual Summit 2020
December 9, 2020: The Indian Transport & Logistics News (itln.in) is organising the fifth edition of its Global Auto SCM Summit on Thursday, December 10, 2020, from 12.30 pm to 3.30 pm IST bringing together decision-makers across the supply chain to discuss and debate on the challenges and opportunities in the Indian and global automotive supply ch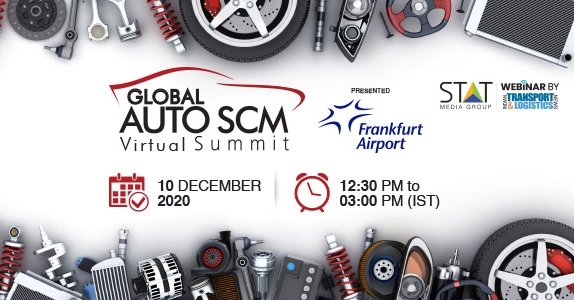 December 9, 2020: The Indian Transport & Logistics News (itln.in) is organising the fifth edition of its Global Auto SCM Summit on Thursday, December 10, 2020, from 12.30 pm to 3.30 pm IST bringing together decision-makers across the supply chain to discuss and debate on the challenges and opportunities in the Indian and global automotive supply chain.
The 2020 edition will be a virtual summit due to restrictions on gatherings and lockdowns, which always had taken place in Pune since 2016.
Presented by Frankfurt Airport, the summit will have finished vehicle manufacturers, EV, OEMs, auto components manufacturers, engine manufacturers, industry policymakers & regulators, industry association members, logistics service providers, airlines & airports sharing thoughts.
The summit will have extensive discussions on the impact of Covid-19 pandemic, adoption of digital tools, new trends of using private vehicles, electrification of Indian mobility, efforts of India government to help local manufacturing and shifting supply chains.
Register here: https://www.itln.in/autoscmsummit2020/
Keynote address
Roland Weil, VP, Sales Cargo, Frankfurt Airport
Panel Discussion 1: Global automotive supply chain
Roland Weil, VP, Sales Cargo, Frankfurt Airport
Gaylor Montmasson-Clair, senior economist: sustainable growth, Trade and Industrial Policy Strategies
Sujan Roy, head- marketing, electric vehicles (domestic), Tata Motors
Moderator: Prashanth Kaivar, AVP and head supply chain, Tech Mahindra
Panel Discussion 2: Indian automotive supply chain
Keku Gazder, CEO, AAI Cargo Logistics and Allied Services Company
Sanjiv Gupta, CEO, SpiceXpress
Huned Gandhi, managing director ASL Indian sub-continent air & sea logistics, DACHSER
Ritesh Pandey, supply chain manager, Ognibene India
Yogesh Kulkarni, deputy GM, Mahindra Truck & Bus
Phani Krishna, head – West, DSV Air & Sea
Modertor: Reji John, editor, ITLN