Liladhar Pasoo Group opens its 5000-tonne storage warehouse at Bhiwandi near Mumbai
Leading logistics provider Liladhar Pasoo Group has recently announced the opening of its 5,000 MT storage facility at Bhiwandi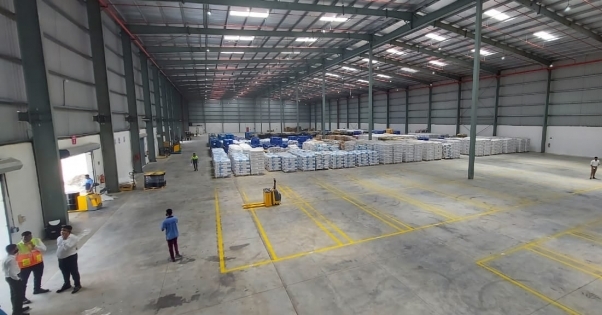 August 18, 2021: Leading end-to-end logistics and supply-chain solutions provider Liladhar Pasoo Group also known as the LP Group has announced the opening of its 5,000 MT (metric tonnes) storage facility at Bhiwandi in Maharashtra this week. This development gains significance in light of the fact that the demand for small and multi-location facilities or warehouses is slated to rise in line with the industrial and freight corridors being developed in the country.
This new facility is expected to give a fillip to the service capabilities and inventory management capabilities of the 90-year-old Mumbai- headquartered LP Group which is a pioneer in providing technology-driven logistics.
Speaking exclusively to ITLN, Varun Gada, national head for contract logistics at the Liladhar Pasoo (LP) Group said, "This facility will be used to store 100 percent dry cargo, majorly specialty pharmaceutical and food-grade chemicals that are used in the preparation and preservation of many food products. We offer these facilities to multiple clients and the facility will be close to 100,000 sq ft of area in size. This will be added to the existing 1.2 mn sq ft of space we already have across the country that has the capacity of 60,000MT. We chose Bhiwandi for its proximity to Mumbai city and to Nhava Sheva Port and its cost-effectiveness in transportation costs and the ease of transporting goods to the rest of the country in a 6-8 days turnaround time. We have two more warehouses in Maharashtra at Nhava Sheva and Nagpur."
While the pandemic led to a break in supply chains in India, it has upped the demand for commercial warehousing needs in large cities so as to contain any breakdown in the supply of essential commodities to consumers.
Speaking about expansion plans about the company, he further added, "We will be further expanding our warehouse facilities in Bengaluru and Ahmedabad in the current financial year which will be largely geared towards servicing the chemical industry who have warehousing needs. While we have always chosen to operate on an asset-light model and do not own any of the properties, our investment in terms of movable items would be anywhere between ₹10 to ₹40 crore per property."
Incorporated in 1919, the company offers a range of services including international freight forwarders, custom house agents, port handling and stevedoring, CFS handling, chartering, transportation, warehousing, container freight station, and other value-added services. One of the key clients of the company includes Netherlands-based chemicals trader IMCD Benelux and a host of Indian paint companies including Asian Paints, Nerolac Paints, Berger Paints, etc.
Interestingly, the warehousing space per capita in India is significantly lower than in developed economies. However, the international property consultancy Knight Frank India in their latest report titled India Warehousing Market Report -2021 had projected that the annual warehousing transactions for the top 8 Indian cities will grow at a CAGR of 19 percent to 76.2mn sq ft by 2026 from the current 31.7 million sq ft in FY 2021.