Micro Fulfillment Centers - the big small!
Decoding the mythical 'dark stores' or 'micro fulfillment centers' that are the backbone of the instant delivery wars of e-retailers and grocers and are shifting closer to the consumer. How do they function and what is their future in India's fast-changing e-commerce landscape?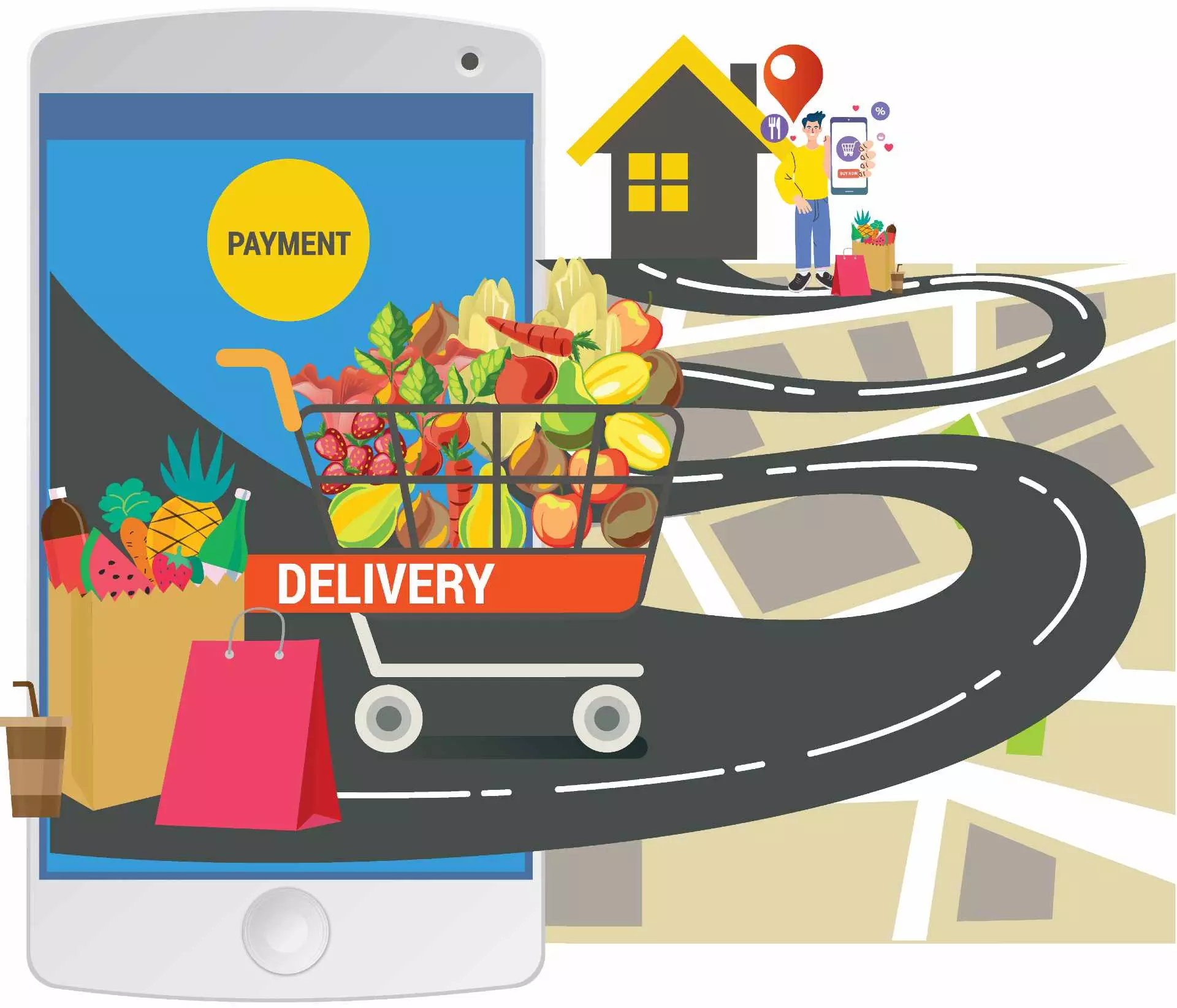 "Mainly smaller spaces, closer to the city periphery and it has more to do with conversion, faster turnaround, delivery time, cost of your transport is lesser and the number of warehouses from a large godown to smaller ones, it gets easy proximity. So this is what micro-fulfillment is all about, the whole new concept of the small being the big," Bobba Group Director Chandrakala Bobba told The Indian Transport & Logistics News (ITLN) encapsulating the essence of 'micro fulfillment centers' (MFCs) or 'dark stores' that are fuelling India's quick commerce phenomenon.
She would know, as the 30-year-old Bengaluru-based Bobba Group is on the cusp of flagging off a state-of-the-art semi-automated 75,000 sq feet facility in August in North Bengaluru under its new division Bobba Logistics which offers micro fulfillment, micro warehousing solutions and logistics solutions. This would be the first launch of a complete 3 PL non-bonded, semi-automated warehouse set up with a complete cold chain supply inside it which is to be followed by others in Bengaluru and Chennai soon.
In a race to cater to changing consumer demands and provide convenience, fulfillment has been shifting closer and closer to the customer through the advent of Micro Fulfillment Centers (MFCs). Dark stores or MFCs have been lighting up the red hot grocery delivery market in India in the last two years.
E-commerce fulfillment is the process of preparing and delivering a customer's order which may include order management, storage, inventory management, picking, packing, shipping, delivery of the products to the doorstep of the customer and also facilitating exchange and returns that come under the post order tracking.
Online merchants and brands in the grocery business and other retail segments are constantly trying to bring convenience and cater to the changing consumer preferences by speeding up order fulfillment, reducing costs, and sometimes the environmental impact by doing things sustainably.
"The Covid-19 pandemic has brought about a shift in consumer behaviour. Due to the pandemic, ensuing government restrictions forced consumers to stay at home, which resulted in a 161% increase in online grocery shopping in March 2020. 27% of global consumers started to shop online for the first time, compared to 9% during the pre-pandemic period. Consequently, food retailers are making big bets on small warehouses to bulk up their growing delivery businesses by trying different approaches to get groceries to customers more efficiently. Also, in light of this increased demand, the well-known huge percentage of the total cost involved in last-mile delivery continues to trouble businesses. Both micro-fulfillment centers and dark stores are mini logistics hubs strategically located in high-density urban centers to allow the preparation of orders in a short period of time," said Dr. Anand Gurumurthy, a professor in the area of Quantitative Methods and Operations Management (QM and OM) at the Indian Institute of Management, Kozhikode (IIMK) and Praveen Puram, who is pursuing his doctoral studies at the IIMK in a reply to the publication.
In general, micro-fulfillment centers are largely highly automated small facilities, ranging from 10,000 to 20,000 square feet (compared to 300,000 square feet warehouses) These warehouses can be built in three to six months and reach profitability in a year. MFCs are highly technical, with automation developed to respond optimally to the requirements of e-commerce, in which robots and artificial intelligence also come together in a flexible way.
"As quick commerce takes hold of the consumers and hyperlocal is on the rise, it has become crucial for brands to have micro fulfillment centers closer to their consumers in a partial geographical location depending on the supply and demand statics of that particular area," says Rahul Mehra, co-founder of Roadcast, an online vehicle tracking platform.
The tech behind it all
While automation is one part of powering the MFC, other key elements include warehouse automation software, connected networks for customisation and delivery location, digital tools for task management, communication, dispatch planning, order processing, storage, operations optimization, remote monitoring, performance standardisation, inventory management, shipping, packing, and labelling. The allocation of last-mile delivery riders and vehicle tracking, sometimes done by a third-party vendor, is also among other elements that are crucial pieces to the last-mile delivery part.
Simply getting orders to the final consumers is not enough, and the ever-increasing online demand requires highly optimised and automated processes to process high volumes of orders quickly. Several Indian companies like Roadcast and CABT Logistics provide platforms that combine the power of IoT for vehicle tracking and a seamlessly connected driver application for delivery uberization.
"Last-mile delivery is the last step in the movement of a product from the seller to the customer. For our clients including retail behemoths like Purple and Meesho, we built a tech-savvy, eco-system where all three channels - the supplier, the e-commerce website and the customer would get real-time updates about the order movement. The benefits of this are inventory management and cost optimization," Zuber Sayyed, VP - Warehouse & Microfulfillment Operations at CABT Logistics said.
Roadcast, a new-age Saas-based logistics automation platform offered a unique combination of a driver application and IoT connectivity to provide end-to-end visibility including the need for a quick shift to multi-point pickup.
"We equip our customers to deploy a fleet and make their supply chains agile. We are currently working with AWS (Amazon Web Services) and besides this, we are partners with HERE Technologies, a leading B2B mapping service provider. AWS provides an extremely reliable infrastructure for solution deployment. AWS also offers the latest in cloud computing to help us scale easily. Along with this, HERE Technologies help us with specific data requirements which are not otherwise accessible to the general public. This helps us in building a better platform that offers more accurate results and thus, better analysis for our consumers to better equip and manage their micro-fulfillment centers," Mehra of Roadcast adds.
Automation - fuel for the MFC
With quick commerce and e-commerce becoming the new norm in India, these twin behemoths are propelled by micro fulfillment centers that help brands store their inventory closer to the end consumer and thereby optimize time and cost. These fulfillment centers are highly automated to shave off even seconds from the last-mile delivery and they are constantly evolving to improve operational efficiency.
Mehra of Roadcast adds, "Automation has become the need of the hour. The future will witness automation on a large scale to make the entire process fuss-free. Small but crucial steps such as route planning to optimize cargo movement, sorting, driver allotment, etc will be the focal point adding to the smooth operations of a micro-fulfillment center."
However Indian firms currently rely on low-cost labour and offer a targeted selection of SKUs (Stock Keeping Unit) with limited service areas and try to fulfil orders on time and within budget but without excessive automation. Being the second-most populous country with the youngest workforce, a significant low-cost labour pool exists within the "gig economy".
Currently, Indian retail firms offering superfast deliveries within a few minutes operate only in population-dense locations. While such an extensive network of dark stores in such areas is proving to be sufficient to handle the incoming demand currently, however the need for automated MSFs or multi-storefronts would be felt when these firms expand their market reach but limit the growth of their dark store network.
Such an uneven expansion would place high pressure on their dark stores to increase the speed of order fulfillment, necessitating the introduction of automation and robotics, reveal Dr. Gurumurthy and Praveen Puram.
They added, "Automation is known to lower fulfillment costs by about 75%. This technology equips businesses with the ability to deliver instant on-demand orders in short periods, where a few minutes are sufficient to pack the order for delivery or pickup for the 'buy-online- pickup-in-store' (BOPIS). MFCs provide an omnichannel strategy, offering flexibility and choice to consumers, allowing them to tailor their shopping experience in a way that best suits them. MFCs require higher infrastructure investment than dark stores but involve lower labour costs."
Zuber Sayyed of CABT Logistics said, "We are planning the complete automation of our order processing. Automating the centers help in dealing with SLAs (Service Level Agreements). An example of this is our work with Farzo. Initially, their order processing and packing time were 15 minutes and we brought it down to 7 minutes. We are further trying to bring this to 3 minutes or less by automating and setting up fully automated dark stores for the company."
MFCs - a Tier 1 phenomenon?
In Tier 1 and 2 cities, the scope of fulfillment centers is highest as various touch points required for delivery within the time are in place. The numbers would not be as high in Tier 3 cities where distances are shorter and traffic is lighter for a more effective commute.
Dr. Gurumurthy and Praveen Puram add, "However, as to whether MFCs would find their way into smaller cities would be highly dependent on various factors, including service performance, geographical footprint, shopper buying patterns, budget or size. Although it may be expensive to implement in smaller cities, retail firms might be tempted to implement these in the near future to avoid falling behind in an industry where customer expectations keep increasing. High internet penetration in India, ease of online ordering, and growing disposable incomes of the population in Tier-2 and Tier-3 cities may cause similar developments in these Tier-2 and Tier-3 cities."
Chandrakala Bobba also added that she has got interest from companies of Tier 2 and 3 towns of Andhra Pradesh to open infrastructure of a similar format, although she believes that this market will take time to mature.
"I think it may take a while by the time this phenomenon goes to Tier-3 cities when it comes to omnichannel and automated because it is highly capital intensive and some more knowledge transfer also has to happen. The demand is surely rising. I have got interest from people in the Tier-2 cities of Andhra Pradesh like Vijayawada, Vizag, Kakinada who are asking for similar facilities. But it's risky to experiment because the market has to also mature and because there is a lot of investment when it comes to a fully automated facility," she says.
Phygital-friendly & shopfronts of the future?
With advancements in omnichannel experience and delivery, changing consumer demands combined with technology is slated to hark the creation of a 'supermarket of the future' with micro fulfillment.
Interestingly, the Indian retail market is the world's third-largest consumer market, where 65% of discovery happens online and 97% of shopping takes place offline.
Dr. Gurumurthy and Praveen Puram add, "Phygital practices which refer to the blend between physical and digital consumer experiences have picked up post-Covid. The restrictions placed on consumers to do their shopping online during Covid affected period, though lifted, have resulted in increased phygital activity, where customers want the best of both worlds. MFCs present a perfect solution to the ever-growing phygitalization drive."
However there remain many challenges why dark stores may not become shopfronts in India in the short term, they add. "A low MFC adoption rate by retailers, frequent visits to MFCs only by customers requiring fast service, and keeping in view the desire of the majority of the Indian population to enjoy their offline shopping experience may limit the widespread growth of MFCs to certain localities of urban areas. Although retail firms may tend to implement MFCs in Tier-2 and Tier-3 cities, they may not become a popular physical shopfront due to the reasons mentioned," they share.
Prodipto Roy, Co-Founder, Quickshift told the publication, "In India, the shopping scenario is still seen as a high-value activity. The Indian customer enjoys their weekly trips to the mall, even for no reason at all. While phygital is the way to go, customers will take time to warm up to dark stores as a concept. For essentials including fashion wear, shoes, gadgets, etc, dark stores can be suitable for the Gen Z segment, but overall brands will need a strong value proposition to drive consumers to its doorstep,"
Sharing some of the challenges facing the proliferation of MFCs in their current form and function, Dr. Gurumurthy and Praveen Puram add, "MFC implementation is likely to be affected by certain drawbacks including high installation cost (of site preparation, construction, and equipment-software integration), limited flexibility and capacity of an automated system (difficult to increase the capacity of MFC after installation), and inability to handle frozen, fragile, bulky, toxic items, or those that need to be weighed, limit the advantages of MFCs. Retailers offering a limited selection of SKUs, which get a high daily demand, and focusing on consumers seeking short delivery times, would be in a position to take advantage of MFCs. In such a scenario, it may be highly unlikely that MFCs would become the shopfronts of the future in India."