Celebi Spartans wins first Cricket league for logistics superstars
Eight teams in two pools competed over three weeks, each team played a minimum of three matches.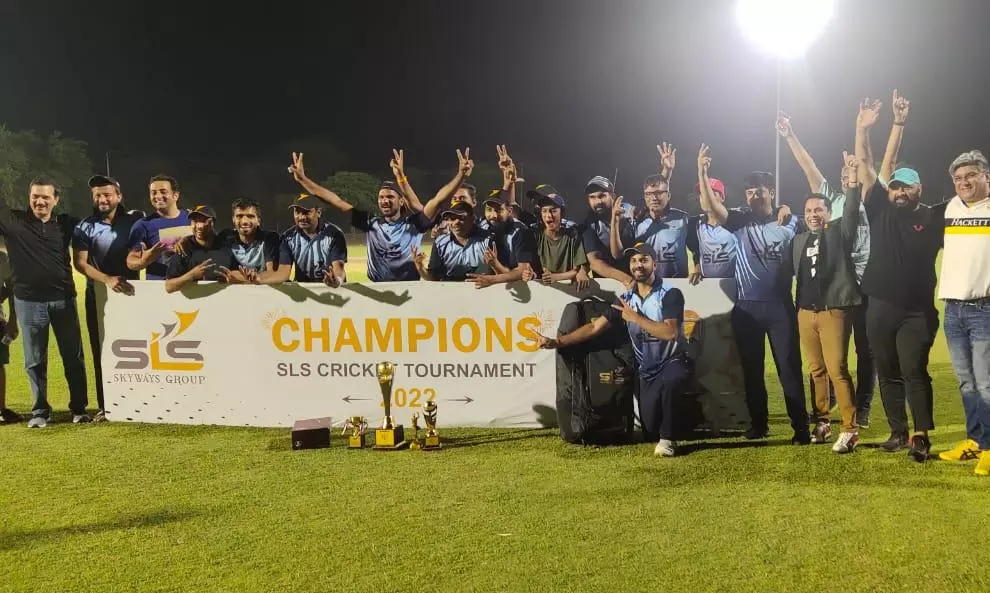 New Delhi-based Skyways Group organised its first ever 20-20 SLS Cricket Tournament 2022 for teams from logistics companies including Mediterranean Shipping Company (MSC) and Celebi.
Spread over two weeks, the 8 teams were divided into two pools, and each team played a minimum of three matches.
Sultan of Shores (Players comprising CMA & Braceport Logistics Pvt. Ltd.), Celebi Spartans, Spicejet and Shipping Titans formed Pool A, and Skyways Punters (Players comprising Skyways, Forin Container line & sKart Global express), MSC, Delhi Cargo Service Centre Private Limited (DCSC) and Qatar Knight Riders formed Pool B.
The first match between Skyways Punters and MSC was played at the Yug Sports Management Ground, Gurgaon. The inaugural match was won by Skyways. Rahul Tanwar's 106 set SLS on a run-scoring path, and the team notched up 233 runs in its allotted 20 overs. MSC never took off, wickets kept falling, and the innings ended at 137/9.
"The thought behind organising the cricket tournament was not just fitness but a team building initiative and engagement with our colleagues & the logistics industry," says Yashpal Sharma, managing director, Skyways Group. "Our industry is very demanding and drains energy from everyone. This tournament will not just bring everyone closer but also give them time to step away from work and have some fun. Cricket is a passion for most of us and it's a great feeling to be involved as a player especially in an activity that we immensely enjoy."
SLS Punters, Celebi Spartans, Shipping Titans & Qatar Knight Riders qualified for the play-offs.

The final was played on May 1 between Shipping Titans & Celebi Spartans, which was won by Celebi Spartans by 20 runs (Celebi scored 181 runs while Shipping Titans could manage only 161 runs).
Man of the series: Mohd Mohsin, Celebi Spartans
Batsman of the series: Rahul Tanwar, SLS Punters
Bowler of the series: Himanshu, Celebi Spartans
"On the behalf of Skyways Group, I would like to thank everyone wholeheartedly for participating in the event," Sharma said after the event. "It was a great pleasure to host everyone. We had great fun in these three weeks, especially after such a tough time for all of us for a couple of years. The purpose of the tournament was to have lots and lots of fun. We had a great match today, extremely well played by all!! Cricket wins and we all win as an industry."
More than 250 people attended the final including various industry leaders, and the evening was full of fanfare - DJ, Dhol and Bhangra dance group as cheerleaders.

Underprivileged kids from Webcom Foundation joined to witness the finale. They were handed over goodie bags, and were asked to release balloons to celebrate camaraderie within the logistics industry.