Around the World in 36 Years: We're older, wiser, and raring to go!
For The STAT Trade Times' anniversary, we decided to retrace history and tell the tale of two airlines – Air India and Emirates.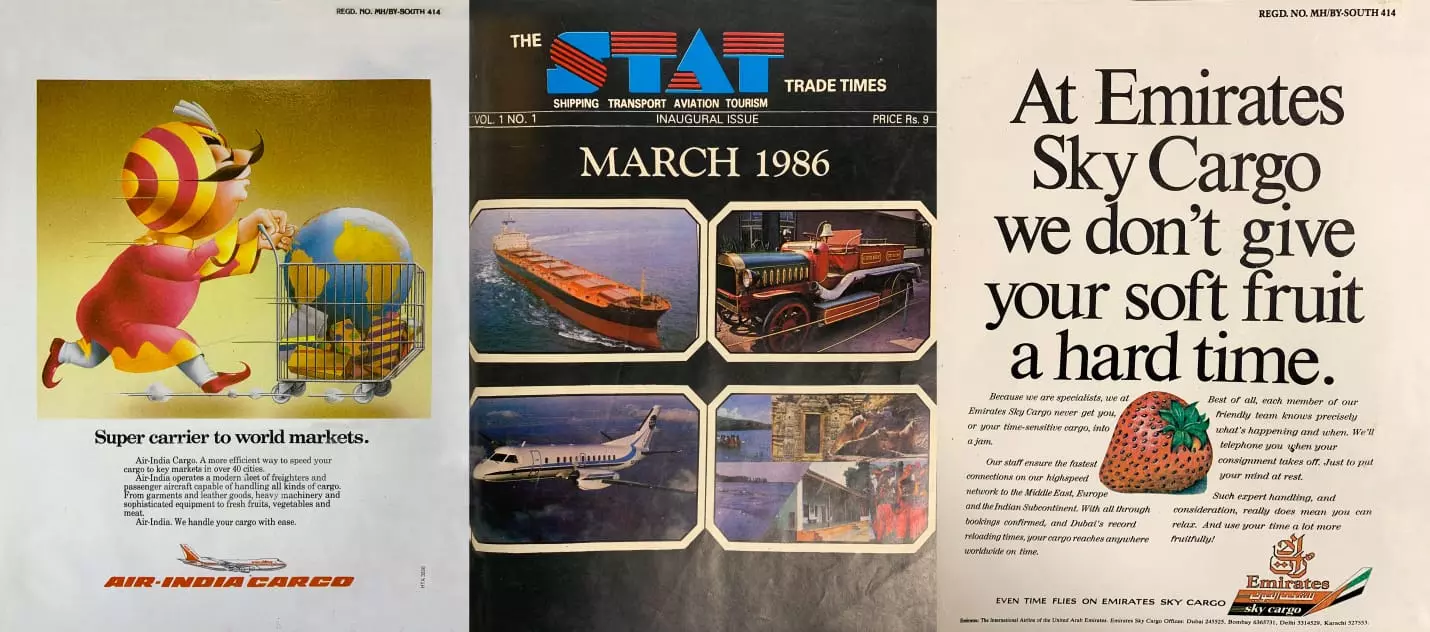 This March, we celebrate a 36-year uninterrupted run of The STAT Trade Times, STAT Media Group's flagship publication. Founded by R K Patra in 1986, STAT stands for Shipping, Transport, Aviation and Tourism. STAT Media went on to launch the bimonthly Indian Transport & Logistics News (ITLN) in 2010.

Over the last 36 years, the group's first publication has evolved to become one of the world's best air cargo reads.
Yellow Pages
As we gathered around the drawing board pondering over what to spotlight for our special edition, we decided to take a trip down memory lane, rummaging through our archives and revisiting history. We stumbled upon issues dating back to 1986 and 1987, detailing Air India's cargo facilities and talking about a young Emirates' 'expansionist mood'.
The tale of these two airlines and their cargo divisions contributed to a chunk of The STAT Trade Times' early coverage. Air India's serene Maharajah dominated the skies and thrived as a cargo carrier par excellence. In contrast, Emirates had a more modest, yet steady, rise launching a service with limited belly capacity.

However, 36 years later, fortunes have reversed with Emirates' cargo service flourishing, while Air India's negligible cargo sector is gearing up for a rehaul helmed by the Tata Group.

Join us, as we travel back in time, flipping through our publication's earlier editions, and reminisce on Air India Cargo in its heydays and its evolution over time, only to be outdone by a fledgling Emirates that was poised in the desert, eager to spread its wings and soar higher.

Of Flights and Flashbacks
1932: Founded in 1932, Air India Cargo boasted of a fleet of passenger aircraft and one Douglas DC-3 freighter. By the 1980s and 90s, it operated a Boeing 747 and a Douglas DC-8.
1986: The foundation year for The STAT Trade Times held a special significance for Air India Cargo as it also proved to be a turning point for Air India on many fronts. Captain D. Bose, Air India's managing director at the time, predicted 1986-87 would be a very prominent year for Air India with the proposed addition of six high-tech long-range Airbus A310-300 aircraft coupled with the market dynamics for airlines worldwide.
He admitted that despite difficult years in 1984-85 and 1985-86, Air India had achieved an average growth rate of 8.6 per cent per year in terms of revenue tonne-km in the last two years.

The reason? Traffic on Gulf routes had grown 10.8 percent, while other routes registered a growth of 11.2 percent.
Another milestone was on October 2, 1986, when the AI Bombay-Sydney route completed 30 years. The 30th-anniversary flight was commanded by none other than Captain Bose. The airline had started operations in October 1956, between Bombay and Sydney with a Super Constellation when few airlines flew the route.

By now, Air India had landed its own space in terms of performance and profitability in the top few airlines of the world.
1987: This year, there was a new kid on the block.
In the March 1987 issue of The STAT Trade Times, Emirates aka "Dubai's new airline" was still less than a year old, with its first flight taking off in October 1986.

The report reads that the decision to launch the airline is "in line with Dubai's general pace and development".
Emirates was armed with two aircraft in 1986 – a Boeing 737-300 and an Airbus A300 B4 – both wet-leased from PIA or Pakistan International Airlines.

The STAT Trade Times article goes on to elucidate how the fledgling airline was in an 'expansionist mood'. By March, Emirates began operating its own 727, starting with daily services to Bombay and Karachi, and thrice a week to Delhi.

In an interview with The STAT Trade Times, Maurice Flangan, a senior executive of Emirates and managing director of Dnata, reasons that the expansion was happening because "It just seemed to be the right moment in history."

Flannagan goes on to say that passenger totals show how cargo revealed a "healthy growth". "Altogether, Emirates carried 892 tonnes and we'll soon be pushing the 1,000-tonne mark."

Not wanting to divulge any details, Flannagan vaguely hinted about a service to the UK in the pipeline.

1988: The year saw Air India strengthen its cargo handling unit with a range of innovations:
An Elevated Transfer Vehicle (ETV)-equipped warehouse was set up sprawled across 56,000 square feet, in addition to allied features to augment freight movement and boost their cargo handling capacity.
Consultants were roped in to design a master plan at their cargo facility at Bombay Airport. A new 'arrival cell' was set up to ensure dispatch of import cargo to clearance within 24 hours.
The cell operated 24x7 to enable and accomplish customs clearance within six hours.
A similar 24-hour 'freighter cell' would process cargo within 24 to 48 hours.
Arrival notices were dispatched via telegram on the basis of manifests.
A special 'transhipment cell' handled all the cargo from South India.
Apart from this, 'advance palletisation cells were in charge of palletised and stacked cargo, while plans were afoot for a 24-hour carting and warehousing facilities.
A research unit for cargo was also on the cards.
Remember how Captain Bose said that Air India had recorded an average growth rate of 8.6 percent per year from 1984-86? This was also because cargo witnessed a spike from 62,990 tonnes in 1981-82 to 85,390 tonnes in 1986-87 recording a 36 percent rise!

Each cog contributed efficiently to Air India's well-oiled cargo machinery
2006: Air India partnered with Alliance Air, acquiring a Boeing 737-200C from Alliance and converting five passenger versions of the aircraft into freighters. All of these were deployed on domestic routes. Air India also converted four of its Airbus A310s, which flew on the Dammam-Frankfurt circuit.
2012: Rising competition, coupled with turbulent times, led the Maharajah to finally fold freighter operations in the first half of 2012.

About freighter services, the Air India website currently states: "Air India has a dedicated modern fleet of Boeing and Airbus aircraft with huge cargo capacities available to carry loads to more than 74 online international as well as 56 domestic destinations currently besides hundreds of offline trucking points as we have tied up with various trucking companies worldwide to carry cargo safely."

It further reads: "Air India is an active member of IATA as well as ICH and Air India carries all types of cargo including dangerous goods (hazardous materials) and live animals, provided such shipments are tendered according to IATA Dangerous Goods Regulations, IATA Live Animals Regulations, Perishables and Temperature Control respectively."