Last mile delivery logistics take the fast lane
For last mile delivery businesses, the Covid-19 crisis has changed the rules of the game. Needless to say, it has also transformed the overall consumer behaviour and the retail ecosystem. Until a few months ago, ordering grocery, food and other essentials online was a matter of convenience, but now, it has become a necessity.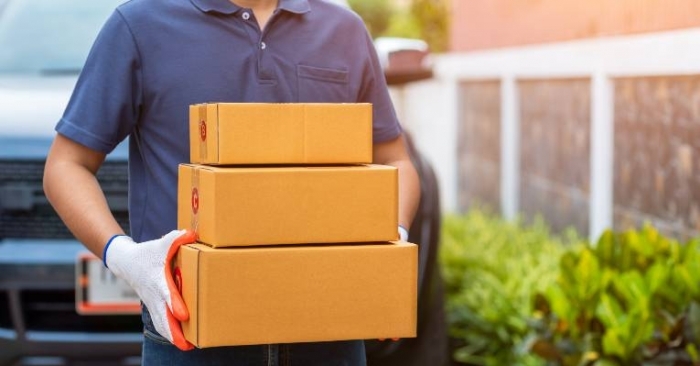 For last mile delivery businesses, the Covid-19 crisis has changed the rules of the game. Needless to say, it has also transformed the overall consumer behaviour and the retail ecosystem. Until a few months ago, ordering grocery, food and other essentials online was a matter of convenience, but now, it has become a necessity. Ecommerce players and their last mile delivery partners have now been forced to re-strategize their service offerings to cater to this increasing demand.
The last-mile delivery is undergoing an exciting phase, and this is just the beginning. As social distancing norms get stricter and consumer behaviour undergoes a transformation, the ongoing pandemic has definitely impactedthe final mile. With 80 percent of consumers expecting same day delivery as an option, retailers are in need of reworking their fulfillment processes to deliver items faster.To add to that, the extended lockdowns and the continual risk of the virus exposure in the public areas has resulted in enormous pressure on thelast-mile sector to cater to door-step deliveries.
"Since the occurrence of the pandemic, we have seen a high scale localization of supply chains which is leading to the growth of hyperlocal intercity assistance. We have witnessed a 3x jump in the hyperlocal delivery of groceries; whereas the non-essential deliveries have seen a 70-80 percent dip; much of which can also be attributed to government-imposed rules and regulations during the lockdown period," observed Praharsh Chandra, co-founder and COO, Shadowfax. Shadowfax, currently, has a network of more than 100,000 delivery partners and offers multi-modal delivery options (vans+bikes), and flexible delivery schedules (hyperlocal in the vicinity, same day within cities, and next day in farther areas). It also has exclusive tie-ups with the Indian Railways, airline companies and leading trucking operators.
"The pandemic has ensured that companies have to innovate to stay ahead of the curve. This has resulted in new models of delivery coming up like contactless delivery, crowdsourced delivery, etc. Companies are also understanding the importance of bringing supply chain to the forefront of their business. A lot of businesses are relying on technology to streamline their final/last-mile operations, right from order allocation, tracking delivery personnel, analytics to returns," said Nishith Rastogi, chief executive officer, Locus. Nishith is responsible for strategy and innovation at Locus, a decision-making platform that optimizes logistics operations to help boost business efficiency.
Taking proactive steps to meet customers' needs remains key. How the last-mile companies choose their real-time responses to customer and operational-related issues will differentiate and determine who will emerge stronger. And this means evaluating new models for delivery. For instance, ecommerce giant Amazon's crowdsourced delivery solution, Flex, has been gaining momentum in the current pandemic. Amazon launched the Flex programme in the country in June last year with an aim to offer part-time earning to people for delivering packages on their schedule. Starting initially from three cities, the programme has now been expanded to various metro and non-metro cities. "As we continue to scale and further grow the programme to more than 35 cities across the country, Amazon Flex will add tremendous value in serving our customers so they can stay home and practice social distancing," said Prakash Rochlani, director, Last Mile Transportation, Amazon India, in a media statement. Flex utilizes an online platform to manage operations and push opportunities and delivery windows to approved drivers' smartphone apps.
Revealing how Locus helped one of its key clients to respond to the needs of the current crisis, Nishith shared how one of India's largest e-grocer had to change its operating model overnight to cater to the changing on-ground scenario during the early part of the lockdown. "The company switched from a fixed slotted delivery model to a dynamic slot model which made it more agile to adapt to the changing on-ground scenarios such as reduced workforce, chaos in the supply chain, and customer demand. This model gave them the ability to service more customers." Other clients across sectors use Locus to simulate 'what-if' scenarios to determine whether or not to serve in a containment zone, time windows they should offer to end customers, etc, before executing tasks on the ground.
"We supported major merchant partners like Big Bazaar, HUL, DMart, Big Basket and many others. This was possible due to our cross utilisation abilities and experience in optimisation of resources and catering to diverse industries like e-commerce, restaurants, FMCG, pharma and online and offline retailers. Now in the unlock phase, too, we can anticipate and cater to most of the demands coming our way from our merchant partners," said Shadowfax's Praharsh.
In a collaborative effort with the Indian Institute of Human Settlements, a Government of Delhi initiative, during the lockdown, Shadowfax was also instrumental in transporting essentials including dry rations for 24,000 families across the Delhi region. The collaboration enabled the supply of over 250 tonnes of dry-rations and other essentials across 15 areas of Delhi including Mangolpuri, Raghubir Nagar, Khari Baoli, Mayur Vihar, Britannia Chowk, Nand Nagri, Vasant Kunj, Jamnagar House, Tagore Garden, Neb Sarai and Kirti Nagar which is estimated to have reached about 24,000 families. "We deployed 15 LCVs- Tata Aces and ECCOs – towards fulfilling this commitment. Our delivery partners and the vehicles made relentless 200+ runs covering over 12,990 kms in a few weeks' time which is akin to covering two-thirds of India's 15,200 kms long land border," shared Praharsh.
Besides this, in association with the government of Karnataka and BBMP, the last mile delivery company ensured timely delivery of essentials products to the residents for fulfilling their basic needs during the lockdown.
The newest fads in the final mile
The Covid-19 pandemic has instilled the importance of hygiene across the world and contactless delivery is a result of that. Contactless ensures the safety of both the delivery personnel and the customer. Contactless delivery has played a significant role in enhancing end-customer's experiences, thereby, ensuring seamless business continuity.
"Our contactless delivery technology provides for not only contactless delivery but also the verification of the process. Our delivery partner takes an image of the delivery process he has followed while making the delivery, and the customer is also intimated of the same. We are the first and probably the only ones to have adopted this contactless delivery SOP for e-commerce deliveries in addition to various other protective and preventive measures for our warehouses, delivery fleets and customers," explained Shadowfax's Praharsh.
That apart, exemplifying the need for contactless and autonomous deliveries, unmanned drones are now being considered for doorstep delivery. As drone technology evolves and regulations fall in place, drone deliveries will further disrupt the way in which brands serve their consumers.
Interestingly, Dunzo and Bengaluru-based drone maker Throttle Aerospace Systems received the nod from the Directorate General of Civil Aviation (DGCA) to test their long-range drone delivery solutions last month. Private carrier SpiceJet has also received a formal approval from the DGCA to conduct drone trials. SpiceXpress, the dedicated cargo arm of SpiceJet, now plans to use drones to provide for quicker, faster and cost-effective delivery of "medical, pharma and essential supplies and e-commerce products". Apart from these, Swiggy, ShopX, Spicexpress, Zipline, Redwing, and ClearSky Flight have also received approvals from DGCA. These companies have been mandated to complete a minimum of 100 hours of flight time in airspace designated by the Airports Authority of India (AAI) by September 2020. Meanwhile, Kenya-based Astral Aerial Solutions recently announced its collaboration with German-drone company Wingcopter for last-mile delivery solutions in India.
Last mile deliveries in the post-pandemic world
The pandemic is now forcing companies to move towards a more 'reactive' approach than long term planning due to the uncertainty. With increasing complexities, companies will need a good tech platform to streamline their last-mile operations, hence, technology will become a mainstay in last-mile logistics. What's more, the last-mile service will have to become more dynamic. "We have ensured safety and deliverability, both without sacrificing the customer or merchant experience. The aim is to "de-risk" (remove risk possibilities from) the entire logistics process by taking apt safety measures and building innovative technologies to do so, given the extensive network we run across the country," said Praharsh.
Pressing upon the need for greater visibility in the supply chain, Kushal Nahata, CEO, FarEye pointed out, "If you look at the share markets now, the companies that are able to run their supply chains well are the ones which are seeing increase in volumes, and hence, increase in share prices. Covid-19 has made one thing very clear – companies have realized the need to digitalize their businesses as supply chain logistics plays a very big role. And if they can read, reduce the cost, if they can bring transparency and provide a better customer experience and reduce the inventory deck stocks, it changes the profitability." FarEye is a logistics SaaS platform for predictive visibility.
Another trend that will pick up is scenario planning through digital simulation. Companies will start simulating business and operational scenarios factoring in multiple on-ground realities and cost-implications. These studies will help gauge two vital inferences-risk concentration and operational sensitivity. These studies will help companies strategize their last-mile operations better.
Future of the last mile
Delaying the implementation of robust operations and reliable digital systems sets companies in a fragile position because responding to the changing customer demands can become very difficult. It is hard to predict the outcomes of the Covid-19 impact. Still, there is one conclusion the industry can already predict - customers' behaviour has been changed irreversibly, and supply chain players have to cater to that change today and prepare for a different tomorrow.