Korean Air partners with Unilode for ULD management services
June 22, 2019: Unilode Aviation Solutions will set up a Unit Load Device (ULD) management office at Korean Air's hub in Incheon after being awarded the airline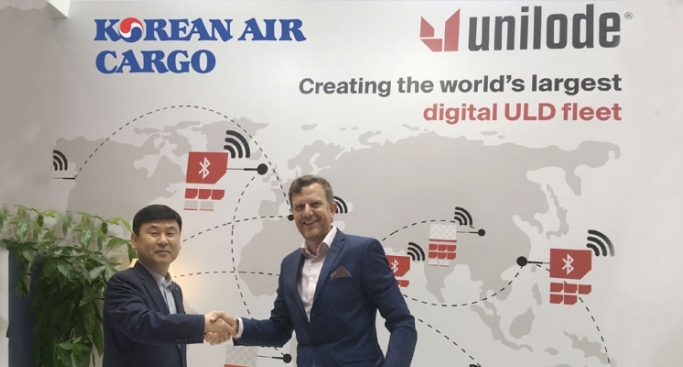 June 22, 2019: Unilode Aviation Solutions will set up a Unit Load Device (ULD) management office at Korean Air's hub in Incheon after being awarded the airline's entire fleet of more than 16,000 containers and pallets for a term of five years.
As part of the agreement, Unilode will take over Korean Air's existing ULD maintenance and repair facility at Incheon International Airport. It will provide additional services including the management of Korean Air's cool containers and horse stalls, and will also take care of the supply of pallet accessories within Korean Air's global network. Unilode will supply pallets and lightweight AKE containers from its global ULD pool.
"One of the main drivers in Korean Air's decision to outsource the management of its entire ULD operations was to be able to reduce ULD imbalances in Korean Air's global network of more than 100 destinations, for which Unilode's ULD pooling model provided the best solution. Unilode's proven expertise in all aspects of ULD operations has convinced Korean Air that entrusting Unilode with the management of the entire ULD fleet, including cool containers, horse stalls and accessories will optimise our operations and reduce our repairrelated costs," said Samsug Noh, Korean Air senior vice president head of cargo business division.
He further added: "The value of Unilode's ULD management solutions will be further strengthened by its digital transformation programme, which will increase visibility, efficiency and transparency in the supply chain, enabling Korean Air to enhance service delivery to its own customers. We are pleased to award the ULD management agreement to Unilode and look forward to a successful partnership."
Benoît Dumont, Unilode CEO, said: "We are proud to announce such a major ULD management agreement and are honoured to be entering into this long-term partnership with Korean Air. Unilode's customer-centric way of doing business and meeting its customers' needs with tailored services and innovative solutions is at the heart of everything we do and we continue to work hard to provide all our customers with continuous and long-term value."
"Unilode's digital transformation programme with state-of-the-art product, hardware and software solutions will further enhance the value of Unilode's services and will play an important part in our customers' efforts to drive excellence in their own operations. We are delighted to be able to offer the full portfolio of Unilode's solutions to Korean Air and look forward to being at its service for many years to come," added Dumont.