Kerala Floods: Shipping and Railway ministry step up efforts to supply relief materials and restore services
August 22, 2018: The Ministry of Shipping has stepped up its efforts to reach relief material from various parts of the country to Cochin Port through coastal shipping. The Cochin Port Trust has earmarked two berths at Mattancherry and Ernakulam wharfs for priority berthing of vessels bringing flood relief material to Kerala. Two warehouses have b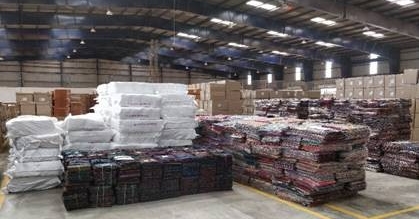 August 22, 2018: The Ministry of Shipping has stepped up its efforts to supply relief material from various parts of the country to Cochin Port through coastal shipping. The Cochin Port Trust has earmarked two berths at Mattancherry and Ernakulam wharfs for priority berthing of vessels bringing flood relief material to Kerala. Two warehouses have been especially earmarked for storage of relief materials and medicines.
The relief material from the major ports at Tuticorin (VO Chidambaranar Port), Cochin, New Mangalore, Chennai and Kamaraj, is being aggregated at VOC Port in Tuticorin before being sent to Cochin Port via coastal shipping.
Naval Ship INS Deepak from Mumbai has brought in about 800 tonnes of fresh water and 18 tonnes of provisions to Cochin. Fresh water is being discharged to two barges for supply to the affected areas. INS Deepak is expected to make another call at Cochin Port with relief material soon. A coastal crude oil vessel Swarna Godavari from Mumbai with 50000 MT Crude oil by BPCL has been received at Cochin Port to meet the fuel requirement in the state. Earlier, five containers of relief material comprising clothes, eatables, and other basic requirements were received at Cochin Port.
Various port stakeholders have joined hands to provide help in the relief operations in the state. Trade bodies have offered special coastal shipping services between Cochin and ports at Hazira, Mundra, Kattupalli, Tuticorin, Pipavav, Kandla for carrying relief material from different parts of the country.
A relief camp for a group of affected people has been set up by Cochin Port at Sir Robert Bristow Memorial School, Willingdon Island & KV Port Trust School. About 50 people from different areas near Cochin have been accommodated in the camp. Doctors from Port Trust hospital are providing medical services.
Meanwhile, the railway team has been engaged in clearing the hurdles in the flood hit sections. The Thiruvananthapuram, Palakkad and Madurai divisions were severely affected with heavy flash floods, land slips, boulder falling on track etc. However, most sections in the main route of Kerala were opened 20th August 2018.
Thiruvananthapuram to Nagarcoil section was suspended from 15.8.2018 and was given fit from 16.8.2018. Ernakulam– Kottayam and Ernakulam– Shoranur were suspended from 16.8.18 and given a fit from 19.08.2018. Palakkad– Shoranur was suspended from 16.8.18 and was given fit from 18.08.2018. Shoranur – Kozhikkode was suspended from 16.8.18 and was given fit from 19.8.18. Kollam– Punalur section was given fit on 20.08.2018.
Punalur-Senkottai and Thrissur- Gururvayur branch lines with heavy damages and falling of large amounts of boulders are also being attended on war foot basis and are likely to be ready within two three days, informed the railway ministry.