Kempegowda International Airport reports high growth rate in 2017
January 31, 2018: Bangalore International Airport Limited (BIAL), operator of the Kempegowda International Airport, Bengaluru (BLR Airport), has announced its annual traffic figures for the year 2017 (January - December)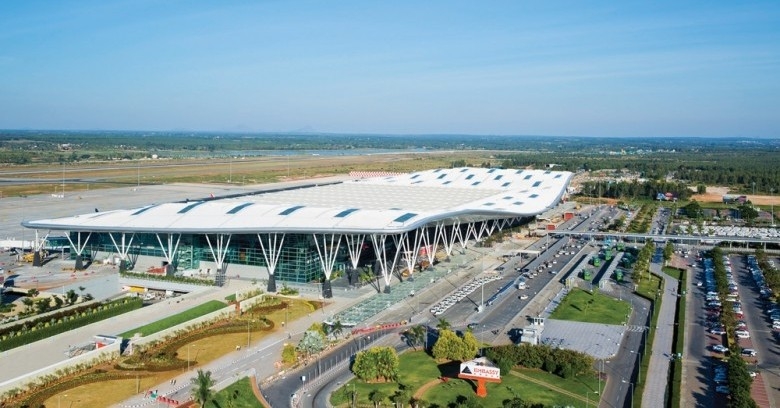 January 31, 2018: Bangalore International Airport Limited (BIAL), operator of the Kempegowda International Airport, Bengaluru (BLR Airport), has announced its annual traffic figures for the year 2017 (January - December). By the end of 2017, BLR Airport clocked 25.04 million passengers, recording a growth of 12.9 percent year-on-year. Air Traffic Movements (ATMs) during the year grew by 4.3 percent. The airport has 43 scheduled airlines connecting 62 destinations nationally and globally.
The airport also witnessed the highest ever passenger movement on 23rd December, 2017 with 87,815 travellers passing through BLR Airport on a single day. The same day recorded 603 ATMs – the highest ever for BLR Airport. In 2017, BLR Airport handled 339,461 metric tonnes of cargo.
"2017 has been a phenomenal year for us. We surpassed forecasted numbers and continue on a positive growth trajectory. BLR Airport was rated as the fastest growing airport, globally, by FlightGlobal. This is a reflection of the status of Bangalore as one of the fastest growing cities in India, and its growing economic might," said Hari Marar, managing director & CEO, BIAL. "We look forward to 2018, which will be a year of several enhancements in technology and infrastructure, powered by digital transformation at the heart of ensuring that the BLR Airport continues to be amongst the top airports in the country," he added.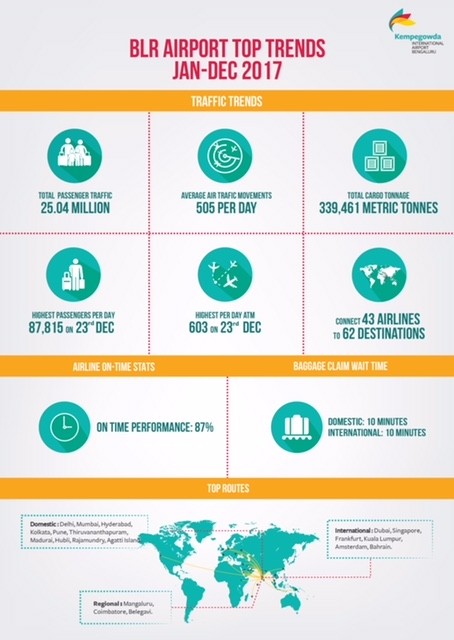 The airport has also emphasized that cargo continues to remain a key focus area for the business. Besides seeing incremental growth in the overall business, 2017 saw the introduction of a bonded trucking service that connects Coimbatore and Tirupur to the BLR Airport via road. The year also saw BLR Airport's cargo operations scaling new heights, with an overall growth of 8.1 percent, handling 339,461 metric tonnes. International cargo handling increased by 10.4 percent over the previous year while domestic cargo handling increased by 4.2 percent. The cargo business at BLR Airport accounts for around 11 percent of the state's GDP, substantially higher than the global average of 2-3 percent. BLR Airport also accounts for highest exports of roses and mangos in their peak season from South India.
In 2017, BLR Airport added four new routes: two in the domestic sector including Silchar and Udaipur and two in the international sector including Amsterdam and Bahrain. Two new airlines DHL Aviation International Cargo and Malindo Air began operations in 2017. Last year the airport enhanced its regional connectivity with new connections to Thiruvananthapuram, Mangaluru, Coimbatore, Madurai, Hubli, Rajamundry, Agatti Island and Belegavi.
| | | | |
| --- | --- | --- | --- |
| Details | CY 2017 (Jan-Dec) | CY 2016 (Jan-Dec) | Growth % |
| Pax Traffic (in Millions) | | | |
| Domestic | 21.31 | 18.62 | 14.5% |
| International | 3.73 | 3.56 | 4.7% |
| Total | 25.04 | 22.18 | 12.9% |
| | | | |
| ATMs (Air Traffic Movements) | | | |
| Domestic | 159,974 | 152,929 | 4.6% |
| International | 24,374 | 23,868 | 2.1% |
| Total | 184,348 | 176,797 | 4.3% |
| | | | |
| Cargo (in MT) | | | |
| Domestic | 124,186 | 119,151 | 4.2% |
| International | 215,275 | 194,909 | 10.4% |
| Total | 339,461 | 314,060 | 8.1% |
In early 2017, the airport completed a pilot project for Aadhaar-based entry and biometric e-boarding processes for passenger processing and access control. This initiative was aimed at quickening the process of confirmation and validation of passengers' personal identity. Currently in RFP stage, once implemented, this process will enhance security while simultaneously enhancing passenger experience.
A co-innovation centre in partnership with Accenture to incubate and develop digital solutions with an aim to create an 'airport of the future' was also announced in August. In 2017, BLR Airport also introduced a smart security lane with automatic tray return for baggage screening. The system has the potential to increase baggage throughput by nearly 60 percent to 100 percent over current numbers.
The Airport has also adopted renewable energy as part of its overall green vision. During the course of 2017, BIAL inaugurated a solar farm, which included roof-top solar installations on five buildings as well as installations on the airside and car parks. It is estimated that the implementation of these projects will help reduce CO2emissions by 3,625 tonnes per annum.
The conversion of street and perimeter lighting to LED will effect an annual energy saving of 56,642 units annually. BIAL was certified Carbon Neutral when it achieved the ACI Level 3+ certification.
The launch of HeliTaxi Services (helicopter shuttle service) was announced in August by Minister of State for Civil Aviation Jayant Sinha. The airport is likely to enable an airport transfer experience through an exclusive partnership with Thumby Aviation, a market-leader in this segment. The HeliTaxi service is part of BIAL's ongoing focus on pioneering initiatives and customer innovation. The service is scheduled to take to the skies around the middle of February 2018.