Kale Logistics signs MoU with Cargonaut during ACI 2018
February 23, 2018: Kale Logistics Solutions has signed a 'Memorandum of Understanding' with Cargonaut, an established cargo community service provider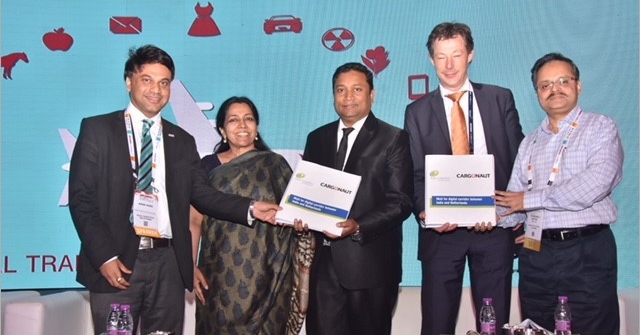 February 23, 2018: Kale Logistics Solutions has signed a 'Memorandum of Understanding' with Cargonaut, an established cargo community service provider based in the Netherlands, to create a digital air freight corridor between the two countries that will enhance shipment visibility and optimise flow of cargo data. The deal was signed during Air Cargo India 2018, the biggest congregation of the global air cargo supply chain, organised by The STAT Media Group, in Mumbai.

In a first of its kind initiative, Mumbai Airport, India and Schiphol Airport, Netherlands along with their partners for Cargo Community systems, Kale Logistics Solutions and Cargonaut have pioneered an initiative towards creating a Digital Air Corridor between India and the Netherlands.
Through this unique trade facilitation initiative, the collaboratively created digital corridor will facilitate flow of information within the stakeholder chain and optimise cargo visibility across the stakeholder network. Following the signing, both companies will collaboratively develop a shared interface between their respective air cargo community systems. This interface shall be capable of facilitating exchange of cargo status at each individual location, followed by interchange of actual shipment data. At any time, participants of the network will be in full control of their data. This pioneering initiative will help to reduce unnecessary administrative paperwork involved in shipment movement between the two countries, thus strengthening and easing cargo and data movement. This will enable both the countries to experience ease of shipment data exchange.
Speaking on the occasion Amar More, CEO, Kale Logistics Solutions said, "Kale Logistics has always been at the forefront of driving trade facilitation across the logistics and supply chain sector. With this signing, we have reaffirmed our interest to contribute in initiatives that are imperative to drive ease of doing business and efficiency across the logistics and supply chain sector. Collaborating with an accomplished partner like Cargonaut, has certainly given us an edge to extend our trade facilitation initiatives across Europe. We are very optimistic that this collaboration will set a benchmark for more such initiatives in the future."
Commenting on the joint initiative, Nanne Onland, CEO of Cargonaut said, "The collaboration between Kale Logistics and Cargonaut fits perfectly in our mutual aim to create a network of trusted networks. Together we can establish a 'virtual' platform for our joined customers in India and The Netherlands. Trade Facilitation initiatives like these are the way to the future in which airport communities, together with Governments work closely together to improve, speed-up and simplify the Air Cargo business for all involved."
Picture Caption: Amar More (first from left) and Bart Pouwels (second from right) from Schiphol signing the MoU in the presence of Vandana Aggarwal, Economic Advisor, Ministry of Civil Aviation (India); Manoj Singh, Senior VP and Head-Cargo, Mumbai International Airport and Angshumali Rastogi, Director, Ministry of Civil Aviation (India) (first from right)