JNPT gets new container scanner, electrical sub-station, flyover and parking plaza
March 16, 2020: The minister of state for shipping, Mansukh Mandaviya inaugurated various infrastructure projects at Jawaharlal Nehru Port Trust (JNPT) on Saturday including a mobile x-ray container scanner with a throughput of 20 containers per hour, a 220/333KV MUSS sub-station, a centralized parking plaza, the buildings for container tractor-tra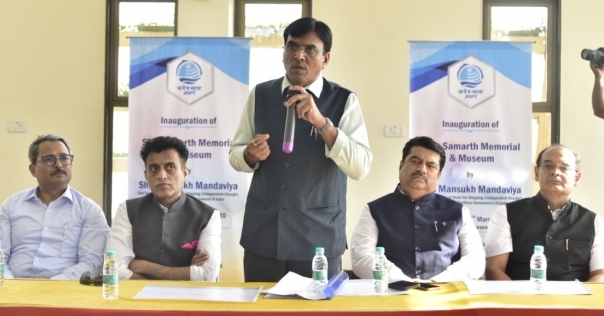 March 16, 2020: The minister of state for shipping, Mansukh Mandaviya inaugurated various infrastructure projects at Jawaharlal Nehru Port Trust (JNPT) on Saturday including a mobile x-ray container scanner with a throughput of 20 containers per hour, a 220/333KV master unit sub-station (MUSS), a centralized parking plaza, the buildings for container tractor-trailers and custom facilitation centre and the newly constructed fly-over at Y Junction.
Mobile x-ray container scanner
The newly inaugurated mobile x-ray container scanner facility will help in scanning the containers inside the terminal premises thus security agencies will have the advantage to take appropriate action before the container is allowed to exit. Trade will be benefitted with this initiative as DPD containers can be allowed directly from the Port after examining the same with the help of new mobile scanners.
To enhance proceedings & smooth functioning at @JNPort, inaugurated the Flyover at Y junction near PUB, Centralised Parking Plaza & X-ray Scanner. The 220/33KV master unit sub-station has also been augmented.
All of these, committed towards the upliftment of the Maritime Sector. pic.twitter.com/bcwg8BpJ4q

— Mansukh Mandaviya (@mansukhmandviya) March 14, 2020
220/333KV MUSS sub-station
"The MUSS sub-station with 220 and 33 KV gas-insulated switchgear are deployed to have maximum power reliability. Sub-station is provided with SCADA and Sub-station Automation system where information regarding any fault is made available on the mobile phone of the concerned engineers round the clock to have better control on sub-station operations and Automated Fire Detection & Alarm system along with CCTVs are deployed," says the release.
Centralized parking plaza
The new centralized parking plaza (CPP) and the buildings are provided exclusively to integrate the parking of tractor-trailers carrying factory stuffed containers for exports at one location from the existing multiple locations. This will help integrate document processing by customs with state of the art facilities and service provision in the CPP. The parking plaza will provide parking facility for trucks carrying export containers and enable completing pre-gate entry formalities and documentation for export under one window system. This system will ease the movement of container trucks on JNPT roads and help the respective terminals to plan their TT movements in a better way.
Fly-over at Y Junction
The minister also unveiled the newly constructed fly-over at Y Junction near Public Utility Building (PUB). The total length of the flyover is 830 metre with 600-metre approaches on both sides; the newly built flyover will help in faster evacuation of cargo. The newly built flyover will help in faster evacuation of cargo and will avoid the crisscrossing of the GTI out container traffic with northbound in containers for NSICT, JNPCT and NSIGT.
"All these projects are part of JNPTs continuous efforts to help reduce the logistic cost to help the EXIM trade and is in line with Government's Ease of Doing Business initiative," says the release.