FROM MAGAZINE: IT is key to warehousing growth in India
The demand for regulatory compliance, security and quality assurance has increased the demand for modern warehousing where organised players have an essential role. Technology adoption in warehousing is deemed as an imperative for efficient business processes.
The demand for regulatory compliance, security and quality assurance has increased the demand for modern warehousing where organised players have an essential role. Technology adoption in warehousing is deemed as an imperative for efficient business processes.
India has come a long way from basic godowns to smart distribution centres. However, a lot of improvement in warehousing is essential since warehousing accounts for 25 percent of the overall logistics costs.
India ranked 44th out of 167 countries in the World Bank's Logistics Performance Index (LPI) and second in the 2018 Agility Emerging Markets Logistics Index. The reason being the overall logistics costs in India that accounts for 13 to17 percent of the Gross Domestic Product (GDP), which is nearly double (6-9 percent) the logistics cost to GDP ratio in developed countries such as the US, Hong Kong and France.
Warehousing is one of the key enablers in supply chain solutions and is the fulcrum for procurement, manufacturing and distribution services which collectively contributes to robust supply chain services. The demand for modern warehousing has increased, and so has its lease period.
PV Sheshadri, CEO, Future Supply Chain Solutions Ltd(FSC), observed, "The supply chain industry is at an inflection point where we will see the demand for good warehousing infrastructure gaining prominence for the next three to four years and this demand needs to be fulfilled with high-quality Grade A warehouses. These modern warehouses are insulated, ventilated and climate-proof with round the clock surveillance and standard quality and safety procedures."
The warehousing space is expected to undergo a big transformation with the help of advanced technologies that will significantly change the way products are received, stored, and shipped.
Sheshadri commented, "Though a large part of warehousing operations are still manual, some of the latest technologies including cloud software, drones, Internet of Things (IoT) and wearable devices are gaining popularity, thus transforming the world of the supply chain. Trends are heading towards adopting the latest technological advancements, such as Artificial Intelligence, Digitisation of Supply Chain, IoT and Blockchain, Robots & Drones that fasten the process of warehousing automation."


Automation adoption
There is not as much automation in India because the labour in India is a lot cheaper. Viral Shah, executive director, V-Trans India Ltd, observed, "Automated management has only been implemented in 20 percent of the world's warehouses."
V-Logis, the warehousing solutions division of V-Trans, offers Warehouse Management System(WMS) for being connected to the goods in the warehouse, inventory management, integrated transport facilities, reverse logistics, in addition to value-added services for logistics cost optimisation.
Shah stated the manually run warehouse processes resulted in shipping delays, wrong product dispatch and additional costs. However, technology has changed how things are done in different industries.
The benefits of automation have to outweigh the costs before customers agree to go for it. For example, an autonomous vehicle like a forklift with a sensor that reads bar-codes when it goes across in the warehouse aisle can cover the entire inventory counting in two days instead of one month for just A-class items. This could reduce the dedicated manpower employed for just inventory processes, which can offset the cost of investing in this technology.
Amine Soufiani, MD & CEO, FM Logistic India, said, "I see a very positive trend in automation adoption for warehousing business in India. Earlier, low-cost warehouse options were most favoured due to multiple State and Central level taxes, which limited the focus on automation and higher throughput."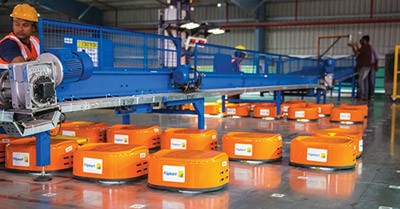 Soufiani further added, "Now, organised players are entering the warehousing sector to meet the requirement of compliance regulators (example. Pharma industry), safety and security of inventory, efficiency in operations, quicker turnarounds, efficient warehouse design, etc. Also, multinational companies that prefer to occupy only compliant facilities, statutory penalties on non-compliant warehousing facilities, implementation of GST, and economies of scale due to larger warehouses have led to the demand for organised players in the segment."
India is one of the key strategic markets for FM Logistic. In 2016, FM entered India through the acquisition of Pune- based Spear Logistics. "We expect a very strong double-digit growth in India in FY 2019-20. Overall the company's activities in India have been growing by an average 25 percent + YoY for the past 10 years," informed Soufiani.
Multi-client facility demand has gone up. FM Logistic plans to strengthen its position in India by delivering on its post GST strategy of focusing on developing multi-client facilities (MCF) in the most important Indian Economic Zones. The successful opening of FM Logistic's first MCF in Mumbai (with extension in progress) will be followed by another MCF in Delhi NCR (near Gurugram), which is expected to commence operations from April 2019.
FM Logistic has also acquired 31 acres of land in Jhajjar, near Gurugram. The Jhajjar MCF (the 2nd MCF in the NCR region) will offer 700,000 square feet of warehousing space and will store approx. 100,000 pallet positions once fully constructed. Cross-channel businesses will be targeted by this facility. "With these new projects, we aim to create 500 jobs in the next 12 months. FM Logistic is also focusing on digitisation of its various functions, notably on WMS (warehouse management system) and TMS (transport management system) that offer a high-quality service and real-time visibility to customers," said Soufiani.
As per a study titled 'Logistics Trend Research' by DHL, online shopping of everything from groceries to pharmaceuticals is driving growth in the fulfilment and delivery of temperature-controlled goods through standard networks. This, in turn, creates new challenges to pick, package and deliver single shipments with temperature integrity. To enable this new fresh chain of single shipments, companies will need to develop and implement special processes, innovative cold chain packaging, fast networks, and optimised infrastructure."

Game Changers: Retail & e-tail
Warehouse establishment in tier I and tier II cities has increased, in addition to the demand for better quality warehouses with support ecosystem.
On the other hand, there is a rise in logistics marketplaces owing to the growing need for transparent, flexible, and easily adjustable logistics services. For example, warehousing marketplaces like LogHub, Warehouse-India.in, Xplent, and others match the demand for warehousing services with supply.
"The burgeoning e-commerce industry has made way for dynamic changes in the warehousing sector developing them into sophisticated fulfilment centres with advanced, real-time tracking mechanisms and other state-of-the-art facilities without which e-tail would still be a dream. The coming years would be focusing on smart, tech-driven operations to reduce operating expenses as well as to increase efficiencies," said Sheshadri.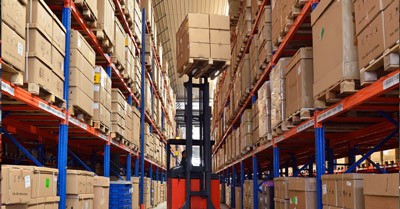 FSC has 7.31 million square feet of storage space, that is used by its anchor, Future Group of companies and external customers in FMCG and retail. FSC recently signed a multi-year agreement to offer contract and express logistics services to Benetton India. FSC plans to increase the use of automation in its operations such as robotics and voice picking.
Retail and e-commerce giants are leveraging the power of artificial intelligence for various functions including product assortment and inventory management. Big Data is the driving force for logistics. India's top e-commerce giant- Flipkart leverages Big Data and Analytics for warehouse management since the company stocks frequently ordered items in their inventory and have over 500 plus distributors in Indian cities. Flipkart recently deployed close to 100 robots in its Bengaluru-based delivery hub. Designed to pick and drop products, these robots are expected to sort through 4,500 Flipkart packages per hour thus aiding in efficient product assortment and delivery. The company has similar plans for its other delivery-hubs across the country.
Flipkart relies on big data for following a data-driven approach for evaluating the product and listing quality in real time. Big Data Analytics helps to optimise capacity utilisation, improve customer experience, reduce risk, and create new business models in logistics.
Another noticeable trend, Shah impressed upon is that fast moving consumer goods (FMCG) companies, consumer durables and other manufacturing firms are consolidating smaller warehouses across multiple states, into a few strategic but large ones, considering India is now a single tax country. Shah said, "Logistics companies have tight hugged the opportunity. From managing single company warehouses, they are shifting to a multi-client, multi-product model."
Soufiani observed, "Warehouse consolidation cases have witnessed up to 30 percent reduction in inventory levels leading to over 40 percent increase in inventory turnover, thereby increasing profitability. Warehouse consolidation, however, will vary across industries; for example, the FMCG industry will see comparatively little churn as its storage requirements were largely dictated by proximity to the consumption centres. Moreover, the increase in labour costs will cause automation to take over at least the menial jobs such as material handling."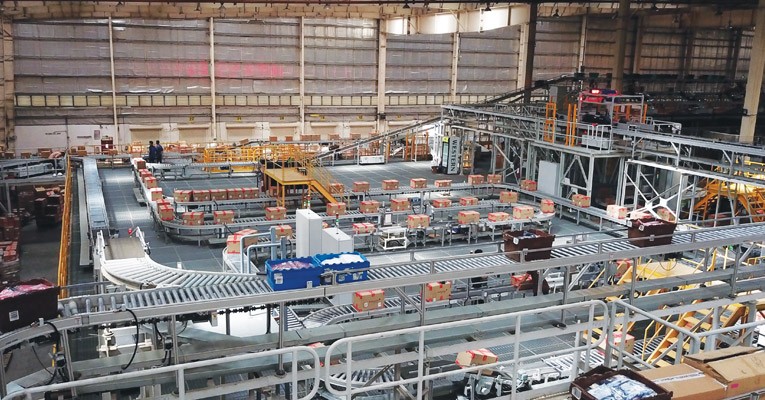 Future Supply Chain Solutions' MIHAN Distribution Centre

Challenges
Despite vast betterment over the year, there are still many challenges in the warehousing industry.
Shah lamented, "There are rules imposed by national, regional and local authorities, but they differ from city to city, resulting in a botched network. Also, there is a certain void when it comes to technology, which cannot be overlooked. Most warehouse facilities still operate with basic technology."
"A lack of trained manpower to operate in warehouse distribution facilities, are also responsible for the disorganised state of the logistics sector as of now. Smaller, unorganised players still eat up a large segment of the customer base, setting a lower the benchmark for operations while influencing pricing," added Shah.
Moreover, the warehousing sector is capital intensive as it involves buying of land. Real estate developers are joining hands with private equity firms/companies to develop Industrial Parks.
Shah believes, many policy changes, in quick succession, are the government's way of preparing the ground for Make in India.
Overall the government, logistics companies, shippers and other supply chains stakeholders are taking conducive steps to ensure that warehousing and warehouse management solutions are top-notch to propel the potential growth of the different industries.
When the government granted logistics an infrastructure status, it stated in the press note that the logistics infrastructure means and includes Multi-modal Logistics park comprising Inland Container Depot(ICD) with minimum investment of Rs 50 crore and a minimum area of 10 acres, cold chain facility with a minimum investment of Rs.15 crore and a minimum area of 20,000 sq. ft, and warehousing facility with an investment of a minimum Rs 25 crore and a minimum area of one lakh sq ft. "This will enable the logistics sector to avail infrastructure lending at easier terms with enhanced limits, access to larger amounts of funds as external commercial borrowings, access to longer tenor funds from insurance companies and pension funds and be eligible to borrow from India Infrastructure Financing Company Limited," the government said.