IR introduces double stack dwarf container service from Rajkot division, Western Railway
July 12, 2018: Indian Railways has introduced double stack dwarf container services. This freight train was flagged off from Western Railway's Rajkot railway station on its maiden commercial run recently. The train was booked from the Reliance Rail Siding at Kanalus to Rewari in the state of Haryana. It was loaded with 82 containers Polypropylene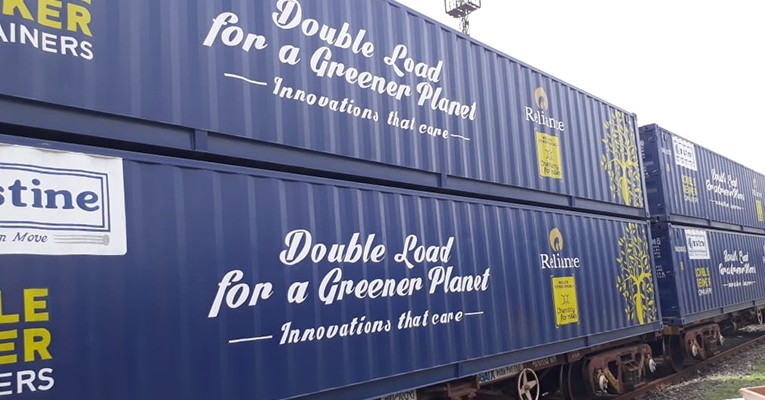 July 12, 2018: Indian Railways has introduced double stack dwarf container services. This freight train was flagged off from Western Railway's Rajkot railway station on its maiden commercial run recently. The train was booked from the Reliance Rail Siding at Kanalus to Rewari in the state of Haryana. It was loaded with 82 containers Polypropylene Granules.
The double stacked container is 6 feet 4 inches in height and can run on electrified tracks. Despite being smaller in size, the dwarf containers can hold a capacity of 30,500 kilograms. In comparison with regular containers, these containers are 662 mm short but 162 mm wider. The dwarf containers can hold a volume of approximately 67 percent more when compared to traditional containers. Presently, due to its height, the regular double stack ISO containers can run only on few chosen routes on Indian Railways but these short-heighted double containers can run on most tracks very easily.These containers in double stack formation can run under 25kV overhead lines. With the use of these double-stack dwarf containers, the cost of the unit will be significantly reduced due to the rail transport being cheaper than the road.
Currently, 'Low Density Products', such as plastic granules, PVC polyester fabric, white goods, FMCG products, polyethylene, auto car, etc. are being transported mostly by road, but due to the low cost of transportation in dwarf containers, Railways now offers a viable transport. At the general freight rate, the double-stack dwarf container trains can generate more than 50 percent of the revenue.