FROM MAGAZINE: Integrating into logistics of fashion
'Fashion' is not a term attached only to designer or expensive clothes but for the trend which is on demand. Logistics stakeholders are upgrading their technology to meet the ever-changing demand of this time-sensitive industry.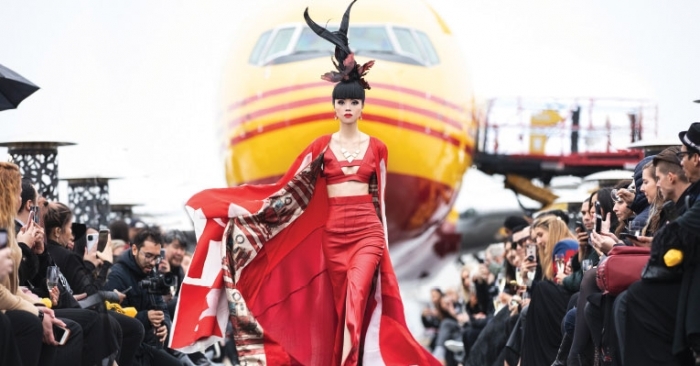 'Fashion' is not a term attached only to designer or expensive clothes but for the trend which is on demand. Logistics stakeholders are upgrading their technology to meet the ever-changing demand of this time-sensitive industry.
The extraordinary catwalk by Jessica Minh Anh at the entrance of a B767-400 before landing at John F. Kennedy airport's DHL Express Gateway showcased eight exquisite haute couture collections from four continents. J Winter Fashion Show 2020 in New York opened on February 6, with an iconic backdrop featuring the energy-efficient DHL fleet of aircraft, helicopter, and electric cars while Anh walked on the runway.
"Since shipping and logistics are such a big part of the fashion industry, I believe it is crucial to minimise environmental impacts by using green logistics solutions. What drew me to DHL is its great commitment to sustainability. From optimising transport routes and rolling out alternative fuel vehicles, to operating energy-efficient warehouses, DHL is reducing transport-related CO2 emissions. It is important for me to partner with a company that prioritises the health of our planet," said supermodel-turned-fashion show producer Anh on the sidelines of the event.
More than a modern fashion statement, the unique production engendered a global conversation about shipping and logistics as part of the sustainable fashion movement.
Fashion is a time-sensitive industry. Apparel goes out-of-fashion very quickly. To meet the just-in-time demand of the customer and for the retailer to survive in the business, logistics of fashion has to be very efficient to ensure that the goods are not stolen, damaged and ends at the right destination.
Speaking on Kale Logistics Solutions' new product, Amar More, director says, "Exporter logistics single window is a new product that we are building for exporters and importers which will be launched in June this year. This will be useful for all types of exporters and importers including fashion industry."
To enable all the stakeholders with real-time product tracking, Kale through its port community system has enabled apparel exporters (in Tirupur and Coimbatore) to track containers or goods at Tuticorin port.
Dharmender Khanna, brand head – Lotto, SSIPL Retail sounds similar, "With digital platforms, I can track where my shipment is and provide real-time information to my customers. We integrate technologies on the supply chain side from the partners into our systems. We have in house solutions as well which is integrated with the logistics partners. The biggest technology we have built and has implemented in our store is an auto-replenishment system. Our store generates requirements automatically on a sell-through basis, which goes to the warehouse, supply chain team packs and courier company picks up. It has helped in managing the inventories and increase in sales."
SSIPL has a leased warehouse facility in Sonipat, Haryana. It works with Future Supply Chain Solutions (FSC), Genex Logistics and few other logistics partners. At present, Lotto is present in the north and northeast and plans to enter west and south of India. It is planning to set up 100 stores from the current 45 in the next financial year.
Meanwhile, FSC has opened a national distribution centre for Benetton India at Koka, Jhajjar in Haryana to optimise latter's supply chain and help achieve the desired growth with the use of automation. The warehouse spanning 112,000 square feet can handle an inventory volume of over 4 million and more than 100,000 SKUs, as well as various value-added services like product kitting, customised packaging and returns management. It is equipped with shelving/racking storage, advanced material handling equipment, dock levellers, packaging machines and a full back-up generator.
As per the McKinsey & Co report titled – 'The fashion industry in 2020: Ten top themes from The State of Fashion', China offers fashion players an outstanding opportunity, but it is no pushover. Over the past ten years, China accounted for 38 percent of global fashion industry growth, with the luxury segment taking a lead. LVMH saw "unheard of growth rates" in 2019 and Kering also reported strong earnings growth from its China activities. Given the uncertainty in China, it makes sense for brands to direct at least some of their attention towards other markets. India continues to present an exciting opportunity, as highlighted in the 2019 report, particularly for price-competitive players; the Indian clothing market will be worth $53.7 billion in 2020, making it the sixth-largest globally.
The fact gets strengthened with China selecting Delhi International Airport Ltd (DIAL) as its exclusive cargo transshipment centre in India. With this crucial development, Chinese cargo to the central Asian countries will be routed through Delhi airport's new Transshipment Excellence Centre (TEC). In the last week of December 2019, Malaysia's Air Asia X freighter from Beijing with garments and accessories landed in Delhi for onward delivery to Ukraine. This was the first time an international-to-international Chinese cargo routed via Delhi Airport. With this, a new gateway has been shaped for the transportation of international transshipment cargo through Delhi airport. TEC will not only provide new momentum to the efficient movement of air cargo but also will contribute significantly to promoting the airport as an air cargo hub in North India and neighbouring countries and make it as an air cargo gateway to the world.
Earlier, the newly launched TEC was used by Bangladesh firms for transporting readymade garments from Dhaka to Manchester. DIAL has also developed Airport Cargo Logistics Centre (ACLC), an on-airport warehousing facility, to handle all types of cargo, such as textile, retail, electronics, perishable, pharma, project cargo, and livestock.
India's total exports of textiles and apparel are expected to touch $82 billion by 2021 with compound annual growth rate (CAGR) of 12.06 percent, as per India Brand Equity Foundation (IBEF) report by the ministry of commerce and industry.
Retail accounts for over 10 percent of India's GDP (gross domestic product) and around 8 percent of the employment, as per the IBEF report. Khanna cites, "Earlier, 90 percent of the retail sector was unorganised. Now, with digital payments and GST initiatives, everything is falling under an organised ecosystem. There is a shift in the way logistics companies handle the product. Currently, we are evolving with omnichannel, e-commerce, etc., where we have a high rate of reverse logistics and thus resulting in the returns getting damaged in transit, bleeding our margins. Now, we are making courier companies understand how to handle those products and in return, they started to provide the best of their solutions."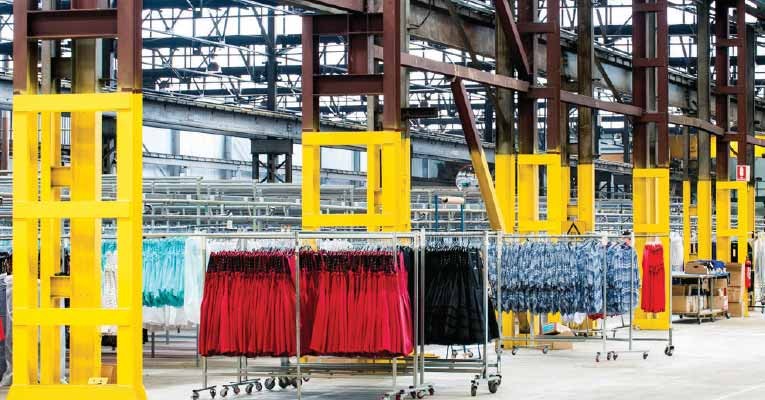 Sportswear is no longer a casual alternative fashion. It is a passion now and that is evident from the growth of sports retail in India. With the social, cultural, and market shifts continuing in the years to come, India's sportswear sector is attracting a host of local and international brands. Sports brand Lotto is endorsed by Wimbledon champions Sumit Nagal and Prajnesh Gunneswaran besides top Indian and international sports celebrities. Khanna states, "Millennial beauty vocabulary has changed from an hourglass figure being regarded as the beauty idol. The number of gyms in the country is projected to rise 7 percent year-on-year till 2020 and the rise of social media in the country has shifted consumer perception of what is now considered to be 'body beautiful'. A growing number of consumers both female and male are emulating the daily fitness routines and sportswear purchases of Bollywood stars and famous athletes."
For quite some time, the concept of ownership to renting apparel is present globally but now India has seen a rising preference for gaining access to designer clothing and ever-changing fashion statements are fuelling the online clothing rental market. The global online clothing rental market is expected to attain a market value of $2,817.8 million by 2027, as per ResearchAndMarkets.com report 'Global Online Clothing Rental Market Outlook Industry Analysis Opportunity Evaluation 2017-2027'.
Observing about on-time deliveries in renting segment, Jheal Shah, founder and CEO of The Stylease says, "Delivery to most Tier 2 and Tier 3 cities has not taken more than three days so far. We have a third party logistics company B4 Express Services. Depending on the urgency of the product, delivery city, weight and size of the package, we determine which courier company must be chosen for certain products. This has helped in keeping our logistics cost on a lower side."
Mumbai-based The Stylease regularly ships to some cities in Maharashtra (besides Mumbai); Ahmedabad and Surat in Gujarat; and Delhi as well. In the future, it hopes to get more orders from other parts of Maharashtra, Gujarat, and Delhi. Having Indian designers and ethnic wear on its online store, it hopes to expand to American and Italian designers in the future. The company even looks forward to entering into the European, the Middle East, and American markets.
Rising disposable income among households especially in developing countries such as China and India has stimulated consumer spending on fashion. From event cancellations to rescheduling, coronavirus is impacting every business, and fashion industry too is suffering the pinch. Amid COVID-19, Milan Fashion Week 2020 in Italy was made possible by DHL, who walked the ramp with the mantra of 'The Show Must Go-On'...
This story was originally published in Indian Transport & Logistics News' March - April 2020 issue.