FROM MAGAZINE: Innovation, investments lifting spirits of Indian logistics
Indian logistics sector, with the backing of the government, is witnessing innovative advances in technology and massive investments. The tax reform and the infrastructure status are likely to bolster infrastructure development in the country.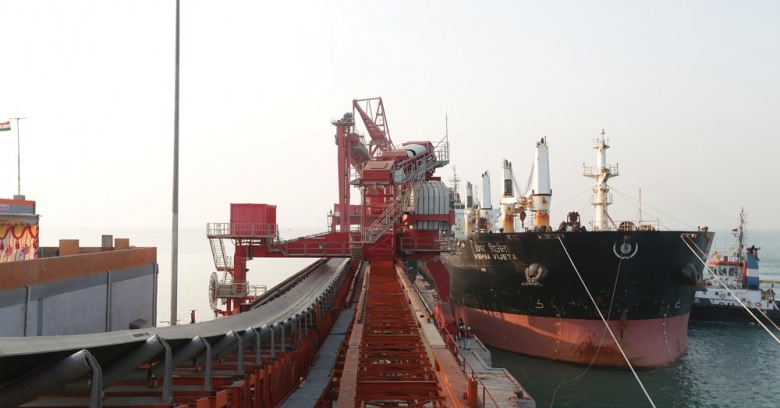 Indian logistics sector, with the backing of the government, is witnessing innovative advances in technology and massive investments. The tax reform and the infrastructure status are likely to bolster infrastructure development in the country.
Shreya Bhattacharya

Year 2017 has to be the most stirring and action-packed year for India's logistics sector in recent years. While the sector was steadily picking up pace with technology adoption, bringing major changes to eliminate inefficiency, the implementation of GST and the assigning of infrastructure status has suddenly changed its entire dynamics.
In the long-term perspective, the most encouraging impact of infrastructure status will be on investments coming into the logistics sector. The new status is likely to remodel logistics as a sought-after asset class for investments. This is certainly going to give a fillip to the private sector investments especially in multi modal logistics parks, warehouses and cold chains, says credit rating agency ICRA.
Talking about the recent clarifications on eligibility of the sub segments in the sector, K Ravichandran, senior VP and group head- corporate ratings, ICRA says, "Consequent to this move, companies will be able to access funding at a relatively higher debt: equity ratio; avail loans with longer maturity; access external commercial borrowings with relaxed terms; and borrow from specialised infrastructure lenders/insurance companies/provident funds. Since the announcement has come at a time, when many Indian companies and private equity funds are drawing up plans for new investments and expansion in existing sites, this gives a much-needed boost to their plans."
Indeed, the move comes at a time when logistics is seeing big-ticket investments in the country. Recently, online retailer Flipkart invested over $400 million in its logistics arm eKart. According to filings with the ministry of corporate affairs, Instakart Services received four separate tranches of investment from Flipkart, amounting to roughly Rs 2,600 crore (about $408 million) since September. The latest tranche of Rs 1,200 crore was the largest infusion that Flipkart made in eKart over the past six months.
Meanwhile, China's Alibaba is also looking to increase its stake in India's logistics sector. Alibaba is reportedly taking the final steps to invest up to $100 million in XpressBees, a Pune-based logistics firm.
Another big time investment is being made by IndoSpace, a joint venture between private equity firm Everstone Group and US-based industrial real estate firm Realterm. Indospace is launching five new industrial and logistics parks across Mumbai, the National Capital Region (NCR) and Bengaluru. Along with the recent expansion and development of its existing Ranjangaon park in Pune, these new parks will add around 10 million square feet of leasable logistics and light manufacturing space to IndoSpace's portfolio. This growth in industrial real estate will take IndoSpace's operational and underdevelopment pipeline to around 30 million square feet, catering to the rising demand in India for Grade A warehousing. "This significant expansion highlights IndoSpace's focus on strongly supporting growth in India's logistics and light manufacturing sector, which will robustly expand due to improved infrastructure across the nation, the landmark GST reform, and a fast-growing e-commerce sector," says Rajesh Jaggi, managing partner, real estate, Everstone Group.
"The government's welcome move of granting infrastructure status to the logistics sector further strengthens our positive outlook for IndoSpace, as well as for the sector as a whole," adds Jaggi.
According to industry pundits, the infrastructure status will ensure that companies that build warehouses and cold chains will get loans at least on 2 percent lower interest rate than what's prevalent. This will decrease their costs and ultimately have a positive impact on the rentals the 3PL companies are paying to them for leasing that infrastructure.
Meanwhile, earlier in the year, the implementation of the much-awaited GST was also a big tick on the logistics industry's wishlist. The one tax on goods and services has replaced at least seven indirect tax heads and has improved the speed of goods movement with reduced road blocks, optimising the supply chain and eventually lowering the transaction cost. These factors, coupled with positive economic outlook, are making the sector upbeat about the new year.
"ICRA expects around 10 percent growth for the sector backed by modest economic recovery, revival in domestic consumption and anticipated improvement on the exports front. Among the various sub sectors, road transportation and aviation should be positively impacted by demand revival and passenger growth respectively. As regards the shipping sector, while outlook on the demand is improving, profitability for the shipping players is unlikely to improve materially as the tankers, dry bulk, containers and offshore logistics segments continue to reel under non-remunerative charter rates due to capacity overhang," shares Ravichandran.
As Ravichandran points out, the air cargo segment is seeing a favorable environment. This is also especially in wake of the rising e-commerce activities across the country. The government in its national civil aviation policy has taken due cognizance of the changing business environment where, speed to market is imperative.
Airport Authority of India's integrated logistics network entity named AAI Cargo Logistics and Allied Services Company Limited (AAICLAS), has been making concerted efforts to boost revenues from cargo. Speaking about AAI's expansion plans and investments in the cargo segment, Keku Bomi Gazder, CEO, AAICLAS shared that there are plans to optimally utilise AAI's old redundant/un-utilized domestic passenger terminals by converting them into cargo facilities after carrying out the necessary modifications and utilising the space created for establishment of Common User Domestic Air Cargo Terminals (CUDCTs).
Gazder adds that AAICLAS is managing 20 CUDCTs and equal numbers of operationalised International Cargo Terminals across the country besides two International Courier Cargo Terminals. There are plans to replicate both the facilities at other airports as well besides the above which have been identified and under process of approval and financial sanctions, he says.
Commenting on innovative measures being implemented to better facilitate cargo movement, Gazder says, "We are in the process of bringing automation in our IT System, creating dedicated just in time warehousing space availability for perishable cargo/ pharma product and developing an innovative project namely National Air Cargo Community System (NACS) to link all stakeholders and regulatory authorities for faster flow of information and seamless cargo transactions at cargo terminals in the country."
Gazder further adds that the Indian pharmaceutical market, which is the largest supplier of generic drugs globally, is expecting an encouraging rise in the coming years and AAICLAS is fully equipped to handle and process its movement from its facilities. "Besides the mechanised handling of cargo, the state of art centre for pharma cargo are also established at major AAI airports to preserve pharma goods till its clearance."
"With regard to e-commerce, it normally moves by air and AAI airports are getting a lot of queries from e-commerce vendors and we at AAICLAS are looking at capturing this segment in a big way. We have recently brought encouraging changes in the NIT of e-commerce and identified 21 airports initially to establish these facilities there."
With improved infrastructure and the government's thrust, India is emerging as a rapidly expanding air cargo market, with major players like Turkish Cargo, Lufthansa, KLM, Brussels Airlines, Emirates SkyCargo, and Qatar Cargo expanding their network in India.
Meanwhile, greater adoption of technology can also be seen in the shipping sector. Amidst global uncertainties in the international trade and unprecedented structural changes in India's shipping sector, India's container market has reasonably fared well. The industry has seen some unprecedented initiatives being taken like the Direct Port Delivery (DPD), which is changing the way the ports usually operate.
The DPD model that was first introduced in JNPT has reached a critical mass with around 31 percent of import containers making use of this facility, reducing their logistics cost. It allows importers/consignees to take delivery of the containers directly from port terminals and haul them to factories without taking them first to a container freight station (CFS) and from there to factories. An importer is thus assured clearance of cargo in less than 48 hours under DPD as against an average of seven days if routed through a CFS.
"Adoption of DPD is expected to accelerate in other container ports in the near to medium term, which will shake up the business model of CFS players. Consequently, they need to fine tune their model for sustenance over the long term," believes Ravichandran.
C P Singh, deputy commissioner of customs, JNCH, Nhava Sheva, also seconds that importers have well received the idea of DPD. "Importers are taking it positively and with full enthusiasm. Initially, they were reluctant as they were not aware about the actual benefits and by human nature we tend to resist any change in established practices. Now, the benefits are huge and visible in terms of reduced transaction cost and reduced dwell time, more and more importers are approaching for this facility," says Singh.
Although there remain few bottlenecks in the form of infrastructure glitches in and around the port terminals, the concept has been widely accepted by shippers.
Among other latest innovations, DMICDC Logistics Data Services (DLDS) recently announced the launch of the Pan-India operation of its Logistics Databank (LDB) Service. The Indo-Japanese technology partnership will provide easy-access single window digital visibility solution to streamline container logistics operations. After successful implementation at ports in the Western Corridor including JNPT, the service is now being expanded to three ports in Southern Corridor —Krishnapatnam, Kattuppalli and Ennore— and a new terminal of JNPT, Bharat Mumbai Container Terminals.
LDB is an IoT, BigData and Cloud based solution. It uses RFID technology to provide near real-time visibility of container movement. The LDB provides users a single window interface to check location through the entire journey, from ports to CFSs and Internal Container Depots (ICDs), with complete trace back information on intermediate points crossed and time taken.
Since its launch in July 2016, LDB has provided visibility to 5.5 million EXIM containers along the western corridor. An analysis by the DLDS shows that when compared to June 2017, the lead time for truck routes improved by 25-27 percent. LDB provides detailed analysis of dwell time, average delivery time, efficiency of different port operators, CFSs / ICDs and Toll Plazas that are helping identify bottlenecks across the supply chain. The service has also helped in improving the dwell time of the ICDs by 18-20 percent.
Clearly, massive investments and innovations across various sub-sectors have lifted the spirit of Indian logistics in recent times. Investments are not only being done for expanding business but to bring architectural change by way of innovative technology. Moreover, with projects like Sagarmala, Udan and highway expansions, the government has provided the necessary platform for development of an integrated logistics framework.