Indo-French Defence Summit strengthens ties in aerospace and defence sector
April 19, 2018: Strengthening their relations further, following the constructive discussions between PM Narendra Modi and French President Emmanuel M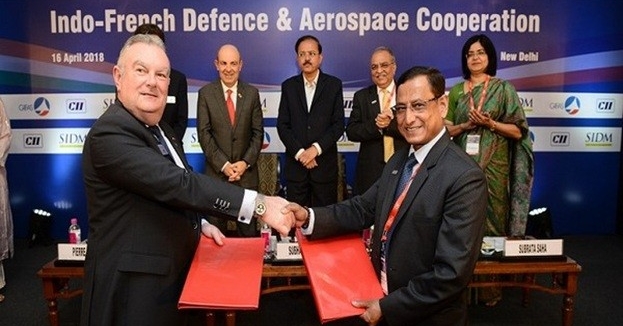 April 19, 2018: Strengthening their relations further, following the constructive discussions between PM Narendra Modi and French President Emmanuel Macron in March this year, the Society of Indian Defence Manufacturers (SIDM) and the Groupement des Industries Françaises Aeronautiques et Spatiales (GIFAS) signed an MoU for partnership and maintain a sustainable framework in the field of aerospace and defence.

The summit was organised by GIFAS with the support of SIDM from the April 16 to 19 with a series of events followed by B2B meetings in New Delhi, Mumbai, Hyderabad and Bengaluru. GIFAS represents an industry whose 2016 sales turnover was € 60.4 bn, and that exports 86 percent of its output, directly employs 187 000 individuals and annually invests more than 14 percent of its sales turnover in R&D.
The MoU aims to promote a sustainable framework between the French aerospace industry and the Indian defence industry for present and future partnerships and cooperative actions by endorsing the inevitability to expand trade, through stronger economic and industrial cooperation, between France and India as well as towards export customers.
Pierre Bourlot, managing director of GIFAS and Lt Gen Subrata Saha, director general of SIDM were confident that the signing of this MoU is an excellent opportunity to develop cooperation between France and India and shape the aerospace and defense industry of the future.
Delivering the inaugural address at the event, Jayant Sinha, Minister of State for Civil Aviation, opined that time was right for companies to establish their manufacturing facilities in India and export to other parts of the world as the 'Make in India' movement is gaining momentum. Sinha added, "The potential for Indian & French companies to collaborate for manufacturing & innovation in the defence industry is extraordinary." The minister also added that for companies wanting to develop their businesses, they need to adapt their products for the Indian market.
The minister stated that the civil aviation sector has witnessed a steady rate of growth and is gearing-up to handle a billion passenger trips in the next 15 to 20 years. He also informed that the government is already working on a draft policy on drones and remarked that India would be the land of "air rickshaws" in future.
Ajay Kumar, secretary defence production, Ministry of Defence (MoD) said that French companies have a great opportunity in partnering with Indian companies for defence and aerospace manufacturing.
Alexandre Ziegler, the Ambassador of France to India, said that France is the oldest strategic partner of India and French companies have invested in a big way in India.
Meanwhile, Jayant D Patil, vice president, SIDM highlighted that French and Indian industry are thriving and doing well in technology and manufacturing. SIDM would be facilitating more than 400 business to business (B2B) meetings for GIFAS between French and Indian delegates from the Aerospace and Defence industry.
Following the inaugural session parallel roundtables on Aerospace, Civil Aviation and Space were held where senior industry leaders from both sides and senior government officials led the discussions. A large number of topics such as effect of GST on the MRO segment, skilled manpower, technology sharing, government initiative in setting up MRO facilities, development of Special Economic Zones (SEZs) were discussed.
Delivering the valedictory address at the conference, Union Minister of State for Defence, Subhash Bhamre said, "The Make in India initiative offers a valuable opportunity to the French and Indian enterprises to enter into production of defence equipment in India." He also added that Medium, Small and Micro enterprises (MSMEs) possess greater potential and thus capable of contributing to global supply chain. The minister was of the opinion that India has to overcome the technological gaps which in itself is the biggest challenge to make India self-reliant in production of Defence and Aerospace.
Highlighting the factors favoring India including requirements of epic proportions, strength of small and medium enterprises and skilled human capital, he added that the opportunities are huge for any country partnering with India. However, In order to utilize these opportunities fully, all stakeholders are required to involve in the design and development of defence equipment. Bhamre was optimistic that the French Industry experience will help India in developing a technology-driven eco-system and develop a supply chain covering a wide range of technologies.
The 80+ member French delegation includes major aviation and aerospace players like Airbus, Ariane Group, Dassault Aviation, MBDA, Safran and Thales along with over 50 subcontractors, suppliers, SMEs and equipment manufacturers representing both defence and civilian business interests. Over 200 delegates from the Indian Industry attended the event in New Delhi and another 100 was expected to attend the event in Bengaluru.