India's exports record highest growth in 2017-18: Suresh Prabhu
July 26, 2018: Despite increasing global protectionism, India's exports will continue to register healthy growth rates and is expected to touch USD 350 billion in the current fiscal said Union Minister of Commerce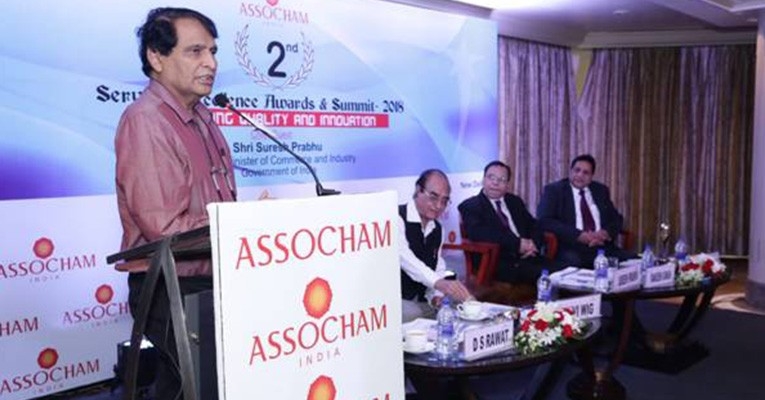 July 26, 2018: Despite increasing global protectionism, India's exports will continue to register healthy growth rates and is expected to touch USD 350 billion in the current fiscal said Union Minister of Commerce & Industry and Civil Aviation, Suresh Prabhu, in New Delhi. The minister was speaking at the second Services Excellence Awards and Summit 2018 organised by ASSOCHAM.
The minister stated that services sector is set to become a dominant driver of the Indian economy and will contribute $3 trillion of $5 trillion by 2025. In order to give a boost to the services sector commerce ministry has identified 12 champion services sectors for which the cabinet has approved a dedicated fund of ₹ 5000 crore to support initiatives for sectoral action.
The minister further added that the services sector contributes significantly to India's increased productivity and competitiveness and high quality of the champion services sectors will further boost exports of various services from India and give a boost to employment generation.
The minister added that India is pushing for export of services to countries in Africa and also Latin America. India has a two pronged agenda with its trading partners: allowing professionals from India to travel abroad and trade facilitation in services export. The minister exhorted ASSOCHAM to maintain high standards of professionals travelling abroad for services so that delivery of services exported will be of a high quality.