India's evolving landscape of drone delivery
Industry experts talk about the future of drones in the country and how it can be used to deliver cargo and medical supplies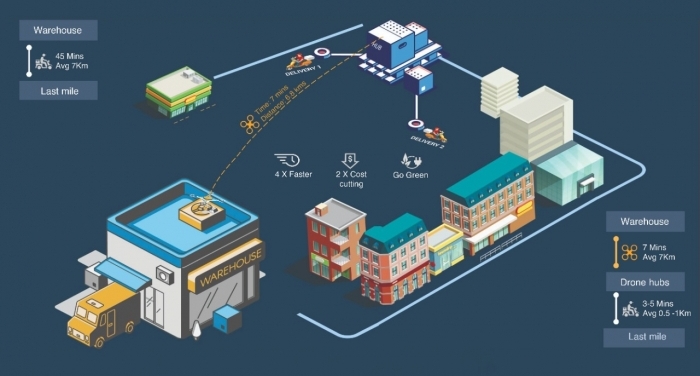 Industry experts talk about the future of drones in the country and how it can be used to deliver cargo and medical supplies
Just like many countries around the world, India too is gearing up for the new normal with not only a rising demand for timely healthcare but also other supplies delivered quickly. While the most immediate need is the delivery of vaccines and medical necessities and equipment, the industry is looking at expanding faster than it may have imagined. With constant innovation going hand-in-hand, drones are not only being looked at as the future of last-mile delivery but also function as an integral part of the supply chain to deliver cargo around the world. As several countries are already using the technology, the need for collaborations is going to be important, making the world get much closer than we know it today. As drone operators are working towards the future, various governments are also working in the direction and India isn't far behind, as regulations are already in place. In a recent three-day cargo drone summit conducted by STAT Media Group, various key stakeholders discussed the future of drones in India and how we could probably be at the forefront of it all.
Drones in the medical supply chain
In the growing drone ecosystem, Bengaluru-based start-up Redwing Labs is one of the many Indian companies looking to explore the most viable options to use the technology. They not only aim to automate aerial logistics but also design, build and deploy drone logistics infrastructure for delivering medical or any critical supplies efficiently. Currently funded by US start-up accelerator TechStars, they use hybrid VTOL vertical takeoff and landing drones and their proprietary operation stack to control multiple aircraft from one ground control station. "We can currently travel around 50 km with a two kg payload but it's only the capital that sort of restricts you in terms of what you can build," says co-founder Rishab Gupta. He adds that right now they are solely trying to make their systems more reliable and once the BVLOS (Beyond Visual Line of Sight) trials are done, they are ready to be implemented at scale.
While trials are on around the world over, India has also been conducting its very own trials in various states and Redwing Labs has been a part of one of 20 consortia approved by the DGCA. "Our focus out of the BVLOS experimentations is building that level of comfort with the regulator's here in India and to see how various service providers interact with each other," highlights Gupta, who sees a bright future for drones in India. According to him, the trials have certain restrictions due to the regulations, but he is positive that once they open up, it will allow service providers to carry out the deliveries. However, he reminds us that using commercial space is always a challenge because of the presence of expensive jets flying in the skies, which he says makes it important to see that the civil aviation regulators are happy with your aircraft in the air.
Just like Redwing Labs, Nagendran Kandasamy's Bengaluru-based Throttle Aerospace Systems (TAS) is on three consortiums, including their own. The drone manufacturer primarily explores the aerospace and defence sector. As a part of the SpiceJet consortium, they are carrying out BVLOS experiments of remotely piloted aircraft and are already looking at transporting goods after the approvals are granted. They will carry a payload of anywhere between 5 to 25 kg with an aim to go as high as 100 kg. However, with Dunzo they are working on helping in last-mile deliveries and focus on cargo deliveries.
Interestingly, they are currently collaborating with Bengaluru-based hospital Healthcare Global on formulating a plan to create a corridor to transport tissue between their facilities. While they are using a runner between them, TAS aims to help deliver under one minute with the help of drones in the last mile. "The last mile is a very challenging problem compared to your first mile and middle mile as there is a lot of investment and energy involved in that area. So, we are going to target to simplify and basically to reduce the cost using drone technology in the last mile," he says. Kandasamy, founder and CEO, adds that the idea is to take anywhere between two-five kilos to seven kilometres in seven minutes by using sustainable technology. TAS is also working on VTOL (vertical takeoff and landing) which gives them a five-metre by five-metre space so that any drone which can carry about up to 10 kg can land and take off, for cargo delivery.
If the future looks bright for these Bengaluru companies, Delhi-based Indian Robotics Solutions is not far behind. The research, invent and equip the defence intelligence forces as well as the corporate sector, with robotic solutions. It is also the first Indian company to develop a penta-performer drone named thermal Corona Combat drone (CCD) which is used for sanitization, thermal screening announcement medication and surveillance. Prashant Pillai, co-founder and CMO, talking about the CCD, which was used in Delhi, says, "It is very simple as the drone will lift up and go to the balcony with its inbuilt loudspeaker. So, we tell people, we would want you to come to your balconies, and within 15 seconds, I can take the temperature of 78 individuals." He adds that the drone not only has a thermal camera but also has a normal visual camera to understand how the person looks, what he's wearing, which makes it easier to communicate. In a particular case, the person came down and was then asked to go for the next course of action. The same drone has also been equipped with a portable box, which can take a testing kit to the person.
While these Indian companies have been around for a while, US-based drone services company Zipline is soon going to enter the Indian skies with their aim to improve healthcare access and provide vital on-demand delivery anywhere in the world. Being majorly present in the African countries of Rwanda and Ghana since 2016, they are currently in agreement with the government of Maharashtra in partnership with the Serum Institute of India to provide medical supplies. "Our plan is to set up two districts centres in Nandurbar and Pune, in phase one, with a vision with the government to actually set up 10 centres across the state that will really transform the healthcare supply chain," says Pawan Ananth, business development lead, about the ongoing plans. He adds that they want to set up in Nandurbar because it is primarily a tribal district with some of the lowest blood access and medical services and they also have a higher incidence of dengue, vector-borne diseases and more.
Regulations and flying in India
The drone operators are ready to fly their drones but they say that even though the technology is present, the major challenge is the regulations in India. Incidentally, the government's response to the use of drones has grown by leaps and bounds in the last few years, as they have also been actively developing the Digital Sky platform for drone operators, while also building a framework and fast track the process of approvals. However, Gupta of Redwing Labs says even as things do need to pick up the pace, he is happy with the progress as others echo his sentiment. He says that the challenges the authorities have are different compared to other countries simply because of our population. Ananth, on the other hand, sees it as a way to build a coexisting relationship. He says that one of the major challenges for Zipline is that it has fixed wings and currently only multi-rotor aircraft have been given the approval, and fixed-wing will be out soon. "We want to be able to work closely with the government to be able to open up the country to fixed wings as well," he adds.
The drone operators may have regulatory worries but Amber Dubey, Joint Secretary, Ministry of Civil Aviation, Government of India, says they don't have to worry as the regulatory framework is ready for them. Encouragingly, he says that all they have to do is "simply focus on making the best drones in the world" because they have to be better than the drones by foreign companies that are entering India if they want to make an impact in the world. He adds, "From the government side, just tell us what you need by sending us an email and we will help you with the documentation so that you don't have to come to Delhi." Dubey, highlighting the efficiency of the authorities, also said that the approvals to fly will be provided in seven days. While the green and yellow zones are easy, the red zone, as it includes the sensitive areas of the country, will be offline and require a physical meeting.
Using drones for cargo
There are many companies that are already experimenting with carrying varying loads but logistically, it is also important to see if they can be converted into cargo drones. Mrinal Pai, co-founder of Bengaluru-based drone technology company, Skylark Drones says it is possible but also has several limitations. He says, "I believe there are three parts to enabling cargo drones, one is the technology and second is the regulatory environment and third is the demand in itself. While the technology is already available, the demand and regulations have been a challenge. While the demand is opening up, there is a specific need for deeper integration but that is also already happening with the framework." Mrinal further adds that it is also important to have a proper unmanned traffic management system to enable while considering cargo drones and deliverables.
Vikram Singh's Tech Eagle is also part of one of the approved consortiums, which is already in the process of building for the future while currently assisting several state governments with medical supplies through their drone delivery. "The drones which we right now build can cater up to 10kg payload for a shorter duration, and up to three kg payload for 100 km distance," he says. The CEO and founder, optimistically adds that all the pieces are falling into place in India. Sharing the sentiment, Ankit Kumar, Managing Partner of Delhi-based drone solutions company, Alternative Global, says, "India is on par with the US, Europe and other countries in terms of regulation, in terms of deployment, in terms of technology and in terms of manufacturing. So this is one single industry that can take us to the next height." He also adds that for cargo drones, it is important to take note that warehouse-to-warehouse movements are one of the first steps that companies should look at because they will have complete control over landing and takeoff zones to ease the process.
The World Economic Forum is not far behind as its Medicine from the Sky flagship project with the Telangana government and Apollo Hospitals intends to use drones for medical deliveries. "Our agenda when we get into projects of this nature is to solve the healthcare supply chain conundrum and swifter adoption of drones will help us not only solve the issues that are riddling isolated populations on the ground but also help accelerate the policy adoption," says Vignesh Santhanam, its India Lead, Drones and Tomorrow's Aerospace. He adds that it is important to support the government to help make quick decisions.
However, Smit Shah, Director of Partnerships, Drone Federation of India, says while the BVLOS experiments are being considered for different operations, it is important to consider the various aspects involved in it, especially with regulations. "We really need to take into account how BVLOS operations or delivery operations are going to be significantly different from the regular drone operations and how there is a need for a risk-based approach and not a one-fit-for-all regulation but more on a case to case based on approval," he states. Shah further adds that there are three things to keep in mind with cargo drones - whether you are dropping it or delivering it, whether you're flying in a rural, semi-rural semi-urban area, or a very high-density urban area, and whether you're going to use segregated airspace, which is dedicated airspace or whether you're going to use mixed airspace. The need for quick experiments, data collection to help incremental policy-making which focuses on rural-first and then urban approach, while also looking at the commercial viability of the deliveries are also on the top of his agenda. Adding to that Santhanam says a plug-and-play system will be ideal for the smooth operation of BVLOS drones because one can't copy plans used in other countries as each state in India has its own dynamics.
Drones for the future
As drones are going to be the future, there is no doubt that there will be a lot of work that will go into it. Industry experts say that there are a few ways it could lead to a healthier ecosystem. The operators must be able to carry out as many experiments and tests to be able to improve its usage and help create a better policy. Making the technology economical for a commercial application is also another aspect, while also looking at automation to reduce the cost for every single delivery. It is also important to keep the safety standards in mind while carrying them out. Last but not the least, attempt to make drones a fundamental part of the supply chain system and logistics for the future as there will be a big demand for medical supplies and more. With quick action and solutions, India already looks like it is ready to take on the world by using drones as they have never been used before.
This article was originally published in Indian Transport & Logistics News' September - October 2020 issue.