Indian warehouse space leasing saw 77 percent YoY growth in 2018: Knight Frank report
June 26, 2019: Knight Frank launched the latest edition of its flagship report, India Warehousing Market 2019 at the recently concluded 9th India Warehousing Show 2019 in Delhi.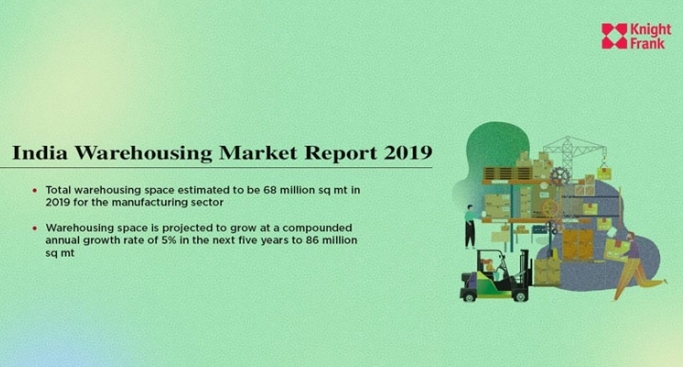 June 26, 2019: Knight Frank launched the latest edition of its flagship report, India Warehousing Market 2019 at the recently concluded 9th India Warehousing Show 2019 in Delhi.
According to the independent global property consultancy's report, top warehousing markets in India witnessed a growth of 77 percent year-on-year in leasing in April 2018-March 2019.
The total warehousing space estimated to be 68 million sq m (739 million sq ft) in 2019 for the manufacturing sector, is projected to grow at a compounded annual growth rate (CAGR) of 5 percent in the next five years to 86 million sq m (922 million sqft) by 2024.
Why logistics cost in India accounts for 13% - 14% of the GDP which is substantially higher than the (8-10%) logistics cost to GDP ratio in other developed countries? Find out in the Knight Frank India #Warehousing Market Report 2019 - https://t.co/Wypd6D57cz #KnightFrankIndia pic.twitter.com/gajp0fJ2kE

— Knight Frank India (@KnightFrank_IN) June 26, 2019
Shishir Baijal, chairman and managing director, Knight Frank India, said: "The growth of the manufacturing sector has been slated to have the most prominent impact on the Indian Warehousing industry. Just this sector's storage requirement forecasted to reach 86 million sq m by 2024, instantly puts the spotlight on scope and growth for developers and investors in the warehousing market."
Baijal attributed the growth to the new GST regime, technological enhancements and the increasing adoption of third party logistics providers. "The tangible efficiencies brought in by these logistics experts and the substantial growth in institutional investment activity in the warehousing space have seen leasing transactions in this segment grow by a substantial 77 percent during 2018. Of which, at 128 percent growth, the e-commerce segment is the fastest growing occupier segment for the Indian warehousing market," he added.
Another highlight of the report is that the warehousing industry has witnessed massive participation from institutional investors, as well as developers, who have collectively invested over $6.8 billion since 2014, with an average investment per deal of $282 million.
While private equity funds had a 49 percent share of the total investments into the warehousing industry, sovereign and pension fund followed with 31 percent and developers with 20 percent.
Among the cities, Kolkata witnessed highest year-on-year surge with 191 percent in warehousing leasing volume over 2017 followed by Bengaluru at 147 percent and Hyderabad 96 percent.
Other cities such as Coimbatore, Guwahati, Rajpura, Ludhiana, Nagpur, Lucknow, Visakhapatnam, Bhubaneshwar and Siliguri are gaining prominence now in terms of the growing demand for warehousing space.
Balbirsingh Khalsa, national director, industrial and asset services, Knight Frank India said, "Exponential demand of large sized warehousing structures that are legally compliant in for regional warehousing purpose in top 8 cities has driven leasing volumes to grow from 26.1 million sq ft to 46.2 million sq ft in last one year. Demand in tier 2 cities is also on the rise and showing big growth potential and combinedly taking demand up to 60 million sq ft across India. This growth is adequately funded by a substantial growth in investments, giving the required stimulus to develop quality and organised warehousing spaces across India."
Khalsa also added: "Organised warehousing developers are steadily seeing more demand from occupier groups and sectors like e-commerce, 3PLs, retail, manufacturing, FMCG, FMCD etc. The string of policy and regulatory reforms unveiled by India in recent times such as implementation of the Goods and Services Tax (GST), the 'Make in India' programme and initiatives to set up industrial corridors like Delhi Mumbai Industrial Corridor (DMIC), Delhi-Kolkata Industrial Corridor and logistics parks has accelerated the entry of international institutional players in the Indian warehousing and logistics space."
Earlier this month, Jones Lang LaSalle Incorporated (JLL) released a study titled 'Indian Logistics and Warehousing: Tracing the Lifecycle'. Through the study on the lifecycle of warehousing, JLL presented "an insight into the prevailing market sentiments and its allied concepts with focus on the specific pointers across different segments that drive the sector."
According to the JLL report, demand for logistics and warehousing space in India outstrips supply. The annual demand of around 32 million sq ft has outstripped the supply of 31 million sq ft. The JLL report projected that the industry is expected to grow to $215 billion by 2020.