Indian EXIM trade on a roll; container shortage, freight rallies hurt traders
July exports hit a record high of $35 bn and imports zoomed to $46 bn but supply lines remain key concern areas for both importers and exporters.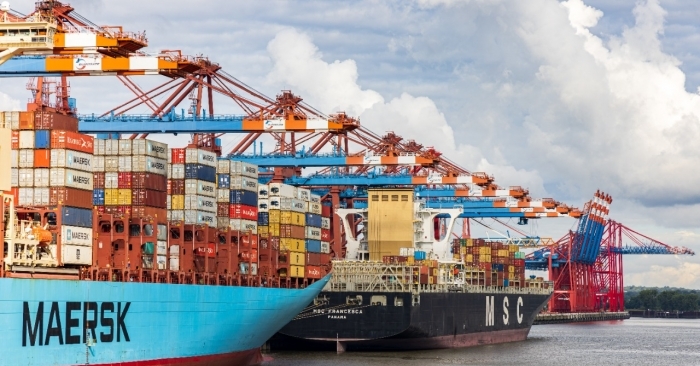 August 29, 2021: Indian EXIM trade is on a roll. Exports hit a record high of $35.43 billion in July, up 50 percent on surging demand from the engineering & jewellery sectors. The year-to-date (April-July) exports are up 74 percent to $131 billion.
Imports, too, are tearing away: July imports rose 63 percent to $46.40 billion. The YTD imports have almost doubled (94 percent) to $172 billion.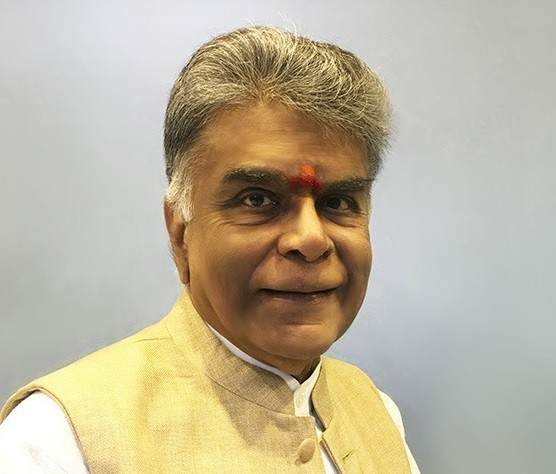 Dr A Sakthivel, chairman, AEPC and president, FIEO
"We are seeing strong demand across geographies – US, UK, Europe and Australia – and the positive trend continues towards India," Dr A Sakthivel, chairman, Apparel Exports Promotion Council (AEPC) and president, Federation of Indian Exports Organizations (FIEO) told Indian Transport and Logistics News (ITLN).
The export growth has also been broad-based, said Dr Ajay Sahai, DG & CEO, FIEO. "Not only are the new & sunrise sectors performing well, equally robust have been the traditional labour-intensive sectors. The growth in the agriculture and processed food sector has also been very encouraging. Even in the mobile sector, we have seen exports zooming from ₹1,300 crore in the first quarter of 2020 to Rs 4,000 crore in the same quarter in 2021, a growth of 330 percent."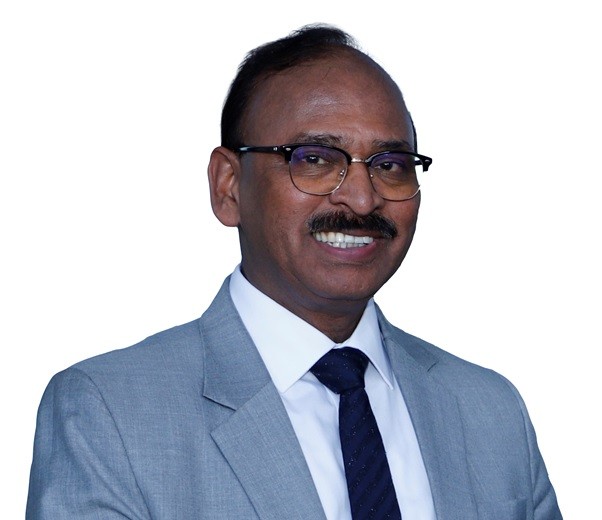 Dr Ajay Sahai, DG & CEO, FIEO
The global merchandise trade continues its robust recovery from the Covid-19 pandemic, according to the World Trade Centre Trade Barometer issued on August 18.
"The Goods Trade Barometer is a composite leading indicator providing real-time information on the trajectory of merchandise trade relative to recent trends ahead of conventional trade volume statistics. "
The latest reading of 110.4 is the highest on record since the indicator was released in July 2016, and up more than 20 points year-on-year.
Container woes hit exporters
In interactions with commerce minister Piyush Goyal and shipping minister Sarbananda Sonowal, Shaktivel highlighted the concern of shortage of containers for exports. "We have asked the government to import 100,000 containers immediately, and also lease ships to ease the pain of exporters."
Third, he added, the manufacture of containers should be encouraged in India. "Fourth could be a floor price. Government can ask shippers to charge the floor price for containers as freight charges," Shaktivel said.
The composite World Container index of London-based Drewry Shipping increased 2.1 percent or $204 to reach $9,817.72 per 40ft container for August 26, 2021, 351 percent higher than the same week in 2020. This is the 19th consecutive week of increases.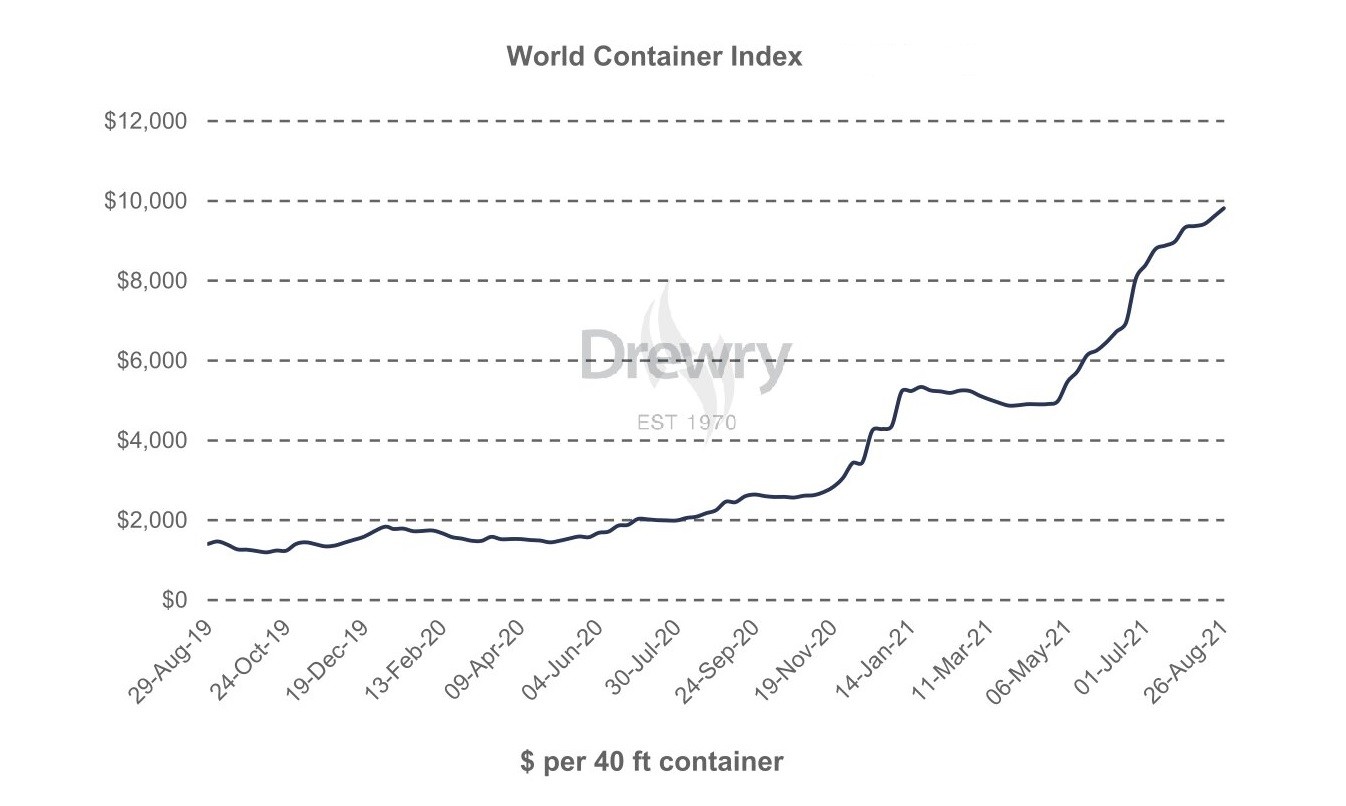 "The container shortage is caused by a confluence of issues, including lockdown restrictions, the limited workforce at the ports and rising demand," said Parisha Tyagi, shipping price analyst, S&P Global Platts.
"With this in mind, the equipment shortage will most likely continue throughout the rest of 2021 as demand keeps growing and major ports all across the world are congested, making a smooth rotation of empty equipment difficult. There are expectations that this could cool during 2022, but then again the container market has faced lots of unexpected events of late, so it's hard to say for certain."
Container freight spot rates of all carriers have hit new records as the Asia-Europe route fares continue to surge, according to the Trade Promotion Council of India. "The rates are currently approaching $9,000 per twenty-foot equivalent unit (TEU) with further rises expected this month, '' the association said on August 19.
The sea shipment for Christmas and New Year used to be dispatched by the end-September or the first week of October, Dr Sahai said. "This year, shipments have been dispatched to a large extent and some may be in the pipeline to be consigned latest by the first week of September. This has added pressure on manufacturers who have to deliver everything in a very short span of time."
The restoration of the logistics cycle from 2020 onwards should bring back the normal delivery period making production and management of inventories much simpler for manufacturers and business will happen, as usual, he added.
"We started seeing an upward trend in demand in the second half of 2020, and despite the second wave hitting the country early 2021, we continue to see an unprecedented demand till date," Vikash Agarwal, managing director, Maersk South Asia, told ITLN.
"The developed economies of North America and Europe continue to have an appetite for Indian goods across home improvement, retail, electronics, apparel & lifestyle, and the food industry."
Containers handled at Jawaharlal Nehru Port Trust (JNPT) at Navi Mumbai, which handles around 50 percent of the total containerized cargo volume across the major ports of India, almost tripled to 1.8 million TEU containers in July 2021 from 468,015 TEUs in April 2021.
Cargo volumes continued to rise at the Port of Gothenburg during the first six months of the year, reaching their highest during the second quarter. The port, the largest port in Scandinavia, handled 411,000 containers during the first half of 2021 – an increase of 2 percent.
Container shipments from India face cancellations and delays amid the Afghanistan crisis, Tyagi of S&P Platts added. "Shippers fear payments may get stuck, dues uncleared."
The Platts Container Index has seen a multi-fold increase in ex-India rates in line with the global trends.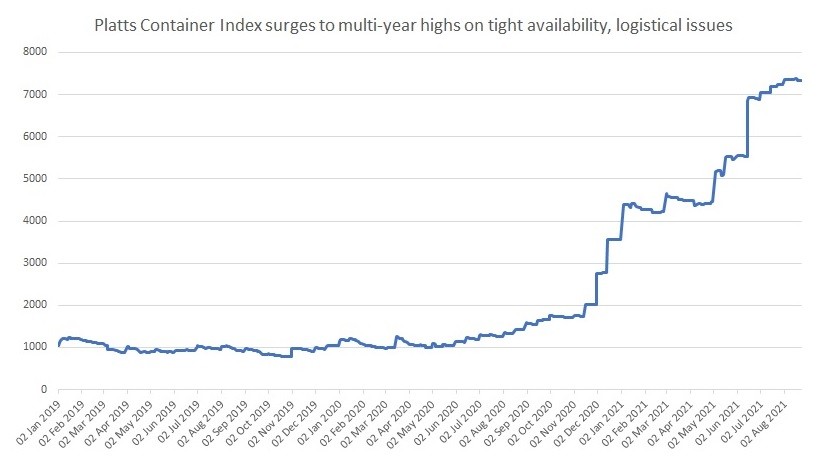 "We are seeing an increase in demand in the market over the last few months, especially since the lockdown restrictions have been further relaxed, both on the import side for raw materials and components as well as on the export side for finished products," Niki Frank, CEO, South Asia, DHL Global Forwarding, told ITLN.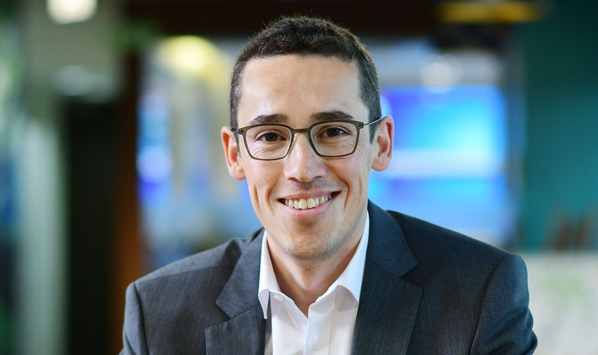 Niki Frank, CEO, DHL Global Forwarding
"This is also driven by the strong economic recovery in countries like the USA and China. Our view on the market for the rest of this year is that demand will continue to be strong, by far outpacing the supply of available capacity."
Frank also doesn't see freight rates coming down substantially. "Therefore exporters/shippers have to get prepared for a prolonged period of high freight cost."
Speaking on increasing shipping times, Agarwal had this to say: "There are multiple supply chain bottlenecks that we can see right now like slow cargo movement from port to hinterlands and back, Covid-19-related restrictions, slower port and infrastructure operations, lack of manpower etc. which are not only slowing logistics down but are also adding up to create container shortages due to slow turnaround times. To overcome these problems, we need to zoom out a bit and look at the way we operate supply chains.
"Time has come for the global supply chain managers to work on improving the resilience of their company's supply chains to be able to tackle these challenges. Digitisation is another aspect that needs to be adopted faster to bring in more agility and operational excellence. Technology offers the key to being able to eliminate complexity in ways we could not achieve earlier, and this is the right time to accelerate the adoption of technology if we want to overcome the current situation in the quickest manner."
Reefer container (refrigerator container) freight rates are set to continue to rally next year after a bull run in 2021, according to the Drewry Reefer Shipping Annual Review published recently.
The Drewry's Global Reefer Container Freight Rate Index, a weighted average of rates across the top 15 reefer-intensive deep-sea trade routes, increased 32% in 2Q21 compared to the previous year.
The scenario is likely to be that reefer container freight rates will continue to be much above dry cargo rates for the rest of the year and through 2022.
"In contrast to dry container freight rates which are expected to decline in 2022 as trade conditions normalise, reefer container freight rates are forecast to continue rising as price inflation feeds into North-South routes when long term contract rates are renewed," said Drewry's head of reefer shipping research Philip Gray. "Most reefer cargo on these trades moves on long term contracts.
Capacity constraints are likely to continue across modes of shipment. "Ocean freight carriers will only get major new capacity in 2023 while airlines have maxed out their capacity on freighters," Frank added. "The belly capacity from passenger planes is not expected to come back soon as international travel remains very restricted, especially for intercontinental travel."
The demand and supply mismatch, especially in India, is purely market-driven and is out of our control, Agarwal said. "Despite that, we are trying to mitigate the situation as much as possible by undertaking actions such as repositioning empty containers from abroad and from within the country. We are taking bookings responsibly and offering our customers only what we can deliver. Globally, to further lessen the impact on our customers' supply chains, in the second quarter we accelerated the injection of around 260,000 new dry containers into our fleet. This comes after the 400,000 TEUs (twenty-foot equivalent units of containers) already added to our fleet from July 2020 to January 2021."
India-China comparison: why they are doing well
China enjoys a decent ranking of 26 on the World Bank's most recent ranking of Logistics Performance Index while India ranks 44th.
Seven of the world's 20 largest ports are in China, says the PwC report Transportation & Logistics 2030. In 2020, the world's second-largest economy added 22 new cities to a list of 23 logistics hubs announced in 2019.
In the present scenario, it is not so much about price, but about being able to find capacity and solutions, Frank said. "DHL is very strong, providing customers with innovative and flexible solutions with exceptional operational service which helps them create a sustainable competitive advantage."
Agarwal said, "At Maersk, we are offering integrated end-to-end solutions to our customers which create better operational control, transparency, resilience and ultimately savings for customers. These solutions provide our customers with ease, speed, predictability, and flexibility."
Unless container woes reduce and the Covid-19 crisis blows over, the EXIM community is likely to face margin squeezes and worries all through 2022.
Tyagi put it the best way: "Everyone's trying their best. However, unlike last year, when the surge in demand despite the pandemic caught everyone off-guard, an increase in cargo volumes has been much anticipated this year."
Dr Sahai concluded on a bullish note, "In the current fluid situation, it is extremely difficult to predict what it holds for us in 2022. Much will depend on the waves of the pandemic and the vaccination programme across the globe. We have to bear in mind that no country is safe till everyone is vaccinated. However, if we are able to contain the new waves, we are confident that 2022 will unfold new promises. Once normalcy is restored, we are sure that demand will further pick-up and challenges of logistics like non-availability of containers, frequent shutdowns by shipping lines, sky-rocketing freight, etc. will get addressed automatically."