Indian e-commerce logistics to be worth ₹492 bn by 2025 with 23% CAGR
April 27, 2021: The report titled Indian E-commerce Logistics Industry Outlook to 202 by Ken Research suggested that the e-commerce logistics industry of India is expected to grow to ₹492.8 billion by 2025 with a positive five-year CAGR of 23.6 percent in terms of revenue during the forecast period FY'2020-FY'2025F due to increased demand from Tier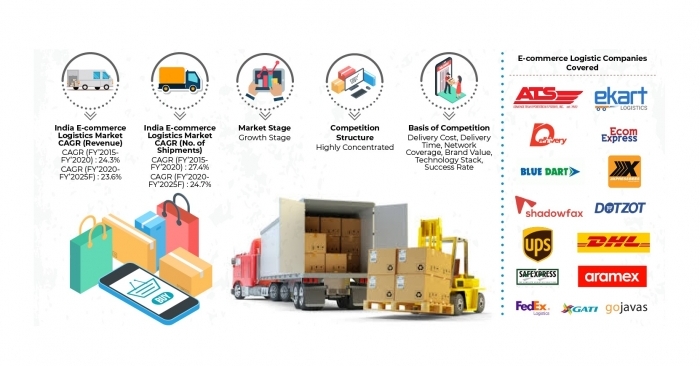 April 27, 2021: The report titled Indian E-commerce Logistics Industry Outlook to 202 by Ken Research suggested that the e-commerce logistics industry of India is expected to grow to ₹492.8 billion by 2025 with a positive five-year CAGR of 23.6 percent in terms of revenue during the forecast period FY'2020-FY'2025F due to increased demand from Tier 2 and below cities owing to increased internet penetration in these areas.
"Moreover, changing shopping patterns, increasing requirement of fast delivery services and usage of AI, big data analytics, and blockchain technology to improve the customer experience will also play a major role in the industry's future growth," said the release.
Rise in demand from Tier 2 and below cities
Currently, most of the demand comes from metro and tier I cities. However, by 2025 this trend is expected to change, as tier II and lesser cities are emerging as new demand centres owing to higher internet penetration. Hence, it is estimated that in the next five years, a high proportion of demand is expected to come from tier II and below cities primarily due to cheap data plans, increase in usage of Smartphone, rise in per capita income and increasing propensity to purchase online in these areas.
Technological Disruptions
The pace of new technological innovations has been extremely rapid in India. Companies are embracing advanced technologies to meet higher consumer expectations. To keep pace with digital commerce, technological disruptions are revolutionizing the e-commerce supply chain industry. Technologies such as IoT, advanced algorithms, data analytics, artificial intelligence (AI) and automation are emerging to streamline the operations of the companies.
Expansion of Supply Chain Network
With the increasing potential of local and zonal shipments, large e-commerce logistic companies are focusing on establishing new Fulfillment Centers near the end consumers to increase delivery speed and cater to larger parcel sizes. Moreover, With Tier II and beyond cities driving the growth, several e-retailers are looking at expanding their network via strategic alliances and logistics partnerships in these areas.