Indian airfreight industry is leading world cargo today: H K Vithalani
March 4, 2021: Chairman of the airline representation company Global Group, H K Vithalani was awarded the Rashtriya Udyog Ratan Award in Delhi for his contribution to the aviation industry in India.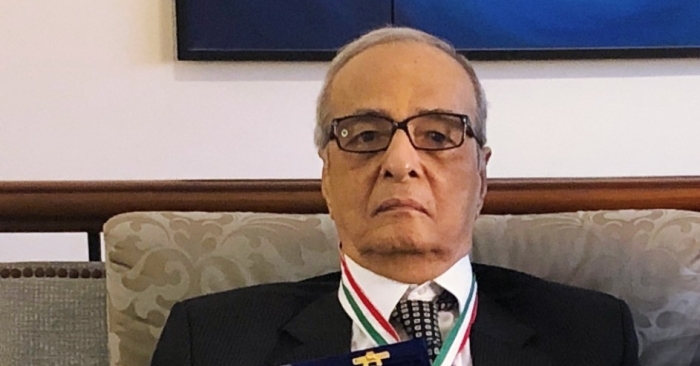 March 4, 2021: Chairman of the airline representation company Global Group, H K Vithalani was awarded the Rashtriya Udyog Ratan Award in Delhi for his contribution to the aviation industry in India.
In an exclusive response to Indian Transport & Logistics News (itln.in), he noted that the Indian airfreight industry is leading the world cargo today, be it pharma, machinery, garments, perishables or spares.
"My trade compatriots are one of the finest in the world air freight industry. Astute minds offering the best solutions to the customers with innovation at every step – should best describe the community. I am not saying that logistics leaders are only in India, but our Indian skills are on par with the best in the global industry. This is evident in world forums, be it Munich, Shanghai, the US or in Asia," he said.
The Global Group is into airline representation (cargo & passenger), transportation, travel & logistics services to Indian and international clients.
The award event was held in New Delhi, at The Constitutional Club of India where the NATIONAL Achievers Recognition Forum felicitated 30 personalities across India who has done some outstanding work in the fields of Medical Sciences, Health, Education, Public Services, Industry, Business Development & Excellence and Social Work.
Regarding how the air cargo industry is transforming he highlighted the importance of automation and technology make the operations fast. "Back in the 70s, when I started Global, most of the work was done on the telephone, typewriter, perhaps a dictaphone and being hands-on at the airport. Today with automation, things are done at the speed of light. The processes have become more refined and efficient. Connectivity around the world has come at our fingertips. Not forgetting communication that has achieved flash speed. There is automation from reservations, bookings management, pricing, the flow of information, cargo handling and loading onto the aircraft. Not just that, but once the cargo has reached the destination, the same automation takes over for last-mile delivery," he said.'
Vithalani predicts that in future, there will be less wastage in the paper, less harmful emissions, a safe environment for future generations, alternate fuel for aviation, simplified processes and lightning speed in transactions.
Global Aviation was the first Indian organization to be accredited as a GSSA agent by IATA. The Global Group has been awarded the 'General Sales Agent of the Year - Region India', an International Award for Excellence in Air Cargo by The STAT Trade Times five times in a row. The Global Group's clients comprise over 15 international airlines spread across South Asia, Europe, North America and Canada, with close to 18 plus cargo routes across these regions. Some of the notable airlines are Air Canada, Lufthansa Cargo, Finnair, Japan Airlines, Bangkok Airways, Drukair, Qantas, Air Mauritius, TAP Air Portugal and many more.

Looking back to when he was introduced to this business 45 years ago, he said, "I never knew that it will give me so much satisfaction and guide me through life with a lesson being learnt almost every day. The air cargo industry played a major role then as a facilitator of the air export business. A cog in the wheel of perpetual motion. First I built relationships with my potential customers as well as my esteemed principals and suppliers. I hold these relationships very dearly with great respect, value, trust and fondness. Many of these have become lifelong friendships, which I am sure will pass from generations to generations."
About his style of doing business, achievements and regrets, he said "Making money or doing business seemed secondary. Playing a role model, so important in the air freight business, itself was the reward. My major achievements were taking the whole business of an airline representation to such a peak that more and more entrepreneurs, young and old, threw their hats in the ring."
"I am proud to say that my family and my team supported me in my vision to take this business to a whole new level, thus making this a preferred profession in aviation. I have no regrets in making a decision to change tracks, way back in 1975. If you ask me, if I would change anything in the past, I would say a firm no. We made things happen and set a new bar, every step we took. Some of it became industry standard. I only wish in the future that this business evolves more to give back to the society and the business community a very keen sense of achievement," he added.