India Logistics Technology Summit deliberates on efficiency for freight forwarders
August 24, 2019: FreightBro, a digital platform for freight forwarders organised its first 'India Logistics Technology Summit' in Navi Mumbai on August 22, in collaboration with Journal of Commerce (JOC.com), a portal on container shipping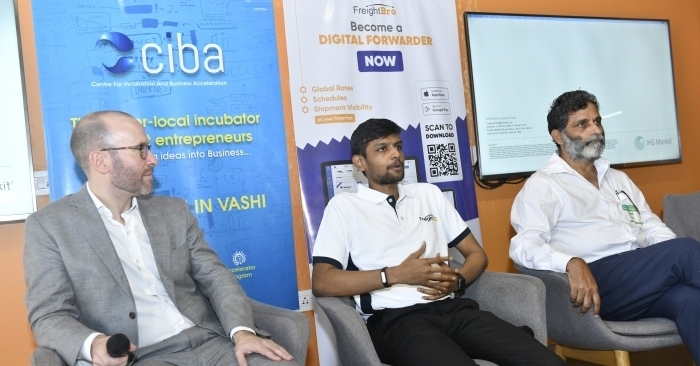 August 24, 2019: FreightBro, a digital platform for freight forwarders and Journal of Commerce (JOC.com), a portal on container shipping & logistics have organised the latter's first 'India Logistics Technology Summit' in Navi Mumbai on August 22.
Eric Johnson, senior editor, technology, JOC, moderated the panels which deliberated on how software can make key ocean freight processes and capabilities more efficient and less costly, potentially positioning India as the key growth market for world trade in the coming years.
Speaking on the theme 'Keeping Forwarders in the Game: How technology providers are enabling India's small freight forwarders,' Raghavendran Viswanathan, CEO & co-founder, FreightBro said, "Technology has become a de facto not a value-add any more. The acceptance curve of the freight forwarding industry for digitisation will be gradual and eventually inevitable. A time will come when the freight forwarder will make decisions looking at dashboards rather than just using it as a price comparison tool. We are glad to contribute to the logistics industry by co-hosting industry-led events with the presence of a rich mix of professionals who are working towards digitising freight forwarding."
Naval Sabharwal, vice president - supply chain & logistics, Ramco Systems, remarked, "ASEAN economy is booming, nobody cares about forwarding, clearance or last-mile delivery, they just need end-to-end visibility. So Amazon and Alibaba have started blurring the lines on how the industry is structured. Each of these pillars of the industry has a different business model but platforms will enable them to provide integrated business models."
He further added that there is some maturity among customers in the last three years on understanding the platform and that maturity curve is now very visible.
Commenting on the theme, 'Shipment Management with a Local Flavour: Providing visibility and process automation for Indian importers and exporters', Bhavik Chinai, CEO of Vamaship noted, "A vast majority of the shippers who we deal with are small and medium exporting houses and, and a lot of ecommerce clients. Our platform Vama E-com is a one-stop solution to interact with the freight forwarders which provides quotes and compares it."
Continuing on similar lines, Liam Fitzpatrick, chief marketing officer (CMO) of Cogoport remarked, "From the perspective of the marketplace, we found it very useful to segment [sic] different types of users. The users have different behaviours of what they are looking for and how they are using the platform. We found that most of our early adopters tend to be people who are price sensitive. So quite often, they will be people who are moving large commodity volume. And we have also found that they are interested in getting some price visibility quickly. The other types of customers, we have tend to be slightly larger businesses having much less interest in getting a price quickly or never. Well, they are really interested in the process. So what we're finding is that more established businesses are slightly slower to adopt, but businesses where perhaps there is a second-generation coming into the business, there someone wants to mix things up a bit."
The panel discussion brought up interesting conversations and observations such as plug-and-play software startups offer to the freight forwarding community; the technology platforms which act as a salesperson reducing customer acquisition costs; and how older players are opening up to technology once they realise that it is enabling them in all possible ways.
The event showcased the potential of technology to completely change the landscape of international freight movement by reducing reliance on manual processes and paper-based documentation for freight forwarders.
Among others that participated in the event were Adani Port, STEP, Delhivery, Shipwaves and Boxnbiz.