India H1 EXIM loses double-digit to close at 7%: AP Moller –Maersk's Trade Report
October 4, 2017: A trade report from AP Moller–Maersk, for India, in H1 2017 shows India's global EXIM slowing down to close at 7 percent.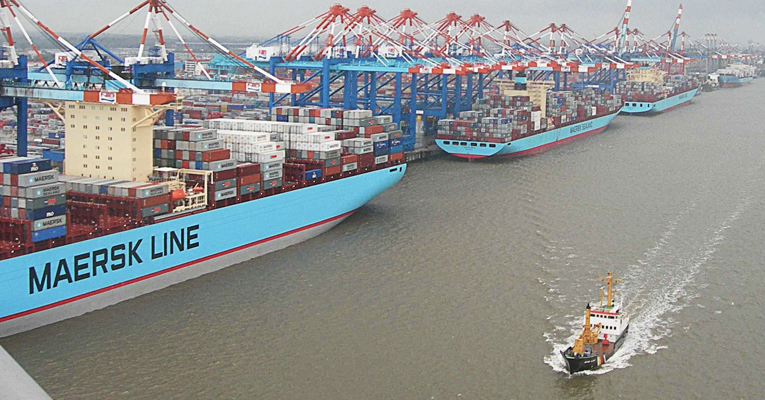 October 4, 2017: A trade report from AP Moller–Maersk shows India's global EXIM slowing down to close at 7 percent in H1 2017.
As per an analysis by Maersk Line, the year 2017 has been one of great contradictions. It started on a part-positive and part-skeptical note, as the average citizen tried to re-adjust his priorities to the government's high-value currency swap, while simultaneously rejoicing the checks introduced on black-money holders in the system. Soon after came the implementation of the Goods and Services Tax (GST).The impact of all these changes is being reflected in India's EXIM performance. Closing at 7 percent year-on-year growth, down from 11 percent last year, India's global EXIM climate in the first six months has been affected by slower exports as well as slower imports – 8 percent and 6 percent respectively, compared with 11 percent in H1 2016.
"Whereas in terms of overall growth, we did see a slowdown in the first half of the year due to all the policy changes, looking at the way the situation is turning now with the effects of demonetization and GST wearing off, I am confident that the second half of 2017 will deliver strong trade growth for the geography," says Steve Felder, managing director for Maersk Line – India, Sri Lanka, Bangladesh, Nepal, Bhutan and Maldives.
India's global trade progress declines but leads BRICS growth
According to Maersk, while India's trade growth with the world is subdued, its position among the BRICS nations is heightened, as its EXIM growth has pushed it ahead of China to lead global trade for the BRICS nations, and enabled them to outpace the global average. The five BRICS partners together contribute nearly one-quarter of global economic output and half of world economic growth.
With respect to trade among the five BRICS countries though, China continues to play the more dominant role, more so as India's exports with these alliance partners saw a reduction to 3 percent.
India's exports driven by unlikely trading partners & reefers cargo
The report further says that a 202 percent growth in exports to Sri Lanka helped India maintain its steady export growth rate at 8 percent. This was largely driven by increased demand for India-made cement, which forms a major component of the total exports from the Southern states of India.
The United Arab Emirates, followed by Saudi Arabia, also played their part in pushing up exports from India – there was significantly high demand for textiles and apparel from the former and an increase in demand for seeds, beans, cereals and flour from the latter.
Exports to the United States remained flat, while exports to the United Kingdom declined significantly, ostensibly owing to the impending formalization of Brexit. The impact of this has led to a substantial decline in exports from East and South India, which are major trading partners with the United Kingdom. The only commodity that has seen an upward movement in exports to the United Kingdom from India is pharmaceuticals, which registered impressive export growth of 87 percent. As one of the many commodities driving reefer (refrigerated containers) growth in the geography, the increasing demand for pharmaceuticals is expected to add momentum to India's drive to improve its existing infrastructure for handling and storing refrigerated cargo. The top commodities that are driving reefer growth from India are fruits and nuts, with exports of grapes leading the way.
China doubles imports to India while United States, Germany and South Korea see major decline
India's traditional trade partners saw their share of imports into India decline significantly as the realities of demonetization and GST set in. Each one registered a negative growth as previously fast moving commodities like foodstuff, frozen fish and chemicals saw demand decline. On the other hand, China almost doubled its imports to India to close at 29 percent growth in the first half of 2017. This was mainly lead by a substantial increase in demand for appliances and kitchenware coming from South and East India, which was in turn being fulfilled mainly by China.
It is noteworthy that appliances and kitchenware also emerged to become the fastest growing import commodity for India at 41 percent growth in the first half of 2017. This was followed by fruits and nuts, which grew to 23 percent during the same period.
2017 expected to close on a positive note
In conclusion, in spite of the mixed developments in the first half of 2017, India's growth in global containerized trade remains impressive relative to most sizable markets around the world. Moreover, with the impact of key policy changes now stabilizing, it is our expectation that this will continue to strengthen throughout the rest of the year, added the global container shipping company.