IBS ICFAI Business School's Supply Chain Summit got key issues in limelight
Industry leaders shared best practices for an agile supply chain and related trends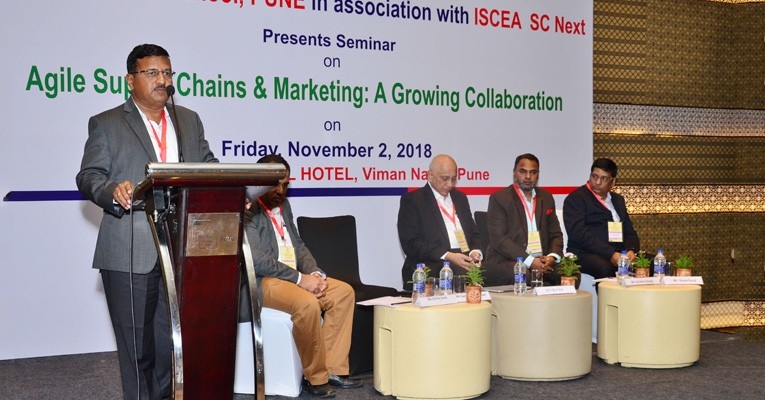 Industry leaders shared best practices for an agile supply chain and related trends
The Indian supply chain professionals came together on one platform to discuss the theme- 'Agile supply chains and marketing- a growing collaboration' at a seminar organized by IBS ICFAI Business school in association with International Supply Chain Education Alliance (ISCEA) and SCNEXT- the largest youth supply chain group, in Pune.
While inaugurating the seminar, Prof. Dr Narsing Rao, Director, IBS Business School, said, "This is a very well thought out program given the importance supply chain efficiency in terms of reaching your product on time at minimum cost and meeting the delivery requirement by 100 percent."
The seminar was attended by 150, comprising the who's who in the supply chain industry academicians and students of IBS School.
The special guest, Robin Banerjee, managing director (MD), Caprihons India, emphasized that entrepreneurship, knowledge of the whole economic system and GST, coupled with attention to micro details of a contract, are essential to be a good logistics manager.
During a discussion on marketing- a vital link for supply chain, Vinod Desai, manager-global sourcing, WIKA Instruments, said, "Marketing and supply chain and operations work in their own silos. There is a need to address the lack of process ownership, misalignment between stakeholders and functional silos in an organization to ensure the departments speak the same language."
While sharing the experience in healthcare supply chain, Girish Joshi, GM –India-south Asia, Medline, remarked, "An average hospital has 5000 vendors and millions of SKUs. Managing the supply chain can be a matter of life and death in healthcare. Market research, advance planning and established seasonal trends in healthcare helps to meet the requirements on time. Also, digitisation could help to leverage data on visits for a symptomatic ailment."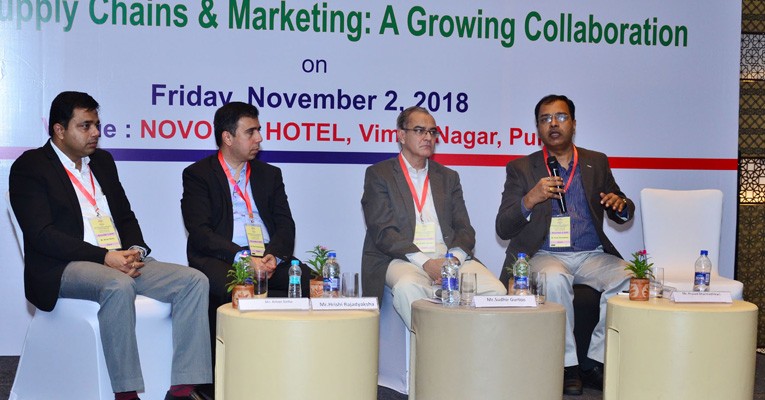 From L- Aman Sinha, PSBU OMCS Leader, Cummins India; Hrishi Rajadhyaksha, MD, Camelot ITLab Pvt Ltd; Sudhir Gurtoo, MD & CEO-India, Leadec India Pvt Ltd; Prasad Dharmadhikari, Head Strategic Sourcing & SCM, KOEL
Industry veteran and MD of MRC Logistics, Nandan Borgalkar observed, "Businesses are going from asset-heavy to asset-light. MRC had 400 trucks and now we don't even have 40 trucks. Despite this, our business has gone up 10 times."
Throwing light on warehousing automation, Mandar Palsule, GM - Continuous Improvement, FM India Supply Chain, said, "We don't use that much automation in India as we do in Europe because the labor in India is a lot cheaper. The benefits of automation should outweigh the costs before our customers agree to go for it. For example, if you could bring an autonomous vehicle like a forklift with a sensor that reads bar-codes when it goes across in the aisle, you could cover your entire inventory counting in two days instead of one month for just A-class items. This could reduce the dedicated manpower that we employ for just Inventory processes which can offset the cost of investing in this technology."
The panelists were divided on the forecasting and demand driven planning model.
Prasad Dharmadhikari, head- strategic sourcing and SCM, Kirloskar Oil Engines Ltd (KOEL), said , "Inventory levels can come down by atleast 30 percent if you shift to demand driven model . In a demand driven supply chain, buffers and replenishment will always be quality inventory. It will not be procured, manufactured or stopped against a forecast which is mostly inaccurate."
However, Borgalkar contested that forecasting is not wrong and it is all about carving the certainty out of uncertainty. At the acceptance level it is right by 92 percent.
The event summed up that digitization and collaborative thinking in an organization, are main components of building an adaptive and agile supply chain that shall ensure rapid planning and execution.