FROM MAGAZINE : Hyperlocal is the way to go for logistics
Hyperlocal logistics is about getting a product in 24 hours, 4 hours or 45 minutes, to smaller towns where the majority business of e-commerce is generated.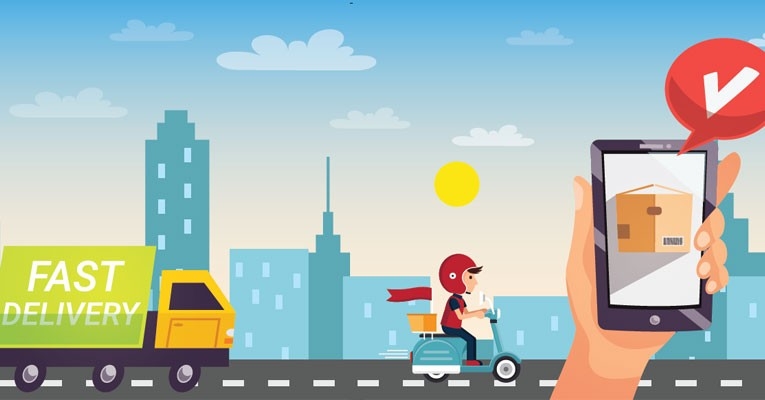 Hyperlocal logistics is about getting a product in 24 hours, 4 hours or 45 minutes, to smaller towns where the majority business of e-commerce is generated. While many hyperlocal logistics firms failed since 2014, there are many innovative ones that are redefining how business is done in the segment with the back-up of technologies driven by machine learning, predictive analytics and artificial intelligence.
Nahida Jafferi

India's logistics sector is estimated to be worth $307 billion by 2020, mainly driven by e-commerce, retail, and manufacturing. The Indian e-commerce is growing at 30 percent per year and in the last five years, the Indian logistics industry has grown at a compound annual growth rate (CAGR) of 7.8 percent.
The Global Ranking of the World Bank's 2016 Logistics Performance Index shows that India jumped to 35th rank in 2016 from 54th rank in 2014 in terms of overall logistics performance. India's e-commerce market is expected to be worth more than $2 trillion by 2034, surpassing the U.S. and standing second to China.
The global online hyperlocal services market is projected grow at a CAGR of 32.6 percent by 2025. The Inc42 Hyperlocal Market report 2016 mentioned that over $1 billion which constitutes around 26 percent of the total investments raised by start-ups from 2011–2016, were invested in the Indian food hyperlocal space. Some of the major players in the food segment are Swiggy, Just Eat, Runnr, and Burrp, among others.
Online and teleshopping companies are generating most of their orders from smaller towns, which is creating opportunities for hyperlocal delivery.
Keeping in mind the increase in hyperlocal logistics demand seen in the past four years, ASK Chaitanya Reddy, Co-Founder & Chief Operating Officer, VDeliver, said that hyperlocal delivery in the Indian market is set to grow tenfold in next 5 years. Hyderabad based VDeliver is an intra-city delivery startup that offers hyperlocal logistics services for healthcare, medical, surgical equipment, gifts, office supplies, packaged food, juices, and business documents.
Reddy informed, "We are introducing various services with technology and micro warehousing concept which will position us as a micro logistics service company than just an intra-city service company." The hyperlocal market has several micro-markets within a city, where local data is key to operate delivery services efficiently.
He further added, "There is a new wave of services and product delivery trends observed since the past four years. First it was on-demand, then food, and medicines. However, it is the e-commerce driven hyperlocal logistics business that has seen stable growth.
Recently, VDeliver acquired Towny App, an Andhra Pradesh-based hyperlocal services marketplace that will help it reach out to smaller towns across Andhra and Telangana. Towny will be rebranded as Exprs as a food delivery specialist, and together with VDeliver, it shall expand to 28 tier1 and tier2 cities, in addition to Hyderabad and Chennai.
The hyperlocal segment is also witnessing innovation to mitigate the last-mile connectivity issues. Shadowfax, a Gurgaon based crowdsourced hyperlocal delivery platform is planning to run a pilot project using drones. Shadowfax carries out over 80000 transactions daily in more than 70 cities with the help of over 7000 local delivery partners. Shadowfax looks at artificial intelligence, machine learning and predictive analysis technologies to optimize its last-mile delivery.
Shadowfax has also proved to be a friend in need. It delivered over 3000 orders across Mumbai when the city witnessed heavy rainfall and water logging in August 2017. For its client's (BigBasket, PayTM) customers, a sense of reliability is instilled when such efforts to ensure timeliness no matter what. Shadowfax's unique app enables delivery of food, grocery, pharmacy and e-commerce for businesses.
Shadowfax launched online-to-offline (O2O) that is online orders are fulfilled by a local brick-and-mortar store. This not only enables superfast delivery but also helps various small merchants generate more business. The USP of O2O is that it guarantees 4 hour delivery in select cities. They integrate their API with that of marketplace operators, allowing them to identify in real-time whether an order can be delivered within 4-hours. Shadowfax has extended its API to PayTM, BigBasket Specialty and 1mg, to create a real-time feed.
In a news piece listed on its website, Sarthak Patnaik, Director OperationsProcess Design, Shadowfax, said, "O2O has been a very unique where we have extended our API to various marketplace operators allowing us identify in real-time if an order can be delivered within 4-hours. We base this not just on rider availability and store location, but also a prediction of traffic situation using our proprietary machine learning algorithms."
The company's solutions range from time-specific deliveries, sameday delivery, truck leasing, just-in time, and the most widely used motorcycle delivery.
Many hyperlocal logistics companies are betting heavy on technological innovations while considering it as an enabler, instead of an expense. They consider IT imperative because without automation and process visibility, they would end up losing money and clients, amidst growing competition. Amazon has filed an exclusive patent to operate drones in India for home delivery, last year. The ministry of Civil Aviation has drafted rules for drone use.
Hyperlocal logistics has also seen a spurt in demand due to widespread internet penetration and greater listings of local merchants on online e-commerce sites related to food, restaurants, medicines, groceries, nonperishable consumer goods, fashion retail and much more. A lot of logistics start-ups with the backing of latest technological trends, are setting foot into the sector to address the last-mile connectivity problems, and provide a unified customer experience.
E-commerce deliveries are done mainly using motorbikes to navigate narrow by-lanes easier. However, technology is creating potential for heavy vehicles in last-mile delivery, too. Shippr is a hyperlocal logistics trucking company that plies a fleet of 1180 trucks for e-commerce deliveries, operating intra-city network in New Delhi, Bangalore, Chennai, and Hyderabad.
The carrying capacity of trucks is better, thereby increasing the packages and delivery volumes. Unlike the unorganised players, Shippr is changing the landscape of truck delivery business with the help of a planning tool to asses weight, size and delivery point, in addition to providing drivers with optimal travel routes in real-time for maximising deliveries and saving time. Shippr's clients include well-known e-commerce portals and e-commerce logistics companies, namely Amazon, Snapdeal, Delhivery, and Xpressbees, among others.
The most promising and unique hyperlocal logistics firm is Dunzo, that helps customers find someone to run any type of errand on their behalf, may it be getting a pack of cigarettes, or getting the MacBook repaired, purchasing sanitary pads, groceries, pet supplies, or bringing you homemade gulab jamun from a friends place, etc.
The business model and building a set of loyal customers in a small time frame is what has garnered a direct investment from Google worth $12 million. Dunzo is the first company to be funded directly by the search engine giant. Dunzo does 3500-4000 transactions a day of which 70 percent of tasks are purchases and 25 percent pick-ups. The company aims to clock one million transactions a day across 14 cities with 6.5 million monthly active customers by 2020. Currently, e-commerce giant Amazon, or, for that matter, hyperlocal logistics companySwiggy, do not deliver even a fraction of this estimated target per day.
Dunzo is an app-based service that lets you hire people who could get things done like getting your shoes repaired, picking up something for you from other part of the city, in less than half the time. How would they do it in less than half the time? They have localized partners and data where they know the nearest location store that could do your job instead of you having to find one.
Launched in Bangalore and certain pockets of Pune, Dunzo has managed to reduce the task times from 70 minutes to less than 45 minutes on an average. For groceries and daily needs Dunzo directs traffic to a partner store and takes commission from them on a certain transaction. Deeper integration with partner merchants' stores is what it is looking at as realtime tracking of the inventory will help consumers and riders find whether the product is available and determine the demand for a particular product. E-commerce companies are also delivering concierge service with 24 hour delivery and Dunzo's strategy is to find products that the large e-commerce players cannot deliver in that time-frame.
Dunzo perceives that the real game-changer would be to have an in-built integration with Google maps where whenever a person looks up a store on Google, a pop up says 'where are you going? We can deliver the product in 40 minutes.' While at the same time the product store would be 40 -45 minutes away, it would save up time energy of the buyer. Moreover, the interface is such that it shall allow the buyer to get picture of the product from the person he hired to do the job, in order to verify whether he is getting the one he desired. For instance, the person ensures a toy or a racing car that he would like to gift his nephew is well aligned with the taste and criteria of the buyer.
The company also plans to reduce the task time to 30 minutes from the current 44 minutes, with the development of smarter technology. It has also integrated itself with several Google APIs that helps in efficient routing and faster fulfilment of tasks, in addition to providing contextual information related to the location of whether it will be shut before he reaches and much more.
While talking to Economic Times, Dunzo's co-founder, Kabeer Biswas spoke about his favourite transaction where a person requested delivery of a jadi booti (originally from the mountain which Hanuman himself carried on his palm), from a person who claimed to have its stock.
The level of hyperlocal logistics delivery is getting deeper as companies realise that the key to stay afloat is technology and out-of-the-box ideas. Most hyperlocal logistics startups have failed mainly because they could not keep their rider fleet busy enough to sustain business costs. Trend has it that localised data, demand predictability, area predictability, a well-defined company objective, and technology driven tasks to drive efficiency for customer retention and business volumes, is the way to go.