FROM MAGAZINE: Huge opportunity in the containerised cargo
The logistics sector in India has undergone a sea change and now with the infrastructural status, the sector is all set to bank on several opportunities and take risks. And it is a fact that the performance of logistics sector in the economic development of India has never been more compelling.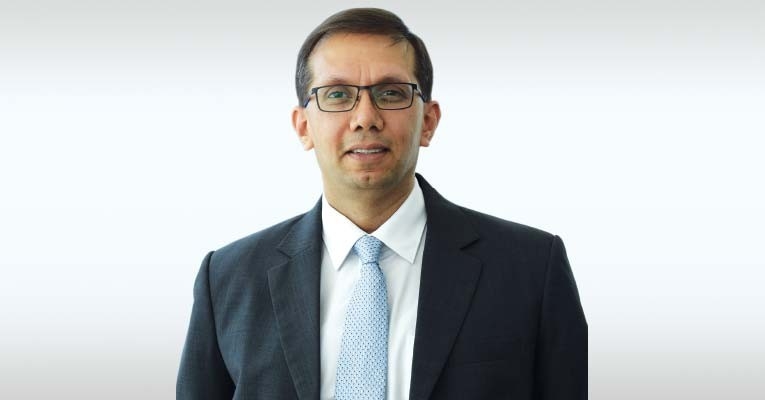 The logistics sector in India has undergone a sea change and now with the infrastructural status, the sector is all set to bank on several opportunities and take risks. And it is a fact that the performance of logistics sector in the economic development of India has never been more compelling. A robust logistics sector can go a long way in boosting India's quest for being a manufacturing giant. Talking to ITLN in an exclusive interview Ajit Venkataraman, Managing Director, APM Terminals Inland Services South Asia, talks about the changes in the sector and how the organisation is responding to such changes with new services to meet with the rapidly changing customer demands. Venkataraman, who has more than two decades of leadership experience in senior roles, was appointed as the managing director of APM Terminals India in August 2015 with the responsibility of inland services operations in the South Asia region. The current footprint includes six Container Freight Stations (CFS), two Inland Container Depots (ICD), an integrated cold chain solutions facility and multiple container maintenance and repair and empty depots spread across the Indian subcontinent. Edited excerpts:
With the government push for logistics sector in India, what are the transformations observed in this sector?
With the introduction of goods and services tax (GST) and direct port delivery (DPD) the dwell time of shipments over the past three years have been reduced. It is observed that there is more efficiency being built in the whole supply chain. The customers make sure that their inventory levels are reduced. Since GST, the customers are trying to consolidate their warehouses and are finding ideal locations for their warehouses instead of doing it across state borders. It will take 2-3 years for the industry to adjust as they also have a set supply chain process. With more and more ports coming up and road-rail-inland waterways infrastructure being strengthened, we see that the congestion will lessen. On the other hand, relaxation of the Indian cabotage law enables global shipping lines to carry EXIM containers along India's coast – bringing greater competition to the feeder market – in turn, benefitting local importers and exporters. It will also benefit Indian ports as it allows them to compete for container traffic currently handled in adjacent regional hub ports. Companies have started moving cargo from different ports. For instance, shipping lines have started to move empty containers from different ports.
In terms of infrastructure are we still lagging behind countries like Thailand, Singapore, etc. in the container trade?
Each market has its own unique opportunities and challenges; and an apple to apple comparison is not possible. That said, the scale of change being made in India is unparalleled and has improved the flow of trade. More is being done including on reforms like cabotage relaxation that will make India more competitive in the global trade market.
Government is talking about bringing a single window custom clearance process, which will bring in process efficiency. For example, a good percentage of DPD containers still go to CFS, it is not because DPD is inefficient. Here, the customer has to develop infrastructure either near the source of production or termination of the cargo to store the containers. It is dependent upon how the infrastructure environment is evolving. Eventually, inventory periods have dropped significantly. In CFS activity, one has to change as per the business environment.
Which commodity do you find more promising to be containerised in India?
About 60 percent of India's economic activity is in the west and north regions, south constitutes 30percent and east 10percent. Unless there is any economic activity being built up in the eastern region, this kind of a gap is likely to exist. In the eastern coast, the commodities are mostly bulk cargo like iron ore, coal, etc. they are not containerised commodity. Therefore, it all depends upon what kind of industries are coming up in those locations and whether they can be containerised. Around 60 percent of goods and services in India are containerised, whereas in developed market it is
70-75 percent. There is a huge opportunity to tap the market in containerised segment.
Besides economic activity, there are various factors which determine how fast the containerisation of goods will happen like urban rural population and dynamic consumption pattern. This ultimately leads to organised retail and finally to hub-and-spoke model. However, these are happening to an extent but not in line as expected by us. Once this becomes efficient that will result in cost reduction.
Another containerisation which is more promising is in refrigerated cargo, as there is 20-30 percent of wastage in perishables. The cold chain has to be developed near the source, where the produce /catch is washed, segregated, packed and transported by temperature-controlled trucks. It is an untapped potential in cold chain segment. Our Chennai facility has close proximity to pharma and seafood production. Interestingly, a lot of apple imported into the country from the US, Australia and New Zealand enters through Chennai.
What is the capacity of your new cold storage facility opened in Ponneri, near Chennai, recently?
The current capacity of the integrated cold storage facility is 6,000 metric tonnes and we have received a good customer response so far.
How modern is your cold chain warehouse in Ponneri? And what markets in the South does this facility service?
Ponneri facility is built to global standards of APM Terminals and features temperature-controlled docks and ante room, temperature sensors and data loggers to monitor temperature/humidity levels along with double deep G+5 racking and reach trucks. A blast freezing chamber has been installed to enable quick drop in a cargo's temperature helping lock its quality and nutrients.
We have well-built warm up rooms and washrooms with hot water facility to ensure hygiene in the facility. It also features equipment and capabilities to offer services like pre-cooling of containers, plug-in facility for refrigerated containers, and value-added-services like shrink wrapping and pallet strapping. Safety and environment features include round the clock CCTV surveillance, power back up, sewage treatment plant, rain water harvesting and usage of power efficient LED lighting systems. While the facility can potentially serve most of the south and quite a bit of west region, the main markets catered to include Chennai, Bangalore, Hyderabad and Puducherry. In fact, one of our current customers is conducting a trial shipment from Goa to Chennai.
What are your future expansion plans and which markets you find more promising?
As mentioned, we are continuously evaluating opportunities to efficiently meet customers' demands in their respective markets. Last year, we set up an Inland Container Depot (ICD) cum integrated solutions facility in Pune as we identified a gap for such solutions for the cluster of industries there. Prior to that, addressing the demand of customers for a global standard of service at Mundra, we started serving customers in the region. India is going through a transformation and especially with the introduction of GST, infrastructure developments like dedicated freight corridors, most of the landscape today is a hot bed of opportunities. If there is an economically viable business case, and a good match between specialised solutions we can offer and what the customer needs, we will definitely evaluate the same.
Where else do you see your potential in providing value added services?
In the last two years, we have started operations in Mundra, Pune, Chennai, Dighode (near Nhava Sheva) and Tuticorin. In Dighode, we have got dedicated reefer services facility and almost India's 40 percent reefer movement goes from Nhava Sheva. As refrigerated containers (reefers) play an important role in perishables, the shipping lines are looking for reliable partners to work with as far as maintenance and repair of reefers are concerned. Here, we handle 3,000 TEUs per month. Eighty percent of import comes from China for solar panels. For solar panels, we have identified the pain point of the customer in the lack of understanding of the Indian market and that of tracking shipment. Thus, we took off to provide end-to-end solutions to them.
How APM Terminals Inland Services, South Asia tries to make its warehousing facilities more promising and competitive?
If you see, the way our business is structured, warehousing has always been a part of a basket of offerings and is a part of the bigger picture - the global supply chain link. We address both exim and domestic warehousing requirements. When a customer gets a one-stop solution for all or most of their logistics and supply chain requirements, it makes operations easier and helps build business further.
For example, we offer domestic as well as export, import/bonded warehousing services in Pune. Located in the heart of the manufacturing hub of Chakan and having an adjoining CFS, enables us to offer just-in-time services along with transportation, customs clearance and value-added services to an automotive exporter/importer, within the same vicinity. Being an owned infrastructure, helps us to have a clear visibility of the status, enhanced efficiencies and better control on the supply chain. Thus, we are able to positively impact their operations and business performance.
We also have developed expertise in niche areas like safety and handling chemicals. Additional examples include safe handling and storage of over dimensional cargo (ODC) that cannot be stored in the open; and capital equipment inside the warehouse. Through the design of integrated cold chain solutions facility in Chennai, APM Terminals Inland Services, South Asia now offers cold chain solutions including storage.
Living in a digitalised economy, how quick is APM Terminals Inland Services, South Asia in terms of adapting technology?
We have pioneered various technologies and their applications in the past. The first one was successfully incorporating RFID in its yard operations to deliver higher efficiencies and reduced turn-around time (TAT) o for container laden trailers in the container freight station (CFS). This technology was then further extended to a self-serve kiosk for customers providing real time visibility of a container's position in the facility. The kiosk also enabled execution of some documentation work, delivering ease of doing business. We had initiated early on, the facilities of online billing, e-payments, and container status mapping. Simultaneously, we partner with organizations to provide customers end-to-end visibility on their container/cargo.
A recent development is the yard management automation, an industry first, that is changing the way a CFS works. Based on logic of efficient workflow/task chronology, providing the exact location for container pick up/placement it has led to man-machine separation, reduced operational costs, improved Turn-Around-Time (TAT) and increased efficiency. We are currently working on agile and scalable technologies to further enhance our service offerings and customer experience.
What is the importance of safety in logistics and supply chain industry?
The logistics and supply chain industry is a human and machine-intensive industry which is prone to risks. The machines are large and bulky, cargo is delicate and can be dangerous (for example flammable materials), people are generally involved at most of the stages – a way of functioning that makes safety non-negotiable. Safety of man, machine and cargo are all critical. At APM Terminals, we believe safety is non-negotiable and we integrate technology into operations, where it is possible to deliver improved safety performance. Not just are we aligned with and operate basis APM Terminals' global standards of safety, we ensure everybody believes in and follows safe behaviour. At APM Terminals Inland Services, safety is at the heart of our business and we believe safety has no boundaries.
Port of Rotterdam has automated cargo-haulers & robots operating on some important logistics process. Will Indian terminals get to see such innovative process?
In India, it will take a bit more of time for such level of automation to come as there are a lot of dynamics around complete automation.
What is your plan ahead for zero carbon emission?
We have been working on feasible opportunities to reduce carbon emissions with time. Our CFS facilities in Mumbai have installed solar panels and they address some of our power requirements. There are multiple big and small initiatives implemented including motion sensor lights/ astronomical timers installed in the yard while ensuring the global standards of lux levels, activities to reduce consumption per move.
An in-situ bio degradation technique developed in collaboration with Bhabha Atomic Research Centre (BARC), helps us ensure retention of key nutrients in the environment and reduction in CO2 emissions while addressing perishable cargo in long standing containers. The standard route taken earlier by the industry was of incineration, which, apart from adding to carbon emissions, also results in loss of the organic nutrients in the cargo. The biodegradation technique converts, for example, seven containers carrying 200 metric tonnes of potatoes into 44 metric tonnes of rich organic manure apart from delivering tremendous saving in carbon emissions.