How artificial intelligence is transforming supply chains for a better future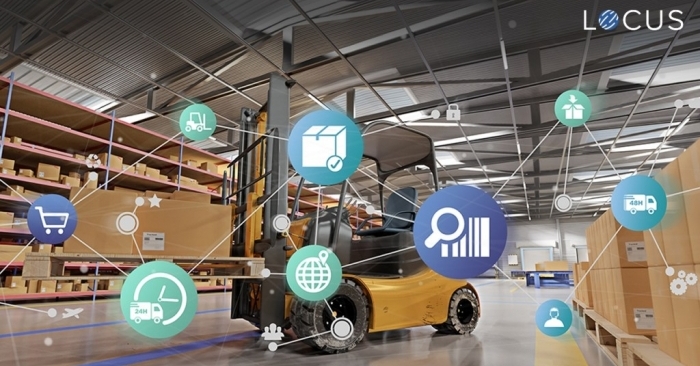 Gone are the days when a customer would be willing to wait for several days to receive a package s/he ordered. It is now in an era of instant gratification, where every purchase, every transaction and every delivery is time sensitive. Same day, next day and few-hour deliveries are the new norms for supply chain businesses, writes Krishna Khandelwal of Locus.
In today's fast-paced world, product development life cycles are shorter than ever, global trade is freely accessible and customer expectations are highly dynamic. To add to it, the uncertainties brought in by the pandemic and the growing competition across supply chains are further pushing businesses to do their best to survive and grow.
Modern-day supply chains are full of complexities and the pressure on businesses to enable quick deliveries, maintain good customer relations, build long term resilience against unforeseen events and stay profitable is massive.
In fact, the pandemic has exposed some serious problems and loopholes in supply chain management, and has given a true wake-up call to enterprises to adopt flexible and proactive business processes, mitigate the risks involved in supply chain operations, and find ways to be more cost-effective and efficient.
Some of the top challenges facing supply chains include:
Manual, redundant and time consuming planning/backend processes
Suboptimal logistics planning and ineffective execution of on-ground operations
Rigid operating systems that are not flexible and resilient enough for a pandemic-struck world
Lack of visibility throughout disparate supply chain activities
Inability to harness and use readily available business data for better decision making
Thankfully, advances in artificial intelligence are now transforming supply chains across the globe, adding brilliance in day-to-day business operations and decisiveness in strategic long-term planning. Global research and advisory firm, Gartner defines artificial intelligence as the technology that applies advanced analysis and logic-based techniques, including machine learning (ML), to interpret events, support and automate decisions, and take actions.
It is becoming increasingly clear that multinational conglomerates have no option but to infuse AI in their supply chain. They need geography and industry-agnostic solutions which means different aspects of AI come into play in such a scenario. For example, Natural Language Processing aids in geocoding, deep learning aids in routing and understanding traffic patterns, and machine learning helps in digesting historical logistics and supply chain data and gleaning insights from it.
As more and more businesses have started to realize the importance of digitization, automation and streamlined business processes, there is a rapid growth in the adoption of AI in the supply chain. According to a McKinsey report, 63 percent of businesses reported revenue increases from AI adoption in the supply chain.
Here are some ways AI and ML can optimize your supply chain, and help you build strong competence in the days to come.
Minimizing human dependency in the supply chain
From planning to execution and decision making, supply chain processes have traditionally been dependent on human intelligence, judgement and productivity. Manual operations often lack efficiency and accuracy. Implementing AI in your supply chain can eliminate time-consuming and error-prone manual work, automate repetitive tasks and processes across supply chain functions and make your entire logistics and back end supply chain processes faster, more productive and reliable. It also helps in analyzing heaps of business data, and arriving at meaningful insights for better business predictions and decision making.
Automating inventory and warehousing processes
Inventory management and maintenance of warehouses or distribution centers is a core supply chain element that is directly associated with the overall cost of operation. Artificial Intelligence can accurately predict demand trends and solve the problem of under- or over-stocking. In warehousing, AI is now widely being used to automate manual work, predict possible issues, optimize shelf space, generate maintenance reports, sorting and shipping of merchandise and reducing paperwork for warehouse staff.
Optimizing logistics planning and delivery routes
The last mile of the supply chain is the trickiest to plan and operate. Without a smart planning system in place, manual order scheduling and route planning, one cannot handle on-ground dynamics efficiently. With the help of AI-enabled route optimization tools, you can save the time and effort involved in day-to-day logistics planning, and come up with accurate delivery routes in real-time. These route planning tools consider on-ground constraints such as traffic and weather conditions, and suggest the shortest, most cost-effective routes, thereby reducing the number of miles driven and fuel consumed in transportation. Efficient route planning also leads to lesser carbon emissions and greener logistics in supply chains.
Smart resource management
When it comes to supply chain resource management, whether it is fleet vehicles or staff, depending on human judgement may not be the best option. Artificial Intelligence can help you manage your delivery resources most effectively, saving costs and enhancing resource utilization significantly. Intelligent fleet management tools help you in identifying the right-sized fleet for every consignment and tell you the right mix of objects that can be clubbed together for smooth transportation. Smart resource allocation tools help in assigning delivery duties to the right agents based on their historical work information, preferred areas of service, skill-sets and experience, thereby improving on-ground productivity and employee satisfaction in the supply chain.
Enhancing supply chain visibility
On-ground visibility is an essential in today's volatile supply chain landscape to monitor resources, avoid delivery delays, and take corrective measures quickly. For many businesses, supply chain visibility is a huge challenge to overcome. With the help of AI-powered visibility tools, you can get greater control over your supply chain, track and trace your on-ground staff in real-time and get comprehensive visuals and reports of ongoing operations on a dashboard. You can also share live order updates with your customers, thereby enhancing transparency and improving their trust in your brand.
Artificial Intelligence offers endless growth opportunities for supply chains, and it is clearly the best way going forward to keep customers satisfied, grow amidst uncertainties and remain competitive in the market.
| | |
| --- | --- |
| | Krishna Khandelwal is the chief business officer of Locus |
The views and opinions expressed in this article are those of the author and do not necessarily reflect the views of Indian Transport & Logistics News