Hiranandani Group's GreenBase to develop industrial & logistics park for Vestas India in Chennai
September 16, 2019: Hiranandani Group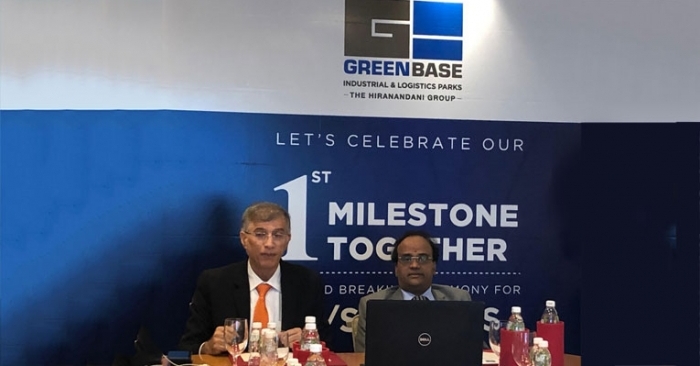 September 16, 2019: Hiranandani Group's fully owned subsidiary GreenBase will develop industrial and logistics facilities of global standards spread over half a million square feet in Oragadam, Chennai for wind turbine manufacturing multinational Vestas India.
The industrial and logistics park will be built on 430 acres out of the total mixed used integrated township of 115 acres. The acreage is dry land, and is suitable for industrial and logistics usage. It offers strategic advantages, including provision of STP, power substation, security cabin, boundary wall etc. Infrastructure and security for the industrial parks has been well planned and executed.
GreenBase will 'built-to-suit' a wind turbine park and warehousing set-up for which the ground breaking ceremony took place at the industrial and logistics park located within Hiranandani Parks, Oragadam, Chennai on September 12.
Vestas India will set up an assembly and warehousing facility spread over 23 acres at the industrial and logistics park being developed by GreenBase. The project will create new jobs and business opportunities for allied and ancillary industrial units, and will give a big fillip to development of the industrial and manufacturing sector in Oragadam, said Dr Niranjan Hiranandani, co-founder and MD, Hiranandani Group.
"The Indian government has also granted infrastructure status to the logistic industry; making it an even more positive situation. These are favourable reasons, which provide an impetus to diversify and foray into the industrial and logistics sector," he added.
The operating model of industrial and logistics parks by GreenBase include built-to-suit industrial facilities, cold storage, built-to-suit warehouses for end customers, as well for large 3PL players. For businesses that opt for plug-and-play operations, and need warehousing and logistics solutions, GreenBase will offer larger space options. It will also play the role of a partner, assisting the customer with end-to-end solutions like land acquisition, master planning, optimising design and also build-to-suit and a project management consultant.
"Hiranandani Group's intrinsic strength in infrastructure development and township development gives GreenBase natural advantage over competition, to build and deliver world-class industrial and logistics parks. Apart from our land bank measuring over 500 acres, we are in the process of acquiring new land banks, either directly or through partnerships /JVs across pan-India for the GreenBase platform," said N Shridhar, Group director & CEO – Infrastructure (Industrial & Logistics).
"Our on-going projects as also 'planning in progress' are located across Pune, Oragadam in Chennai, Nashik, Bhiwandi, Durgapur, Kolkata and Bengaluru. We are targeting close to 12 million sq. ft. over the next 5 to 7 years. This portfolio is a good yield asset class, which most probably will be available for retail participation through a REIT/InvIT platform," he added.