Hey Deedee forays into all-women cargo logistics to do last mile, mid mile deliveries
August 9, 2018: Hey Deedee, India's only all-women last mile logistic services company has expanded its fleet to include four wheelers, to facilitate last mile and mid mile deliveries.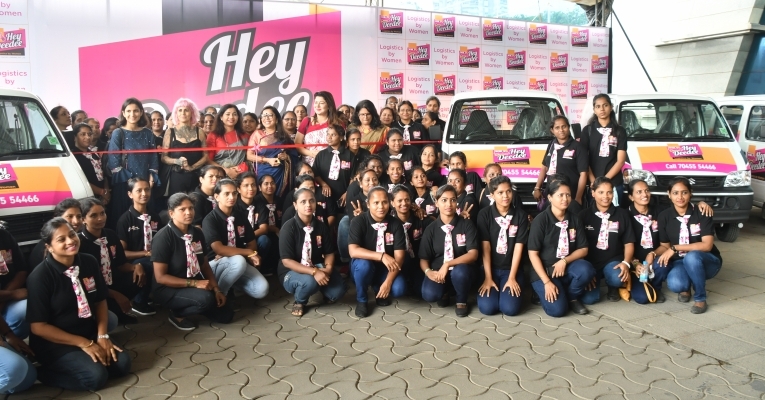 August 9, 2018: Hey Deedee, India's only all-women last mile logistic services company has expanded its fleet to include four wheelers, to facilitate last mile and mid mile deliveries.
The company has taken a step towards entering the bulk and bigger parcels delivery and mid mile delivery segment by adding their Hey Deedee women drivers in the cargo services.
Recently, the company successfully raised pre-seed funding of $ 500,000 from Metaform Ventures LLC. The funds are going to be utilized for expansion of footprint, further gaining bandwidth and build technology. They intend to grow from the current four cities to 10 cities in this calendar year 2018 and launch their four-wheeler warehouse to hub deliveries with an all women drivers team.
Revathi Roy, founder of Asia's 1st Taxi service for women and co-founder of Hey Deedee said, "At the end of 2017, the logistics market in India was valued at $160 billion. According to the Economic Survey 2017-18 tabled in the Parliament, with the implementation of GST, the Indian logistics market is expected to reach about $215 billion in 2020 growing at a CAGR of 10.5 percent. Despite the fact that the logistics industry is a growing one and has opportunities for advancement, the glass ceiling for women is yet to be broken. Female representation in this industry is abysmal, being less than 5 percent. The demand for qualified personnel exceeds the supply in the logistics and supply chain sector and it has become imperative to attract and include women, especially since they are good in multitasking, an ability that enables them to handle a myriad of tasks such as planning, implementing and controlling the efficient flow and storage of goods. Research has also shown that the presence of women raises the standards of ethical behavior, lower corruption, production and economic growth.Recognizing this untouched potential and hoping to capture 20 percent of the market share by 2020 and increase the number of women in the workforce, Hey Deedee is launching its four-wheeler cargo service. We are seeking to change the way India delivers."
The occasion was graced by Dr. Sonia Sethi, IAS – ex transport commissioner (Government of Maharashtra); Shweta Shalini, spokesperson, CM office; Radha Goenka, director, RPG Foundation and Sapna Bhavnani, hair stylist, Mad-O-Wat.
Women drivers at Hey Deedee undergo an extensive 60-day training. By building and engaging a community of trained and certified women riders and drivers, the desired goal of this intervention is to positively impact the employability of women in relatively high paying services. With a mission to train and employ 10,000 women by 2018, Hey Deedee aims to become the largest solution provider for hyperlocals and offers last mile delivery services within the city through its hub and spoke model.
Dr. Sethi, on the occasion said, "We need women at all levels contributing to change the dynamics on reshaping of our economy. An empowered woman is powerful beyond measure and capable beyond description. I chose to back Revathi Roy for her enduring leadership on empowering women in logistics, a fast growing, untapped (women powered) sector with much needed diversity. Hey Deedee continues to break down walls and defy stereotypes; creating a sector for women empowered logistics, not just logistics but heavy logistics."
HeyDeedee hinges on the empowerment of women. The ladies come from economically challenged backgrounds where Hey Deedee empowers them with a skill so that they can become financially independent and earn respect.