Hardeep Singh Puri applauds the summit theme 'MRO for Safer Skies'
October 15, 2019: India's civil aviation minister, Hardeep Singh Puri has appreciated the efforts of STAT Times in organising the 3rd Aerospace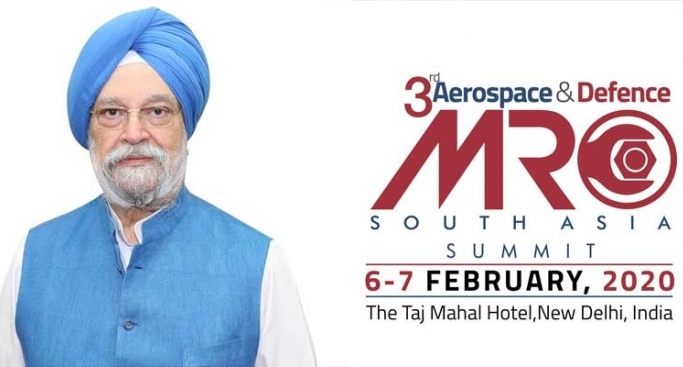 October 15, 2019: India's civil aviation minister, Hardeep Singh Puri has appreciated the efforts of STAT Times in organising the 3rd Aerospace & Defence MRO South Asia summit. The summit which will take place in New Delhi on February 6-7, 2020, according to him, will provide a platform for aviation experts to deliberate and advance in maintenance, repair & overhaul (MRO) policies, plans and projects.
The theme 'MRO for Safer Skies' will include discussions on the improvisations, innovations and latest technology which the Indian aerospace MRO industry can incorporate in their aerospace maintenance units for renewed and safer skies.
STAT Trade Times is an international air cargo news magazine published by STAT Media Group, which also updates this website (www.itln.in).
In his message, Puri also touched on how India is growing at break-neck speed to become the fastest-growing aviation market in the world. The MRO sector which scores brownie points with every percentile growth in the aviation field has shown an accelerating growth.
He also emphasised the multiplier effect of such MRO businesses which will have a far-reaching positive impact on the 'Make in India' programme. This will encourage operators from across the continent to send their aircraft to India for major repairs, thereby leading to better employment opportunities and significantly contributing to the country's GDP.
Commenting on the theme he said, "'MRO for Safer Skies' would enable aviation experts to deliberate and advance MRO policies, plans and projects. I am hopeful that this summit would encourage and boost both aviation and aerospace MRO industry in India."
Air India, Air India Engineering Services Limited (AIESL), Air Vistara, Airworks India, Airbus, Boeing Commercial Airplanes, Brussels Airlines, CEL Aerospace Test Equipment Ltd., Chapman Freeborn, Deloitte and Directorate General of Civil Aviation (DGCA) among others have participated in the previous editions of MRO South Asia Summit.